27.10.2015
Yoga vegetarian Dating for yoga singles who are vegans, raw food, lacto vegetarian or ovo vegetarian.
Sincerely speaking, I am very aware and at peace with the fact that everyone don't and won't like me, that's OK!
I love music, dance, laughter, peace, romance, nature, animals, farm sanctuaries, my family (which includes my companion animals) and friends. I was born and grew up in the french speaking part of Switzerland (think chocolate,banks, skiing and hot cocoa, sorry no Swiss Miss, you guys made that up). I love reading, watching movies, Indian food, pastries, chocolate, taking walks during big snowstorms, biking,skiing, yoga, walking everywhere and nowhere for no particular reason. Vegan or Vegetarian, practicing meditation,yoga and living organic,alt lifestyle since teens. I'm honest,loyalty,like exercise,travelling,live in hot country 6 month a year,beach,sport,dance,yoga,spiritual,out the grit,retire and working part time,i can finish any time work and move to any place in the world,preferable hot country,costa rica now #1.bali #2 never being there!
My name is Carlos, I neither drink nor smoke, I like recycling,nature, self-sufficiency as far as possible, yoga,meditation,running,wing chun,powerlifting,exercise. Chamo-me Carlos, non fumo nen bebo, gosto da reciclaxe,natureza,auto-suficiencia o máximo posivel, ioga,meditacion,correr,wing chun,powerlifting, exercicio.
I'm currently in my first semester of a grad program at UWM to earn my master's in Community Counseling.Generally, I would describe myself as open, curious, and genuine.
Things I like: films, reading--mostly non-fiction, postcards, people watching, live or not live music, comedy, going on adventures, thumb wars, art, coffee and tea, roller-coasters, independent media, travel. Movies: Magnolia, Whale Rider, Mall Rats, Beat Street, Dancer in the Dark, Happy Gilmore, Hero, Kamikaze Girls, Dead Man, Little Miss Sunshine, Me and You and Everyone We Know. Massage therapist, yoga and pilates teacher, lover, mother, pet owner, fun and open to new things.
Things I do and enjoy: working in the garden, cooking at home or eating out, hiking, yoga, skiing, riding my motorcycle or bicycle, wild parties with my closest friends, burning man adventures, travelling, volunteering, loving animals, swimming, stopping and breathing in the beautiful clean air in a rainforest, listening to music in the dark, and cuddling on the couch with someone special and a good movie (don't watch TV, only movies). I'm really excited about the future, and about finding someone special to love and to be loved.
I have 3 children and love them dearly; am basically introverted although I have learned to control my shy natural tendency for work. I am from Upstate New York (Hudson Valley, Catskills), lived in Coral Gables, Dallas, and back to South Florida in Pembroke Pines; been to Rio, San Paulo, and Mexico and I would like to travel more. Last year i've shifted my occupation into art and illustration (graphic design sometimes as well) so that i can be more free and independent from fixed city life. I am a professionally educated individual more degrees than a thermometer, irreverent humorist with an irrepressible wit, dog lover who goes almost everywhere with my Black Labrador Retriever whom I rescued from one of LA County's high-kill shelter, and am committed to a healthy lifestyle. I hike 2-7 miles each day with my dog since I am a quater-mile away from a trailhead leading into the Santiago Oaks Creek Park, go to the gym 3-4 times a week, do yoga once a week, do a 4.1-mile trail run with my dong once a week, and play in a pick-up ice hockey game every Wedneday morning. I currently am doing a raw food diet, in the hopes of losing a few more pounds and getting down to 10-12% body fat. Even though I love being serious and discussions, I also enjoy laughing out loud and am looking for someone who can do the same.
I love to invent things that can improve the quality of our lives and am working on several prototypes.
Stephen King said that "the road to hell is paved with adverbs." I wonder if he ever tried online dating. That said, I used to think that being with another vegan meant everything else would fall into place but I realize now after many missteps that I need to be with another person who is on a spiritual path, whatever form that may take. I've lived in Phoenix off and on for eight years but am setting my sights once again on other places - Denver, California and maybe Austin are on my radar. In the last two years I moved five times, three of them long-distance, and while I don't necessarily want that much upheaval in my life to continue, I also don't see myself as the kind of person who wants to settle down.
I think a new relationship is the beginning of a great adventure, not the end of it, and with the right person I intend to keep exploring, creating, growing, learning and changing - and having fun! For fun, I love, love, love going to see bands - there's actually a good music scene here in Phx.
I'm passionate about social justice and creating social change and try to be a very-aware consumer.
I'm a reporter, which is an interesting gig to have found myself in after flitting from interior design ( I have a degree in it) to library work to shooting photos at a skydiving DZ.
I love animals and live with a 15-year-old cool cat named Gypsy who I raised from a kitten. I never really thought about it before but zooey deschanel is david hornsby's sister in law??
Assistant Dean of Humanities, Teaching & Learning (Wits, South Africa) David Hornsby framing the forthcoming workshop themes ('disruption') -- J. He is a crusading doctor, in the sense that he's misguided and driven largely by personal gain.
Hostility comes from loneliness, from not seeing yourself like a drop falling into the ocean of humanity like everyone else. No matter how old you are, no matter how much you weigh, you can still control the health of your body. New study tried to fact-check the advice dished out on Mehmet Oz s medical show and didn t have much luck! Re Oprah is also responsible for Mehmet Oz and his dangerous spreading of harmfully science-free snake oil on American TV. Our team is having a great time at the Lake Nona Impact Forum listening to speakers like Arianna Huffington , Dr.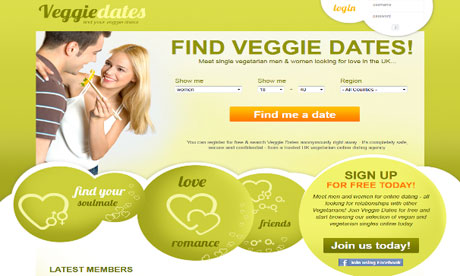 Our dedicated team are continuously looking to find the best available websites, news, products and competitions to provide visitors to the Vegetarian Channel with a time saving one stop solution.
Check out our new 'Going Vegetarian' section, full of helpful tips and advice to help you embrace a vegetarian lifestyle! When Catherine Guidici agreed to become engaged to Bachelor Sean Lowe, part of her reason had to be his sense of humor. The star of the popular reality TV dating show posted several Tweets and he and Catherine's experience at the steakhouse. Catherine is a known vegan with a Meatless Monday column in a newspaper in her hometown of Seattle.
Sprituality, yoga,pranayamas,organic naturally grown vegetarian food, cooking are part of my daily routine. My Grandfather was a gentleman (though a chronic skirt-chaser), my father was a gentleman, I consider myself a gentleman, and day to day I strive to relate with fellow sacred entities as much as I can define 'a gentle man'. I am positive minded, I am intuitive, impulsive, perceptive, creative, adaptive and addictive lol.. My interests are in the healing arts (Healing Tao) and creative arts (Music for meditation, Sacred Geometry). I like deep conversations, especially when it comes to metaphysics and philosophy (meaning no small talk about non dualistic systems of thoughts,quantum physics or the nature of the universe) but I can easily be a goof ball as well.
I'm someone who loves learning new things, traveling to new places, trying different cuisines, learning about other cultures, and considering things from other perspectives. I enjoy the beach, mountains, biking, hiking, working out, dancing and yoga to name a few things. I enjoy relaxing (my mind and body), good food, watching movies, going out for a drink with friends, etc.
I'm dedicated to health and wellness and advise others on how to take control over their health without the need for doctors or expensive treatments or money of any kind. I also like going to outdoor street fairs and enviromental events such as the Clearwater Festival in June. I don't practice a religion because of this but spend my days working on my alignment To source. I enjoy international cuisine, dance, hiking, biking, skiing, figure skating, horseback riding, camping, sailing, museums, learning about other cultures, and more. I like people who can think with their heart and with whom I can highly connect on the spiritual level.
A professional musician, I play a bunch of different string instruments on early and traditional music, write articles, produce recordings, arrange music. I've studied Thai yoga bodywork, jin shin jyutsu, the healing code, the emotion code and a few other energy healing methods. I really want to get out of the desert and live near water and amid a vibrant arts and music scene with more liberal, like-minded people.
I like going out dancing, but am not into clubs - I like DJs that spin world beats and music that makes me happy. I'm intrigued by the idea of constantly paring down my belongings (and it happens when you move a lot) and have moved into a tiny 400-sq-ft house to see if I'll one day be able to live out my dream of designing and living in a tiny house. She had a sister, Zoe, who died a little more than two years ago and I grieved for her for a long time. Although I'm not terribly athletic, I do try to go running once in a while, and scuba whenever I get the chance. I also enjoy yoga, baking vegan desserts, cooking, going on road trips, languages, thrifting, and health and fitness. I am usually fairly active: the martial discipline of Aikido, running, chi-gong and yoga occasionally.
I love learning new ways to help people and have recently started a soon-to-be nonprofit designed to show people how getting back to nature and being as natural as we can be is not only the healthiest thing for us but also is a lot of fun!
I like to travel, study foreign languages (Cantonese, Mandarin, French, learning Arabic and Hebrew), climbing, and yoga.
I'm more introverted than extroverted, but love to come out of my shell and have fun when the time is right.
Love comedy (Monty Python, Black Books, Charlie Brooker etc), yoga and being deliberately friendly enough to scare the London locals :P 5'9. I'm macrobiotic and vegan since 2007 and i'm trying to do my best to keep mono raw way since 2013.
I like a man with a good sense of humor, so long as he doesn't hide behind his sense of humor. Mantra, meditation and kirtan are the foundations of my practice and have transformed my life since I decided to seriously embark on a spiritual path four years ago.
But I can't imagine myself doing anything else, although I might like to move into a more of an activist role in support of the animals.
Saints are in the Bible and the Catholic order, I don't want to be a saint, I cherish my freedom to 'lust' after anything I want to and the freedom to be as much ME as I can without feeling guilty. The thing is; lots of fun, excitement, growth, happiness, and fulfillment exist in us and in this world, maybe, just maybe we are meant to make each other experience them in their fullness. I've been practicing yoga for several years, and am fairly new to mindfulness meditation (finding it hard to get in the groove, but liking the challenge!).
Non-materialistic and loves sunshine and the simple things, like hiking,reading and learning new things.
I've been a vegetarian since I was a teenager, and have always thought about becmoning vegan, though haven't taken the next step.

I teach about sustainable ways to provide ourselves with our own food, water, natural gas, electricity and other comforts so that people can lower their expenses and have more time and money for real life. I prefer cool thrift and vintage stores to Saks Fifth Avenue, have solar, live as lightly as possible, and drive an electric car. Enjoy the new science like quantum physics and how science is arriving at spirituality. Sometimes i'm into yoga, but this in my case still need some more stability to keep this way constant. I am vegetarian and I value taking care of the mind, body, and soul through working out, meditation, T'ai Chi, yoga and living mindfully and spiritually. Spirituality and personnal developement is always a thing I like to get into because I believe we are on this planet to evolve and make the most of our human experience.
I invest a lot of time and energy into my career as a teacher, and I have a lot of respect for people who do the same with their own careers. I like movies and theater, speaking French, esoteric healing, yoga, drawing on the walls, music improvisation, old radio sound effects, cooking. Recently, I took a personality profile which described me as being overwhelmingly introverted. I'm open to dating a non-vegan but ultimately if someone is educated about the atrocities of factory farming and still turns a blind eye to how they are contributing to suffering by consuming animal products, then I would have to seriously question our compatibility (and his ethics, judgment and compassion).
I'm very, very introspective and must get to the bottom of things and expose the truth of a situation no matter what it is.
Besdies our bordering countries, I've been to Tanzania, Kenya, England, and The Bahamas, and next year I am planing on traveling to Central or South America. I especially value humor, being able to laugh at yourself, being able to communicate and the freedom to think out of the box. I enjoy learning and walking as well and have been vegetarian for about 15 yrs (vegan at times).
I'm very family oriented and started all this to free my parents from their 9-5 jobs and provide a better life for them and for my future family.
I currently own restaurants in San Francisco and work part time in SF and part time from home. I have a natural and ecolo side which is well-balanced with all the other facets of my personality. It shows that you have the drive to be your absolute best and not BS your way through life.
I had to give up horseback riding because I can't afford it right now, but I'd love to get back into it eventually.
I was pre-med and got a biology undergraduate degree, but ended up with two masters degrees in business. I am a somewhat stubborn headed nincompoop, who gets easily irritable and verbally harsh when distracted. I became vegetarian almost 10 years ago, and have been mostly vegan for the past four years. I love being outdoors and exploring, hiking, snowboarding, playing, relaxing and learning new things. I just moved up to Santa Rosa in Sonoma County 3 years ago and couldn't be happier up here. I prefer alternative and different thinking than mainstream ideas even though I believe there is bits of truth in every opinions. Needless to say, I need a partner who is content with more than just takeout and a movie at home for most dates. I enjoy travelling and funny enough, even though I am not gay, I enjoy shopping lol… I love dancing, I listen to music really loud (blame that on my father). I would love to travel the world one day but not at 5-star resorts necessarily, rather I'd like to live with local people and get some real cultural experience, doing whatever I can to help people better their own lives wherever I go. My plan is to work less (or not at all) and spend most of my time up here in paradise with someone special. When I am in a happy or exiting mood, I want everyone else around me to feel that way, in fact, I don't only want it, using words and funny antics, I go ahead to try to put them in that state even after they tell me clearly to leave them alone and crawl back to wherever the hell I emerged from. Looking for a spiritual person, treats their bodies well and conscious of what they put in it and how that effects him personally. I'm also a kid at heart and love playing with kids and teaching them in ways that are fun for all of us. Having lived in a Buddhist Monastery many years ago, I lean towards Buddhist beliefs but have developed my own beliefs over the years. I practice and believe in the power of crystals, karma, animal communication and psychic (or spirit) communnication, symbolical jewelry, astrology, theism, auras (or energies), yoga, anti-dogmatism, holistic medicine, and meditation.
I am fiscally conservative but would like to see our government serve all of our citizens, help the people that need help, especially the homeless.
The last books I read or am currently reading are: Migraine by Oliver Sacks, Dune, Pastwatch, and Enders Game.
And I'm optimistic almost to a fault, so I'd have a good attitude about all the death and destruction.