26.09.2015
Click here to remove banner ads from this forum.This Forum Is Hosted For FREE By ProBoardsGet Your Own Free Forum!
This is a compilation of Hydro assist steering info, mounting pics, tierod brackets, steering box drilling and tapping ect ect. So I figured I get off my ass and post pics of my assist, the reason I started this thread.
2nd pic is a comparison of the ARP stud and the stock stud ARP on the right stock on the Left. 4th pic is a shot of the capped steering stops, you might be able to tell these where already getting bent from 31-33" tires and stock steering! Well just got her about a week ago , drove from Arkansas to Texas and drove her home from there . Engine is an smallport MAP-DLI type 4A-GZE from a 90-91 AE92 GT-Z (has the nice oil drain hose and the piston squirters with the coated pistons). Came with coils, MAP sensor, injectors, and all that good stuff, but not some of the stuff I really needed.
Pulled apart the 4A-GZE, found some rust inside cylinder #1, not excessive, but it was clear that the engine had been sitting for a long period of time! Ordered myself a new set of piston rings, and a gasket set for an AW11 4A-GZE, plus an intake manifold gasket for the smallport 4A-GE. The valve covers will be powder coated silver and repainted with the stock bluetop colours. In this shot you can see the TRD header, which was installed to get positioning for the O2 sensor on the wiring harness.
You can see in this picture the nice welding my brother did to get these pipes to fit properly. Now came the (what I thought was going to be) hard part: modifying the wiring harness to fit the AE86. For suspension, I've gone with TRD Japan sport springs, shocks, struts, front sway bar, and the complete bushing set. For the rear end, I've gone with a TRD 2-way Limited Slip Differential, as well as a TRD solid pinion spacer. The TRD plug wires and short shifter are actually TRD Japan parts though, so that's cool they sell them here.
I had to bash the exhaust heat shield quite a bit to clear the 4A-GZE cam position sensor, I wasn't really expecting that, but whatever, it worked out. I also ordered a clutch for the car, I'm not sure if it will hold up to the torque of the 4A-GZE, but I figure it should at least last a little while.
So nothing too exciting right now, but once I get a few more of the gaskets I'm waiting for, I'll try to drop the engine in Wednesday night perhaps. You are the king of cleanliness, my dad would approve of this build, nothing haggard, just clean simple things.. I would love to build a frame like that with supra suspension and have it lay frame with airbags!
New fenders with my big fat rollers they fit awesome , but I wont be able to stuff them up in there .. Here is what I did for my axle mounting of my ram, For a dana 60 of course but easy unboltable.
Glen has an L52 that will bolt right in there, no mods needed (other than enlarging the shifter hole).And take some more pics!! We got the Steering box mounted and the pump installed , all I need now is to fab a bracket for the pump and get a idler pulley also mount the resevoir .
I suppose I need to keep all this stuff in one place, and I should also keep my picture posting to the Members Rides section, so here it goes. I've tried to stay as OEM as possible, doing things as I think Toyota would (albeit without the research dollars and casting abilities, lol).
Came with a transmission and all the engine accessories on it, but no harness, ECU, igniter, SC12 relay or VSV's. Lucked into finding a harness on eBay that came with the ECU, igniter, VSV's, relays, resistors, everything. This gives me the extra strength of the larger bearing in the RWD water pump to use the clutch fan, as well as the appropriate rear housing to clear the SC12 supercharger. Chances are I will need to lower the front sway bar and perhaps change the end links, we'll cross that bridge when I can lower the engine into the car and check clearances. The heater core pipe was modified so that stock AE86 heater hoses can be used without modification. I expected to spend at least a couple of weeks on this, however when actually diving into it, I realized it would probably be easier than I thought.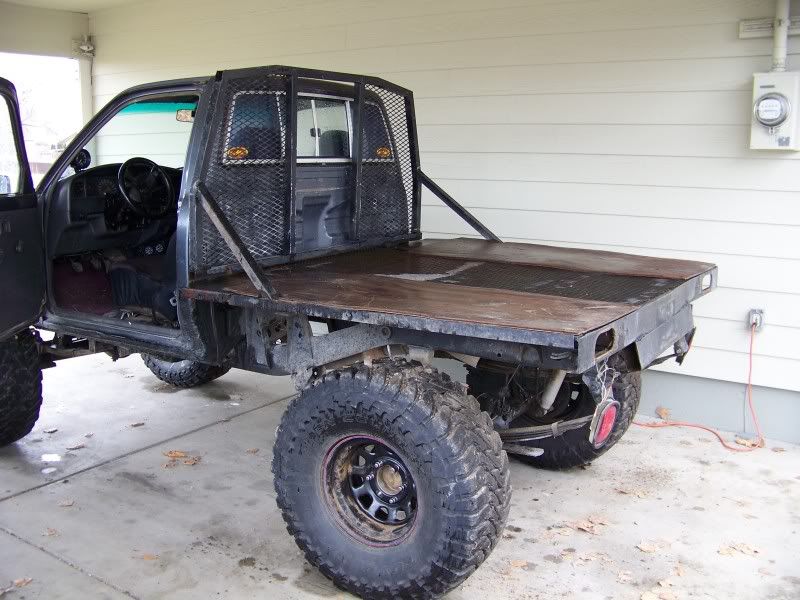 It turns out not very many engines here had the same O2 connector, and I don't want to splice it, however I found that the 90-91 Celica ST O2 sensor should work for me. Im still going to look around for a supra i can borrow the rear from so when the mud truck is done i can tare the lowrider back apart and redo the suspension. We are donating $10 of each blue star subscription to the Blue Ribbon Coalition to ensure that we will have trails to recreate on for years to come. Bought it here in town from someone who was going to swap it into their AE86, but decided to go KA24 (I think) instead. The ones on the engine in these pics are in rough shape, but give me an idea of how it will look. On the AE86 this valve is mounted on the power steering pump itself, on the AE92, it is mounted on the steering rack.
Spent a couple nights mapping the connectors on the AE86 harness and removing extra connectors from the GZE harness (battery terminal, alternator wiring, etc). I have yet to decide, and will wait until I drive it, however a TRD T50 gear set (1st & 2nd type set) has been offered to me. It is still unbelievably tight on the upper bypass hose to the SC, but I got it all together. Glen has an L52 that will bolt right in there, no mods needed (other than enlarging the shifter hole).And take some more pics!!Thats funny , I was at his house yesterday and he never said anything about having an extra 5-speed .
While using the AE92 PS pump with an AE86 rack, I had nowhere to mount the valve, so I ordered a banjo bolt for the power steering pressure line on a 1MZ-FE. If I find 1st and 2nd gear to be too short with the torque of the GZE I may consider these.
Truck is stripped and in the "mock -up" stages .7M-GTEis relocated ~3" back to allow for a "stock" looking instalation of the rad and intercooler made possable by the "custom" motor mounts engine now fits excellent and I'm very happy so far . But year a nice lowered pick-up with some wheels and tires wouldn't be a bad looking truck.