20.02.2014
Since conditions are different from garage to garage this article just describe a very specific situation (mine). As the result of your detailed design you should know exactly how much wood, how many screws and of what dimensions and how many joist hangers to buy.
Putting them together: Dave used the *Kreg Rip-Cut to cut the plywood down to size and then sanded the edges. Just like with the table, I finished it with just a couple of coats of polycrylic, so in love am I with the look and the grain of this plywood (although this batch isn't as beautiful to me as the sheet we used for the table). Then, once we had the shelves in place, we screwed them all together so they'd be flush and stay put.
Gus got me those little penguins for Christmas, and I ordered the agate that I'm using as a bookend from Urban Outfitters. This weekend I decided I needed to get back in the swing of working in the basement so I spent it hooking up the real sound system. Next I tore apart all the entertainment wiring upstaris to move some of the components down to the basement rack.
We're down to one last weekend before we are calling it quits through October so we can focus on Halloween.
The wet bar is taking shape, but there's a LOT of work left to piece it all together. We finished the priming coat of paint at the end of last weekend – right on the planned schedule.
The plan for the next week and a half is to finish the first coat (and second in some spots) and install the wet bar. Down the hall on the right is a furnance room and the laundry room which you can get a glipse of below. You could use metal but you need to do a specific design that will involve welding or some screw based solution for keeping everything in one piece.
Keep in mind that you can optimize the use of wood you buy (thus saving some money and the Earth in the process) by sometimes making some slight changes to the dimensions to better fit with the predefined wood sizes at the hardware store. Since every situation is slightly different I will explain what I did and you will have to adapt to your case.
I estimate the time needed to build one shelf at about 4 hours but this can vary with your specific situation. But once we actually had those tables in there, it was clear there wasn't going to be enough space there. For the shelf in Abe's room we used whiteboard planks instead of plywood, but I wanted to get the same look for the shelves as for the table here and we wanted extra deep shelves since we had plenty of space for it.
As soon as my wife sees it she will be asking for the exact same thing in the kids playroom – which I promised her 2 years ago. Up to this point watching movies down there has been accompanied by a set of computer speakers. The AVIA disk also contains a bunch of great tests for that – pink noise, frequency sweeps, etc. We just finished taping and cornerbead tonight (well a tiny bit remains here and there, but I'm calling this phase over).
Of course all that junk is way less valuable than the cars sitting all day in the sun (or snow if you live in Canada). Draw the shelf and think about all the details like how you are going to assemble the whole thing.
If you calculate your dimensions carefully you can even minimize the number of cuts you have to made. I posted a picture of the almost finished shelves on Instagram like two weeks ago, and then it just took forever to get them all the way finished. I ran wire for an additional back two, but I have neither the speakers or an amp that support 7.1. I set up a digital sound meter (SPM) in the ideal seating location and ran through all the tests. So they run the entire length of the wall under the projector screen and go up to just a few inches under the bottom of it. We used 3 sheets of 4×8 plywood (the dimensions of the shelf were somewhat determined based on using as much as possible of 3 full sheets without needing a 4th) at $50 each.
Incidentally, the same sort of thing is happening with the kids' school stuff and with cleaning my house. We decided on doing three separate shelves so that they can be moved around more easily and could potentially be used somewhere else if needed someday. For the backs, we bought this tempered hardwood at Home Depot; it has a rough, textured surface on one side, but is smooth and paintable on the other.
Then the boards for the back was around $7 (we just needed one of these, cut into 3 sections). It's about the size of an end table, but don't even think of setting a drink on it! But since it'll probably be a couple months before I get to building a screen, I thought I might as well dial in the picture for the current situation. Matching it to the five satellite speakers is really crutial in making a good soundscape and without the SPM it's hard for me to compare levels between very different frequencies.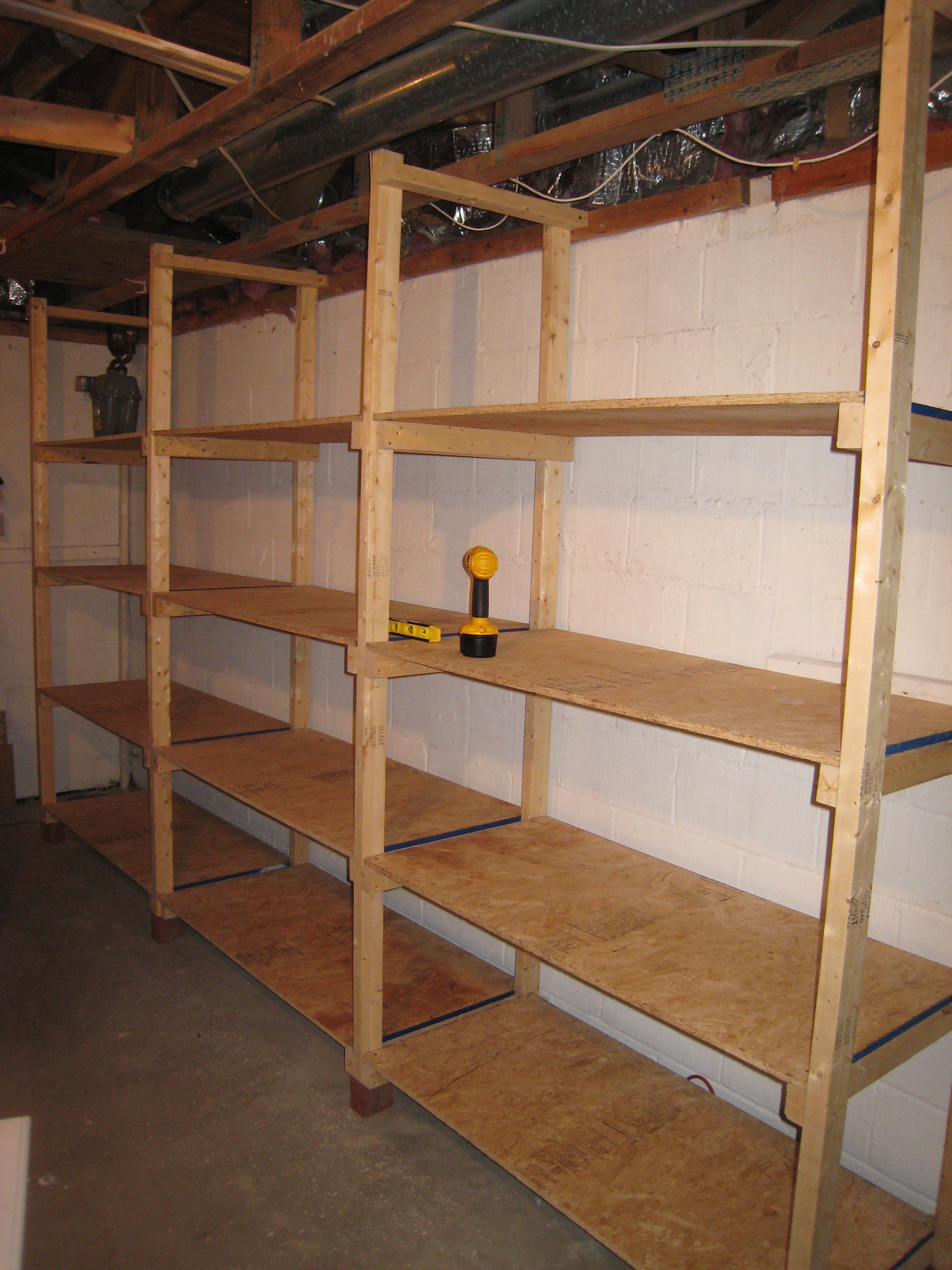 Ultimately, we ended up with 3 shelves about 4 feet long, 28 inches tall, and 15 inches deep.
It's really a bit more bass than anyone needs, but since the rest of my system consists of satellites I wanted to make sure there was ample bass support. Something that was cool was I measured the sub without significant dropoff down to about 20Hz even though it's only officially rated down to 35Hz (nice to see a conservative spec for a change). The lights are on a dimmer so you can set your ambiance versus distraction level accordingly.
The design is super simple, partly because I wanted a streamlined look, but also because there are no vents or anything to work around, so it was fine for them to sit right on the floor. Even though the mounts are really intended for Bose satellite systems, they work great on my small Sony speakers.
I've got a pretty good handle on Color, Tint, Brightness, Contrast, and Sharpness, but not as much on some of the more advanced settings (like gamma on each LCD panel). The other thing I learned is that the official calibration standard (according to AVIA) is VERY LOUD. The benchmark is to calibrate all speaker levels to 85dB at the optimimal seating location. Luckily my projector has slots for 3 user settings in addition to the 5 or so factory presets. The other thing about video is that there is definitely a smoothness versus sharpness tradeoff. You can go really sharp which is instantly impressive (especially on HD material), but part of the impressive impression is just because things don't look quite natural. I instead used 75dB as my benchmark (which is actually the common benchmark for home installations) – still very loud, but still TEN times less intense (dBs are log scale units). Away from that end of the spectrum you get a smoother picture – a lot of people describe it as more film-like.
The smoother setting doesn't give you that initial jolt, but ultimately I find the picture more satisfying and easier to watch. After the calibration I was really happy with the picture – not too different than before, but I think the depth and color are a little more natural.