10.11.2014
Most of the AnandTech crew seems to be averse to putting cases on their phones for a variety of different reasons. A few weeks after our iPhone 5 review posted, Element Case reached out to me and offered to sample a review unit of their upcoming iPhone 5 case, the aptly named Sector 5. The Element Sector 5 is a completely different case than the norm, since, like I mentioned earlier, it's made from 6061 aluminum instead of polycarbonate plastic, silicone, or some other polymer. For the back there's an adhesive sticker which in my case was suede, though there are different back materials available.
The right side has a cool cantilever looking structure with a large enough gap to get to the SIM tray and ejection port. At the bottom are cutouts for the microphone, speaker, earphone jack, and lightning connector. In terms of feel, the Sector 5 is a bit sharp at times but also is easy to get a firm hand grip on, as the bulges at the four corners make it easy to grasp onto. I've dropped the Sector 5 with the iPhone inside twice and was left only with a small deformity from the impact that is hardly visible, with no discoloration or scratching off of anodization.
The big question is just how much adding an aluminum case to a smartphone affects antenna gain and cellular performance. First, Element Case has included polymer links between each of the four main aluminum blocks so there's no continuity between them, which is easy enough to verify with a multimeter. I have no idea about manufacturing costs, but 10c is actually fairly close to the actual cost of the aluminium in this case. I would think the bulk of the cost is to either machine aluminum blocks down to actual case pieces or use cast method.
Element Case has been known for a while for making exotic cases that use metal instead of plastic and look like nothing you'll see others carrying around, so when I heard about the iPhone 5 version I jumped at the opportunity. In theory these are great, but not totally necessary, as the case includes a soft rubber material around its inner perimeter to prevent aluminum from touching aluminum. Having a suede backed device is something very different from what I'm used to, and surprisingly enough works well.
They're a little difficult to get to because of the depth of the machined groove, but still workable. The Lightning connector is big enough for the standard Apple USB to Lightning cable, but not quite big enough for the Lightning to 30-pin or the Amazon Basics Lightning to USB cable, both of which required filing to make them fit.
You quite honestly are highly unlikely to run across someone with the same case on their iPhone 5, and as a result it's always drawing attention when I have it on. The Sector 5 also doesn't make the device much thicker than it is already as a result of its design. In addition the case is insulated from the aluminum exterior of the iPhone 5 with a rubber material, so there's really no galvanic contact between case and phone.
So yeah, we're looking at more like $10 to manufacture the case made to exact specifications, and then you need to recuperate all of your other expenses and still turn a profit. The assembling costs are miniscule compared to the cost of the machines needed to manufacture the aluminum pieces. In addition, since I spent a lot of time back in the iPhone 4 and 4S days doing attenuation testing, getting to the bottom of whether this unique case detunes the antenna was particularly intriguing. The Sector 5 wraps around the iPhone 5 and then screws together at top left to lock the phone in place.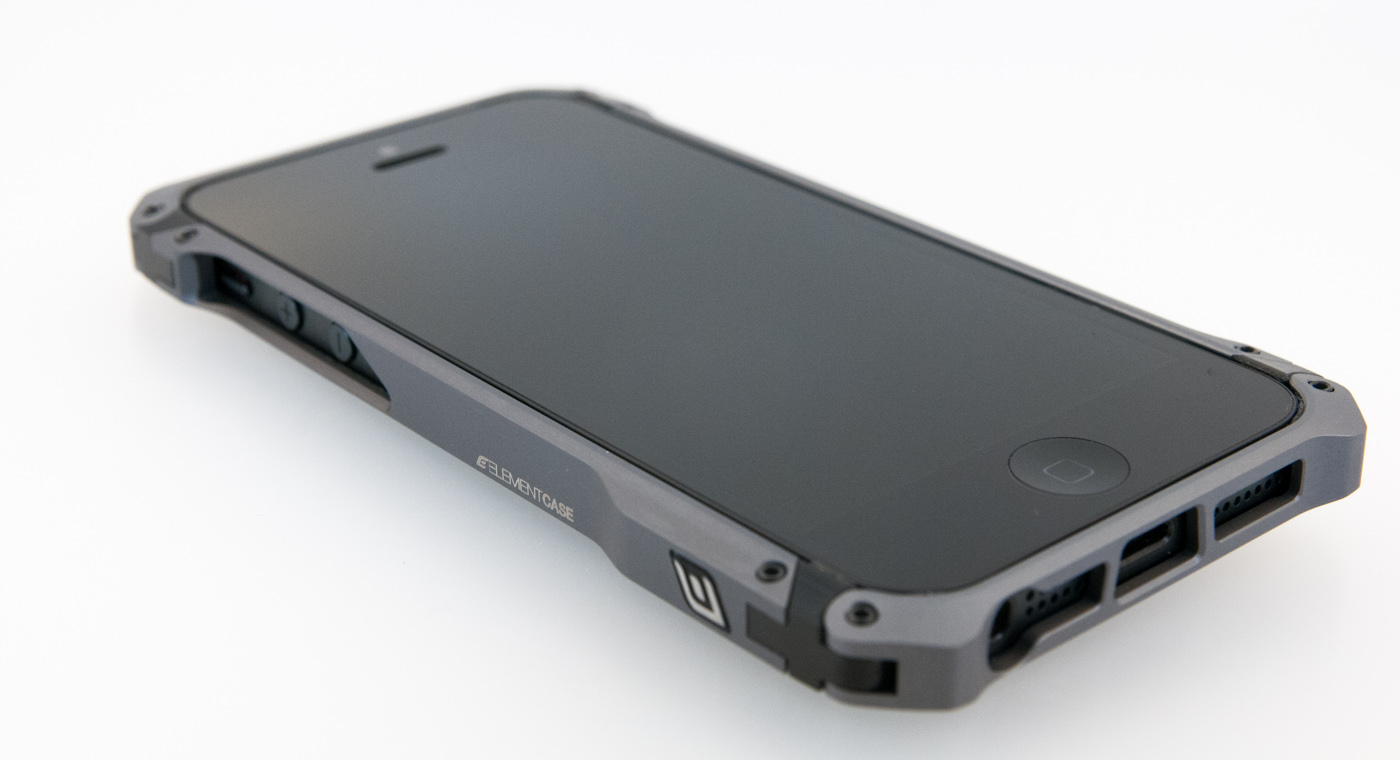 With the case on, the overall package is still surprisingly light since there's a lot of material machined out of the sides.
I haven't picked up a lot of dirt or grime leaving the phone backside down on surfaces, and the suede feels great. I'm not surprised by this however since it seems as though every Apple ecosystem case I come across requires filing to make all the accessories work.
I find the Sector 5 looks like something out of Quake rather than an iPhone case, with the aggressive geometric protrusions at the four corners, modern angular shape, and radical design. That's a good first step to not change too much of the ground plane or inadvertently create a path between the bottom primary antenna and top secondary antenna on the iPhone 5. The supplied screwdriver is keychain mountable so that if you need to get your iPhone out of the case it's handy. The iPhone 5 has an RFMD RF1102 tuning block and seems to do a good job dealing with any antenna detuning that the Sector 5 might introduce. For the people who are willing to pay for it, it's definitely a pretty conversation piece.