19.09.2013
I've done some finish carpentry in the past, but I'm really more of a framer because I like to just throw things together quickly and make them as strong as possible. I recently built some new garage shelves in the home we have been living in for a couple years now. Obviously you don't have to make all the shelves be the same height, but make sure to have at least one of two rows of shelving tall enough for all of your tallest items. Given the length of the walls I was building my shelves on, I bought my wood in the 8 foot lengths.
The wall I built these shelves on was about 14 feet long, so I needed two 8 foot sheets of plywood for each row.
Once you know the length of the wall, it's fairly straightforward as far as counting up how many 2x3s and sheets of plywood you need. As you can see in the picture below, I also used the perpendicular wall for increased support. After screwing and nailing the boards up on to the wall, you can put up the end boards (2x4s).
For those with some kind of baseboard in your garage, you will need to take a chisel and notch out a spot for the vertical 2×4 boards that will go on the ends, against the wall. Repeat this process with the next row up, but before you nail the vertical 2×4 to the second row, make sure to level it vertically with your long level.
It's a little difficult to see in these pictures, but I have also tacked in some support boards between the horizontal beams, coming out perpendicular to the main wall. As you can see in the picture below, your garage shelves should be strong enough to double as a jungle gym for your kids! One of my goals with this design was that it would be simple enough for almost anyone to build (including myself). Great job, having sold steel shelving for the last 25 years, your system makes great use of the available space, you don't have to try and fit standard steel shelf bays into the gap.
I would suggest trying concrete screws since you really only need the horizontal strength from the wall.
What was the spacing you used on the support boards between the horizontal beams, coming out perpendicular to the main wall and did you toe nail at the wall side?
I actually only used one perpendicular (from the wall) support piece for the entire length of the shelf because when you nail down the plywood shelving you gain plenty of perpendicular strength and the shelves are not deep enough to warrant perpendicular support beams. The only reason I put one in the middle was to help connect the spot where I had to splice the length of the shelf, and to hold it in place during the framing stage. I'm planning to do my own shelves and found these to be pretty similar to what I had in mind.
With a 4 foot span I'm not sure the 2x3s would be sufficient, especially if you plan on storing a lot of heavy items on them. If you want to keep the paneling to match the rest of the garage you should be fine to leave it up.
I love the design however I want to center my shelves on a wall and not have them attached to another perpendicular wall on the end like yours are. You really made a good job Michael having shelves like this in our garage can make all stuff in one place, my dad tried the steel before but measuring the gap really took a long time. I had build a wall of shelves 8 years ago and have to disassemble them do to water leakage into my basement. I keep thinking about the square dimensions of the posts used in decking but believe I may be underestimating how strong wood can be.
In your case I would probably add some vertical beams to your interior wall in addition to the ones on the outside of the shelves. As far as your concrete block wall is concerned, I would just use a concrete drill bit to pre-drill some holes and use concrete screws to attach the boards. Thanks for sharing your success story – I'm glad to hear it worked out for you!
You can make them from anything you like, as long as it doesn't leach anything poisonous into the soil. Erosion-control rolls (if you're going more than one level deep, use stakes to keep them in place. Waist-high beds are great for people in wheelchairs and anyone with a bad back or bad knees. If you have the time and energy, adding a sturdy, well-supported 6″ wide ledge to the top is so very, very worth it. Also, if your garden is at all accessible to small children, you will find that they like to try to balance-beam walk along garden beds, even those belonging to total strangers.
If you don't mind replacing the beds every five years or so, cheaper softwood two-bys will do just fine. If you have deer, rabbits, or cats that can't tell the difference between a garden bed and a litterbox, try hoops and netting. You can use rebar or other stakes to hold the walls of your garden bed in place (with or without fastening the corners using one of the methods below).
I made my garden beds out of free lumber (thank you, guy on Craigslist), braced at the corners with the least expensive brackets I could find. If you want something with a little more structural stability, you can use posts at the corners. Many folks use a 4×4 on each inside corner, screwing or nailing or bolting the boards. You can also just screw or nail the boards together, but you run the risk of a) splitting the ends of the wood, and b) having the screws or nails just pull right out of the end grain when the neighbor's child is balancing on the edge.
Plus you will need two shorter pieces around the length of the pieces of wood you will be stacking on it. And you will need about 8 nails or screws and a piece of rope or wire about two feet longer than your rack. I like to use a steel wire since it will last a long time and won't degrade in the sun.
At first it helps to keep the sides an even height until there is enough weight to keep the uprights solid. Be sure and weigh or tie the cover down wish something to keep the wind from blowing it off.
With 2 young children with their hyperactivity, we needed a safe, play-pen like area for them to play. Before I can get started with my deck, I needed to get some other projects out of the way like replacing my basement windows as well as replacing my rotted rim joist and sills because a new deck would prevent me from doing those projects later. Obviously your situation will be different, but my advice would be to identify and resolve any potential issues or projects before installing a new deck, even if that means the deck will be delayed.
My existing deck was built sometime in the late 90s with built-in benches that were failing.
However, the overall decking surface was in decent condition so I decided to keep them in place. To further maintain the uniform look (and to keep my toddlers corralled in once place), I decided to extend the guard rails to the old deck as well. My decision to go with a freestanding deck design (over ledger attached design was) was pretty simple by the sole fact that I was still ANGRY about having to replace my rotted rim joist and sill plates due to improper (or non-existent) deck flashing.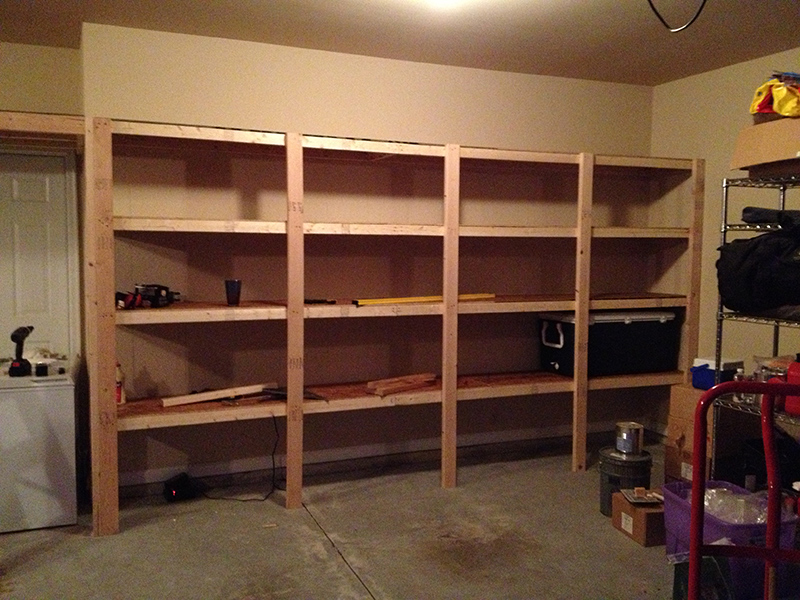 My overall budget for the deck was approximately $2,800 building it myself, which was lot less than most quotes I got from local contractors that were in excess of $15,000. I figured going full tilt during weekend days for 4 weeks straight would be enough to complete the project (LOL, I was way off the mark). Although this book was originally published way back in 2002, it still contains tons of valuable tips and tricks that I used to get my deck built. However, one thing to keep in mind is that the building code has changed since 2002 so you need to double check any information you plan on using from the book with your township's building inspector. The author mounted guard rail posts and in some examples showed balusters mounted on the outside.
I have grown to LOVE this common wooden structure that so often goes unnoticed and tossed aside after it's initial job of assisting in the transportation of something.
We were able to acquire 6 pallets that were no longer needed at a job site, bought some screws, a 4×4 post and a sheet of plywood and got to work. Because the pallets are able to hold their own in weight and structure, all we had to do stand them up on end, put them in an L shape, screw them to the deck and then together and the basis of our bar was set. I bought a few things at the Aloha Market (read about it here) to complete our tiki look and now all we need is to stock the bar and have a party! Tagged bar, cheap, DIY, furniture, hawaii, inexpensive, long live the pallet, oahu, pallet, pallet bar, pallet table, reuse, table, table. You could take plywood, stain it and then score it with steel wool or even hammer it, then seal it with a poly coat. Did you do both sides of the table before you secured it or did you only do the top and the edge? It is from the blue cloth I laid on the plywood before applying the modpodge and pour on surfacing product.
With garage shelves, in my opinion, they don't need to look fancy, but they do need to be sturdy – I've seen far too many saggy garage shelves that look like they're going to come tumbling down at any moment. Divide this distance by the height of the tallest item you will be keeping on your shelves.
I made our bottom two shelves taller to hold the larger, heavier items (like food storage), and made the upper shelves a little bit shorter to hold the smaller, lighter items.
If your bottom shelf will have a 21 inch space under it, measure up 24 ? inches and use your level to draw a horizontal line all the way across the wall. I used a combination of 2x4s (for the vertical support posts), and 2x3s (for the main horizontal framework, including the boards tacked to the wall). For a 14 foot wall, I used 5 2×4 vertical posts, two on the end and three in the middle, each spaced about 3 ? feet apart.
This is the fun part and if you've already measured and marked everything, the building portion should go fairly quickly (with this design). Place them over the horizontal lines you drew and put a nail in at each vertical line (where the studs are). Measure and cut these boards (and all the other vertical support 2x4s) to be ? inch taller than the highest board against the wall.
Start at the bottom and place something under one end, while you nail the other end to the perpendicular board that is against the wall. After you have leveled the 2×4 and nailed it to the second row, the remaining rows will go quickly. They should fit right into your frame and once nailed down will offer additional strength coming out of the wall, as well as side to side.
With the budget you have, you can actually do a lot of things with it but make sure to canvass for cheap but quality materials.
My main goal was to build shelves that wouldn't sag and would hold up well in the long run.
Is there any way you could make the shelves within your system adjustable to give you even better use of space ? I would think that you could use this same design, just duplicate the back and front sides with the vertical beams, and then make sure to include some kind of diagonal support beams that go from the top left to bottom right, and top right to bottom left corners to maintain the horizontal strength. These should work since you don't need the vertical strength from the wall, just horizontal. It's hard to resist a good opportunity to build something yourself and save some money! You will have to pre-drill the holes with a hammer drill and a concrete drill bit, but concrete screws should work, in my opinion.
If you decided to use thinner plywood than I did then you might need to add in more support beams. Just be sure you are screwing and or nailing into a stud behind the wall and not just into the panelling.
Since those were secured to each horizontal shelf they really don't move down on the floor. I just finished building these shelves in the center of a wall in my garage, there is no wall to attach to at either end.
For the spacing of the vertical beams, I would try not to go beyond 4ft, unless you plan on using thicker horizontal beams. You could then cut all of the horizontal beams, that are to attach to the interior wall, to fit in between the vertical beams. For the width (or depth) of the shelves, I just measured the the widest item I knew I would be storing on the shelves and then made them an inch or two wider than that. They're made of reclaimed redwood, painstakingly planed smooth, skillfully fitted and joined. This is why garden beds are the best kind of building: you can adapt them to just about any budget and skill level.
That means don't use pressure-treated lumber, railroad ties, old tires, or anything that was painted before 1978 (old paint may contain lead). Loosen the ground and work some compost in before you fill the beds, and plants will happily send roots down. Before you plant, line the bed with permeable weed-blocking cloth, so roots don't get into the bad soil.
A nice wide sturdy surface will reduce the likelihood that they will tumble into your beautiful vegetable patch. Two-bys (2-inch thick boards) are sturdy, but I've seen beds built from the much thinner fence boards — often available cheap at the big lumber stores, or free if you know someone tearing down a fence. All my garden beds are made from softwood 2x8s that I got for free on Craigslist (they'd been used as forms for a concrete foundation).
You can make the hoops out of pvc pipe, electrical conduit, or anything else that's flexible enough to bend into a U shape. Except the least expensive brackets weren't quite cheap enough, but the guy at the hardware store suggested I get a bunch of the Simpson Strong-Tie Tie Plates and bend them into L-shapes. This has the added benefit of allowing you to stack multiple tiers of wood, making beds that are both tall and sturdy. If you're using long spans, one or more additional 2x4s at mid-span will provide additional structural stability. But if you're going to shop at Amazon anyway, please click this link first, and they'll send me a small referral fee.
This rack in the photo took me about ten minutes to build, out of materials that I already had laying around. They should be spaced apart so the base will be about as wide as the length of the pieces of firewood are that you will be stacking on it. You will have to stack a few pieces of wood in the corners to hold the uprights apart, while the string or rope holds them upright. That is the disadvantage to this style of firewood rack, The uprights will only stay up when there is enough weight pushing against both ends. Stacking the wood a little above the uprights can help in covering the stack without the tops of the uprights being in the way.
In order to post comments, please make sure JavaScript and Cookies are enabled, and reload the page.
I have everything else in place, just wondering how you attached the plywood to the top of the pallets? In fact, I've actually had a pet killed by some pre-built garage shelves that collapsed. I wanted to share my experience to give other DIY-ers an idea of a simple shelving design that is built to last. I would also recommend storing all of your DIY chemicals like herbicides, pesticides, or cleaners on the top shelf, so your children cannot reach them (easily…). Take your stud finder across the wall horizontally (twice), once up higher, and once down lower and mark each stud.
The next horizontal line should be 24 ? inches above that line (assuming all of your shelves will be the same height). I also used ? inch thick plywood for the shelving surface, with the smoother side of the plywood facing up. You can do whatever you want here, but make sure you don't go too far between the posts so you have enough strength.
This is so that when you lay the plywood down on the top shelf it will fit into the frame for additional support.
Replace whatever you were using to support the other end with the first vertical support 2×4. I would still check each row with the level as some boards can be warped and will need to be bent into place.
I guess I should have mentioned that $60 of that $200 was buying a new box of screws and a nails for my nail gun, which I obviously didn't use all of them. I also wanted to use wood because it's cheaper and I already had all the tools to do it easily. Instead of buying a shelving system, I thought it might be more price-efficient to try and reuse the planks we have.
You might want to go with an entirely new design for your situation, however, since this design gains most of its strength from being attached to the wall. Some concrete screws come with a concrete drill bit that is the right diameter for the screws you are buying. As far as vertical strength is concerned, I personally think the 2x4s are good enough for your situation. Do you think I should remove the paneling from the wall that I'm building shelves on? I will say that you should make sure they are all the way down on the floor before tacking them into place up above, to ensure that they are supporting the vertical weight of the shelf. At the same time, it might work just fine since each of the vertical beams would be attached to more than two horizontal shelves, hindering that side-to-side movement. The small size makes them easy to build, move around (if needed) and take care of the growing garden, but they're still big enough to grow plenty of veggies. A ledge is handy for sitting or kneeling on, and provides a convenient place to set your tools and notebooks and coffee.
I put the brackets on the outside, rather than the inside, so I can unscrew them if needed, and to reduce moisture intrusion into the wood, and because I am convinced this will keep them from pulling out of the wood even if it starts to rot. After the first year I decided to reconfigure some of the beds, and it was fairly easy to unscrew one end of each bracket, shorten or swap out the boards, and reattach.
This looks tidy from the outside, but you end up with corner chunks missing from your planting area, which will vex you to no end if you use the square foot planting method. This is fine for a longer term firewood storage rack, but if you are putting wood in and out regularly, this might not be the best design for you.
It keeps covers the top to keep the rain off, but leaves the sides exposed to open air so the wood can dry. I want to try the second recipe with the flour, sugar, etc but i'm worried it won't turn out how yours did! Been trying to figure out what to use to seal the wood on the bar and the foot rails around the bottom. My problem is I'm going for the Bushveld look and the blue counter top will not look as good as yours. This would equal roughly 4.4, which means that you have enough room for 4 rows of shelving with 21 inches of usable height.
Then take a 4 ft (or longer) level and trace a straight vertical line between the upper and lower marks. Nail it into place with only one nail so you can still pivot the board side to side and level it. I personally go for wood than any other material for shelves because 1) it is easy to work with 2) it is exudes a classic warm appeal. I wanted the spacing to be large enough so I could get large tubs in and out, but still have enough support.
Having it attached to the wall should also help to prevent it from collapsing to the side, but again, I'm really not sure.
I do wish I had a few more inches when storing some of my larger coolers, but I am still able to get them in.
Once I knew that depth I wanted, I pre-cut all my plywood to that width so those pieces would just lay right into the frame.
I didn't use the fancy outdoorsy no-rust screws, so a few of them broke off instead of unscrewing.
My shelves were about 21 inches deep so I was able to get two, 8 foot long pieces out of each sheet. If you plan on spacing your vertical beams at 4ft, or longer, I would at least upgrade your horizontal beams to 2x4s instead of 2x3s.
This vertical line will be your guide to help you see where to screw the boards to the wall. I found this depth to be good for most tubs and other large items you would store, and plenty of room for storing several smaller items. I understand you poured on the goop which dried like a clear laquer but at what point and what materials did you make it blue?