06.05.2015
Despite its original February 4th due date, our big bundle of sectional joy arrived ahead of schedule. We also want to add (maybe build?) a long narrow console table to go between the sectional and the wall to host a couple of lamps and act as a spot for drinks, etc. Especially since the fancy pants sofa that we coveted from Room & Board (more on him here) has the exact same legs in a darker finish. Burger is basically nutty with options for curling up, jumping around, and perching upon every possible cushion and cranny. And I think that area is perfect for a play area, lots of light and seems like it would be hidden from view because of the couch. The old sofa is sitting in the formerly empty future dining room (which is technically the formal living room at the front of the house that we'll be converting).
This house just makes me smile, so of course I had to House Crash the heck out of it and share it with you guys. The cabinets are painted Sherwin Williams Alchemy on top and Grandiose on bottom (she couldn't decide on a color so she used both). Everything right down to the little details (like this showstopping mirror from Pier 1) seems to scream come on in and make yourself at home. And I can picture myself sitting here at the dining table scarfing some pita chips and hummus. Seeing these colors on the wall is inspiring for when we choose our next batch of colors… and when we're not renting, of course! I was thinking how much I would love to sink into that couch with a good book… and then I read your comment.
We also had the carpenter build window boxes to liven up the trio of windows on the right side of the house (that's actually the garage, but it has side access).
On the front porch we added dark bronze rain chains instead of traditional gutters, since we can probably all agree that downspouts aren't the most charming architectural detail out there. Here's the foyer area, which sports a big white driftwood mirror from HomeGoods and a gray chest under it from Green Front Furniture. We had always wanted the fireplace to be the focal point of the living room, so we went with Hale Navy by Benjamin Moore to anchor that wall. The side table was a last minute buy from World Market and the gold-based lamp was a project from our book (once again stolen from our house in those final make-it-work hours). The living room light fixture was one of the last pieces we selected, since we were having trouble finding something that didn't compete with the gold accordion lights in the adjoined kitchen. The backsplash brings some nice polish to the space, it's called white blend waterfall glass tile from a local company called Mosaic. Looking to the left of the kitchen is the breakfast nook, which we turned into a built-in banquette.
In addition to being a cozy space for family to gather, we pictured it almost being a casual spin on a china cabinet in a way. The light fixture is the Large Simple Dome from Shades of Light, and we thought it referenced all the stainless steel and silver finishes in the kitchen (like the appliances, cabinet hardware, faucet, sink, etc) without going too crazy with gold everywhere. The mudroom is painted Kendall Charcoal like the dining room, but again all of the white (this time from the built-ins and two big doors) helps to keep the room from feeling too dark. We gave Carpenter John some direction – like the beadboard backs, the stained wood bench, etc – and then he executed everything. As shown in the video, the glass door on the left leads down to the back patio while the other door (shown below) goes out to the garage. Across from the pantry is the half bathroom, which we thought would be interesting with a big back wall full of accent tile from the floor to the ceiling. The pedestal is the Kohler Tresham (the same line as the toilets in the house), the faucet is Brizo Baliza in polished nicked, the mirror is from Target, and the sconces are from Shades of Light. That's kind of a fancy title for the small hallway between the kitchen and dining room.
So we called up a local restaurant called Urban Farmhouse who is known for their chalkboard menus and signs (heck, we even Instagrammed one last summer).
We really like dark wall colors in a dining space, so for this room we chose Kendall Charcoal, which we balanced out with white trim and linear wainscoting that we had John the Carpenter build (you can read more on that – and what inspired it – here). The peacock chairs were donated by World Market, the weathered trestle table was from Green Front Furniture, the art is from HomeGoods, and the rug is from West Elm. The light fixture is from Shades of Light, the (slightly wrinkled) table runner and those blue rimmed glasses are from World Market, and the rest of the table decor is from HomeGoods.
The metal tray and vases are from Target, and the big fiddle leaf fig is from a local nursery. Tucked along the inside wall is a bit of open storage to help keep this fictional work-at-home mom organized. We were going to have the electrician add a floor outlet (for plugging in desk items, like the computer charger) based on our final furniture placement. We kept the night tables simple, kinda like the cleaner version of what ours usually look like.
Our first instinct was to put more lamps on the dresser, but that made the room feel kinda lamp heavy (with two on the side tables already), so we went for plants and baskets. The master bath and closet sit off a corner of the bedroom and are separated by this small space, which features a brass floor mirror donated by West Elm, a driftwood light from Shades of Light, and walls that are painted Stonington Gray by Benjamin Moore just like the bedroom. When you turn to your right, through the double doors you'll see the space that we most want to pick up, stuff in a suitcase, and put in our own house. It felt fitting to aim for that spa-like effect in such an airy space (the house's floor plan meant we knew that this room would be spacious with a big window over the tub).
Speaking of envy, this tub is the York from Victoria + Albert, and the cool thing is that lots of people paint the outside an accent color.
The stool and basket are both from HomeGoods, and the floor mount tub filler is the Trinsic, donated by Delta. The master bedroom closet is equally envy-inducing in size and it sports two sections (which make it convenient for a couple) thanks to a little partition in the middle that carves out two sides. We hung a trio of our new doorknob hooks (two large ones and one small one) to create a little display space on the partition that separates the two sides of the closet. Speaking of that little vanity space, the stool is from Target, the green lacquered box is from HomeGoods, and the gold bowl with the plant in it is from World Market.
The vanity sits in the back half of the closet, which in addition to bars and cubbies, also sports this wall of angled shelves for shoes. Heading upstairs, the laundry room is one of our favorite spaces thanks to the wallpaper along the back wall. The floors are big 12 x 24″ tiles called Travertino White Field Sunrock found locally at Mosaic. Anyway, our Karlstad sectional from Ikea (Karl for short) came in four switch-around-able pieces, so we decided that keeping the sofa + the chaise (and losing the loveseat and corner seat that made it into a giant U-shaped couch) made the most sense for our new living room.
So without buying any additional pieces we were able to just connect the exterior arm that used to live on the end of the sectional to the sofa part and remove the extra stuff in the middle (corner piece and loveseat).
We also built the console behind the sofa two years ago, which we made in three interlockable pieces. Oh and you might notice that the second hole in the brick fireplace wall, which was meant for firewood back in the day, has been covered by a leaning frame.
Yup, it turns out when my house is full of freshly deposited moving chaos, I like to putter around with books and ceramic animals. Oh and we took down a bunch of doors on the first floor that blocked off spaces that we prefer to be left open for better flow (the doors on the right block the foyer from the kitchen and the doors on the left block the kitchen from the living room).
Now we can peek in on Clara in the living room while we cook in the kitchen, and there's a nice view of the big bay of windows in the back of the kitchen from the foyer instead of staring at two dark and heavy doors about ten feet from the entryway.
Liquid fabric softener is what my father-in-law (painter back in the day) told me about when we ripped the fuzzy wallpaper out of our bathroom.
I live in a 70 year old home that was riddled with layers upon layers of terrible wallpaper. I just waited a few minutes for that soak in, and scraped the paper off with a plastic putty knife. Isn't wonderful how a bit of organization can keep the world calm in the midst of the opposite?
We sold a few IKEA pieces this past weekend and now the kids room has a fresh new liveable look (complete with a moving box or two for extra ambiance- or reality). I am in love with your sofa (okay that is a weird confession) but it looks so comfy and cozy.
Sometimes if there is an ottoman available to match the sofa you can use a clamp to attach it infront of the seat at either end of the sofa to create a chaise effect.
I love that you're finding ways to repurpose your furniture to make it fit your new house! Fabric softener and extra arms to help were my fave remedies for removing wallpaper, but I've never had access to a steamer. I'm so excited to see the progress of the new house that I want to drive to Richmond to help you paint and stuff!
Okay I'll admit that this was the room I was most skeptical about (even aside from Karl) but it already looks awesome. If you end up using the other pieces of the sectional in a different room one day, are you going to have to come up with another name? I just moved, too — and I organized a shelf while my house was still a wreck and most boxes were unpacked! It was actually a pretty blank slate to begin with, so replacing the ceiling fan with a flush mount fixture (like this– basic and cheap, but still an improvement) seemed to raise the ceiling about a foot. And remember the rug we snagged on super clearance from the Pottery Barn Outlet for $300 off a while back (with every intention of working it into the guest bedroom for some added softness)? Which meant that it was time to hit up Craigslist to see who would cough up $60 for our full sized bed frame and hand-me-down Sealy mattress & boxspring.
Oh and because we know that you guys like seeing our house all torn up, here's the master bedroom with our guest bedroom linens piled high on the bed while we waited for our new Craigslist friend to come cart the bed away. So anyway, once the ol' full sized bed was sold and the rest of the things in the space were cleared out, we were actually able to give the green bench and the bedside table that used to live in the guest bedroom a second life in the nursery (we love repurposing everything that we can so that was a thrill and a half for us).
But we had some serious reservations about how comfy a sleeper would really be for our guests. But the issue that we had with online options were that we couldn't really lay on them to see how they felt with the mattress all folded out.
So after exhausting our online sleeper sofa search, we decided to hit up our favorite local furniture dealer where we could actually fold out the sleeper sofas and take them for a spin instead of blindly ordering them and hoping for the best.
We placed it right under the higher window which really opened up the room and allowed so much more of our lovely Pottery Barn rug to be seen. And you know what that means: waaaaay more floor space to accommodate a desk or two along with plenty of Baby P play area to spare. Looking forward to seeing how you handle a richly colored piece of furniture – it's a pretty big contrast to the light neutrals you typically choose! Great Idea for a sleeper… I was wondering how you guys planned on fitting everything in there! This remake is close to my heart, since we're planning on doing the exact same thing in our new house!
Alas, our basement isn't heated or cooled, and since it's a separate entry space (we need to walk outside and down some stairs to get to it) it's not the most convenient thing in the world- especially if we have a sleeping baby that we need to check on.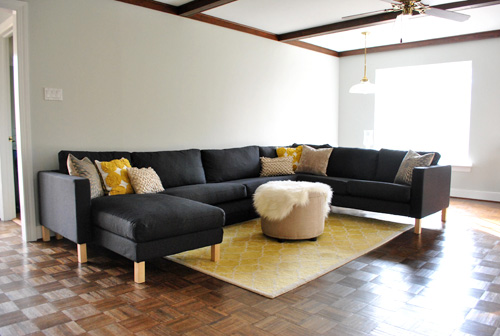 There is a double bed that takes up all space, so I've ended up with a room that is rarely used. We do frame everything ourselves, with Target and Ikea frames (so it's super affordable). And you can check out the Artsy Ideas category on our How To page for tons of DIY art ideas (just scroll down to that category after clicking this link). We know that when it comes to a sectional, we definitely want something comfy that will last while holding up to all sorts of insane kid-antics (growing up we used to shoot our sofa at point-blank range with everything from nerf balls to rubber bands, and that's only the beginning of the torture that thing endured).
So off we went to two local sofa retailers (we're very satisfied with our white slipcovered Rowe sofa and our green Rowe sleeper sofa, which were both purchased locally from a store called Sofa Designs). But the price tag (over $3,200 without tax and delivery) definitely caught us by surprise, especially given that our other two Rowe sofas were under 1K.
Pardon this picture of Karl, since the one we'd get would also have a chaise added on to create a big U-shaped place to flop down and watch TV, play games, hang out, etc (it would be shaped exactly like the Townsend by Rowe that we pictured above).
The antelopes dash into the jungle, grateful to have survived the harrowing lion attack (aka: The Petersiks happy dance into the living room, grateful to have survived the harrowing sectional hunt). Too funny I was just in west elm the other day and was going to mention one of their sectionals to you, but I bet it is too small! Ok I have to know this because I'm an Ikea newbie but how does the delivery service work? You can interchange the legs for metal ones (like Anna did) or spruce them up like we plan to do (deets on that when Karl arrives and we get to it). I wish you had planned a house crashing while you were in DC, my cozy Arlington condo would be honored to be on YHL!
Since it's a deep color we used a tinted primer first, and as usual I did the cutting in while John did the rolling. With all the painting done, we decided we were over the blank walls in there, so we dug through our storage room for some frames and a mirror to complement the new paint job.
They used to hang over our sofa in the last house, and they contain a few of our favorite instagram photos with big linen-like fabric mats behind them for some texture. Over the bookcase to the left of the bed we went with another one of those Ikea frames, but we added one of our picture hanging knobs from Target along with some gold ribbon (to tie into the gold mirror we hung over the bed). The gold mirror was an old yard sale find that used to hang in our last house's laundry room, and when John held it up over the bed we both liked how it looked with the wall color.
We also switched out the luggage-tray-turned-side-table for something a little more substantial with a drawer for concealed storage and a cubby for a few books and magazines.
The flowers are just a grocery store bouquet leftover from Clara's party (alstroemeria for the win, they tend to live for 3-4 weeks!).
We spent our weekend taking the dog to the beach (as of Memorial Day the beach has pretty strict dog restrictions) and did an 11 mile hike through Shenandoah National Park… Beautiful, but my legs still hurt! Ideally this room would have a larger rug, but we just sort of moved this one around until it looked the most balanced from the door (scooted in more meant an odd looking sliver at the bottom of the bed). Being our first Ikea sofa, we were a bit taken aback by how many different boxes our Karlstad came in. And the dark color is perfect for hiding those spills and drool spots that happen with a dog and a baby around. It took us a couple of hours to adjust to how much more space he took up than our old couch – but it took almost no time for him to win our hearts. Ikea offers sleek metal ones (which take the look to uber modern) but we wanna work with the chunky wood ones that came with Karl. And the island, sink, and shelves hail from Ikea while the rug is by Dash & Albert (from a shop in Ruston, Louisiana called Chartreuse Pear). Thanks so much to Kelly and her family for letting us virtually snoop around and share the goods!
That was the only thing my Hubby put his foot down on :) once it was all done, I was happy that I left it natural. These decorative chains help guide the water from the gutter down a drain to the ground and look pretty darn cute doing it. The large scale art is on loan from Lindsay Cowles (it's for sale, btw, and you can get 15% off with code YHL15), and the bench under the window is also from Green Front.
It wasn't until we saw the Clear Glass Chandelier hung up in the master bathroom that we realized another one would look great down here, but instead of using silver hardware like the one in the bathroom, our friends a the Decorating Outlet were able to modify one to include gold hardware so it tied into the kitchen pendants.
Most are in a stock gray color they offer (which is similar to Benjamin Moore's Gray Timber Wolf) and the island is painted Hale Navy like the fireplace column on the other side of the room.
To keep the glass cabinets from looking too busy, we just filled them with some white dishware from Target and HomeGoods. We knew deep drawer-bases seem to be more coveted than cabinets with deep shelves since they pull out for easier access, and the cabinet experts also suggested ways to take advantage of narrow spaces – like a roll-out spice rack and a vertical cookie-sheet organizer.
We wanted to do something a bit bolder than your average table-and-chairs for the breakfast nook, so we worked with the builder's carpenter (also named John) to construct floor-to-ceiling bookcases on either side and include a wraparound bench. Instead of housing all of your fine china behind glass, you could display your everyday kitchenware, cookbooks, and framed art & photos in a less fussy setting. A big thanks to John's sister (who works at Random House) and our publisher at Artisan who were able to provide some pretty cookbooks for us to use. The glass prism flushmount light is from Shades of Light, and it's also in the nearby hallway and mudroom. The prism light is from Shades of Light, the tile floor is from Mosaic, the floor runner is from HomeGoods, and the baskets and styling accessories are mostly ours, though the "I Like Big Books And I Cannot Lie" bag is from Fountain Bookstore. But instead he'll probably just do it for the eventual owner so it can be customized to their furniture layout, and not ours. The king bed is a woven banana leaf frame from Green Front Furniture, which is also where the wood nightstands hail from, along with the dresser made by Universal. Sherry picked up some inexpensive jewelry from World Market along with a simple mug and a plate (also from there) to casually hold the things that our imaginary lady takes off before bed.
So pretty early on we decided we wanted a light color scheme with a wash of color on the back wall of the shower. It's considered a double shower since it has Baliza showerheads on both side walls, which were donated by Brizo. You can check out a detailed photo of our tile pics (and more clearly see those little green glass squares in the floor) here. You can see that we also had the carpenter add some beadboard wainscoting around the tub area as an accent, and to provide some extra protection from splashing, bubbles, and whatever else your particular tub fantasy entails.
The bags and clothes are mostly ours, along with some thrift store items and few scarves from Target. We thought a random pop of citrus would be fun since the room's palette is otherwise pretty subdued with black, white, gray, and blue.
Again, we choose some lighter elements to balance out some of the darker things in the room like the deep wood-toned cabinets and the steel gray appliances. The counters are soapstone and, like the kitchen, we went with a nice deep stainless steel sink and a pull-down faucet (this ones is the Leland faucet from Delta). And the cool thing is that we realized that if we left out the middle piece it almost fit perfectly behind the freshly shrunk sofa. It worked like a charm, even when we learned there were three more layers of wallpaper (that had been painted over!) SO thankful, because we were snowed in for 3 days the weekend we bought the house and the wallpaper in there was driving me crazy. The technique I found most success with is to peel back as much of the top layer of wallpaper as possible (I was able to get some pretty sizeable sheets off).
Wallpaper removal was definately not one of my most favorite home improvement projects…. We have a few links for what we're thinking for the brick, paneling, and beams in this post. I have the 3 seater and I was under the impression that I couldn't extend it… Could well be wrong, this may require some more googling!
We just moved into our 1960's house a few months back and there was wallpaper everywhere and I mean even on the ceiling.
Then we just painted the walls a neutral tone, added some crown molding, stained the floor a richer mocha color (which we also did to the rest of the existing hardwoods), switched out the valances for some clean-lined (and super cheap) roman shades from Ikea, and brought in a hand-me-down bed from a family member with some fun linens and a DIY headboard that we whipped up. In fact we were pretty sad when we realized that we'd have to make some major changes to the room when it came to accommodating an office for two along with a spot for a wee one to play without losing the can-sleep-two-people function that it always provided. The craziest thing was that by the time we had the bed disassembled we already had a buyer in route to our house! We just like to do one project at a time, so after taking a quick nursery hiatus to sell the mattress we were back on baby-room duty while the office waited its turn.
You know, those fold-out-from-the-wall options that we've seen popping up all over the place lately.
Almost everyone has had the ol' rollbar-dented-back experience when crashing on an archaic sleeper sofa, and we definitely want our visitors to be 100% comfy (as opposed to stiff and sore in the am). And of course the $1400 Crate and Barrel option (which we could check out in stores for comfort-factor) was a bit more than we were hoping to spend. We scored a full sized sleeper sofa made by Rowe (one of our favorite sofa manufacturers, in fact they made our aforementioned living room sofa) for just $699- thanks to the fact that it was a floor model. Stay tuned as we tackle more floor-plan maximization, paperwork and file storage, desks and chairs for two, art and accessories, toy storage, and even a new DIY light fixture makeover. We're trying to pick new paint colors for our kitchen, dining and living rooms (all one big room and all in Chatham Tan right now) with windows on the east and west walls. We love it so much we won't be repainting- especially with a brighter sofa (we love the idea of a neutral wall to temper things).
Plus the concrete floors aren't exactly Clara-friendly, but we're so glad we have that space for added storage (especially since babies = tons of stuff!).
And I'll be sure to copy most of your ideas, so when you come to Greece, come and pay a visit…! And we know that a high price tag from one of the two amazingly reputable companies mentioned above would surely factor in things like quality construction and premium materials.
I guess we expected to pay around 2K or even 2.5K (since a sectional is kind of like two sofas put together). Basically just a few hundred dollars more than we spent on our white Rowe sofa, but it's three times the size. Anna's sofa is holding up really well over two years later, and she says she is very happy with her choice.
We actually have a plan for adapting the wood ones, but if that fails we can always go metal. Oprah's Australian adventure looked amazing and now we want to visit AU even more than we did before! My husband and I planning on purchasing a couch from Ikea in a lighter color but I have no previous experience with Ikea furniture.
A friend got one for her house and it looks great, even when all our kids are together on a playdate and going crazy jumping off it. As for the sunroom, we love that daybed (it was a wedding gift) more than the sofa, so it stays.
I think the legs as they come make the couch look cheaper, but I know whatever yall do will make them look 10,000x better. So they look a little different but it automatically places my comment right under the question that it relates to. Comments have been a full time job lately and the "show all" button has been crashing the site!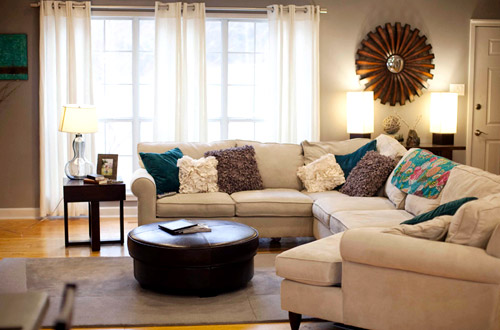 Oh and we painted the ceiling first (Simply White like the trim, but in a flat finish instead of semi-gloss) just because it's nice to do that at the same time while the room is cleared for painting if you have the energy. The wall on the left looks weirdly yellow because sunlight is shining in and reflecting green from the trees, so the other photos are more accurate in terms of the color. Originally we thought we might want to hang something on either side of it to fill things out (like some small candle sconces, ledges, or art) but there's something simple and sweet about the gold mirror without a lot of other stuff going on. I love that color and will be bookmarking it for when I own a house and can actually paint my walls. That's what I have to do when I see bloggers constantly doing house projects and then remember I work 50-60 hours a week and then have to cram the same amount of house projects into 2 precious weekend days. Our old Victorian has all dark wood trim and we wanted to go gray without painting the trim.
As for the pillows and the ikat, we don't mind them together but you're right about it being a random pairing! I was also thinking the mirror would look better turned the other direction, and would take up more horizontal space while still keeping the simplicity of only one object hung above the bed.
Plus because the entire sectional is slipcovered (even the arms and the frame) we can always wash it if something crazy happens.
You might know her from her killer photography blog (all of her DIY-related posts can be found here) or her genius line of camera bags.
The fun industrial-chic chandelier is from West Elm, the bed is from Ashley Furniture, the curtains are from Walmart, and the bedding is from Kohl's. Feel free to head over to her blog to learn more (or to ask any questions here, where she'll hopefully drop in).
The blue pouf is ours (bought on Joss & Main a while back and stolen from our own house in the name of filling this one up for the show). We used them a lot for stashing things out of the cleaning crew's way and they were awesome. Oh, and after we took these photos we had the show's resident seamstress make some cushions for the bench. We were initially going to get one built by a local timber company, but after two trips out there and a flurry of emails it turned out to be out of our budget. The curtains are the same fabric as the office ones, just in aqua (also made by U-Fab) and the walls are Stonington Gray by Benjmain Moore. The wood ring chandelier was donated by Shades of Light.
We actually considered a more intense cobalt blue tile at one point, but it was out of stock. At the suggestion of our local Ferguson rep, whom we worked through to select plumbing fixtures, we included a handshower on one side (we learned that new builds frequently include them, just to give people options like spraying off their feet or a pet). We also really like how the tile installer wrapped the white subway around the shower threshold. The walls are Moonshine. We added a little more interest to the vanities by selecting mirrors with a soft patina effect that we placed behind the x-frame doors (similar to the clear glass ones that we chose for the kitchen). We've never given toilets much thought, but when our builder urged us to pick something more stylish than a basic model we both fell in love with this one (the Tresham, donated by Kohler). The non-wallpapered walls are painted Steam by Benjamin Moore, which is just slightly warmer than the Simply White that we used everywhere else (it matched the back of the wallpaper better, so that wall didn't look yellowed by comparison). We'd love a work sink like this in our house (we're always moving dishes to wash our paint brushes).
And as for the unused two pieces that we removed, we stuck those up in the unfinished storage room with a plastic drop cloth around them. Next step is to fill a spray bottle with warm water and liquid fabric softener, and spray the paper backing of the wallpaper (left behind after ripping the top layer off). This is a perfect explanation as to why I love my Karlstad- not only is it rearrangeable, and recoverable, it sits low enough that you don't block any windows with the couch.
Since I'm 24 I just bought a loveseat for now, but I DREAM of getting a chaise lounge piece and having my own little mini-sectional.
I bought a fancy wallpaper removal steam system which wasn't getting the job done, as soon as I scored the wall and used the spray, that paper fell off. Being use-what-we-have kind of people, our first thought was that maybe we could reposition the bed against two walls to create a daybed type feeling and free up some floor space. So we decided that we had to pull the plug on the full sized bed and come up with an alternate sleeping solution for our guests (preferably one that could be tucked away or minimized during the rest of our time in that room so it could more easily accommodate two bloggers and a baby most of the time. And within two hours of listing our bed we'd sold it (for our full $60 asking price).
The downside was that many traditional murphy beds were not only extremely pricey, but the layout of the room wouldn't accommodate the fold-up function since two walls had windows which would have been obscured when the bed was folded up (not a good idea in such a small space since we need all the light we can get).
So it was just ten dollars steeper than the futon-ish Target version but a lot more plush and posh looking (and feeling! We just added that desk area so when we're down there we can sort through boxes without squatting on the floor- it really does come in handy.
But after a lot of debate, we decided that with a pooch and a baby (who definitely both give our current slipcovered sofa what can best be described as a workout) something swanky and un-slipcovered (even in a dark color) might not be the best match for our family at this point in our lives.
I believe we paid $89 for delivery, which is a lot cheaper than the other stores (even the local one) that we looked at. We were going to get one for our house but the Ektorp sofa with chaise suited better (we have a small living room). I would have a hard time not buying a slip covered couch after our experience with baby spit up, drool, etc.
As for the white slipcovered Rowe, we think we'll craigslist it (like we did with our old PB sofa from the den) since we no longer have a place for it. For some reason I only like skirted couches – just think it looks way better, so I wonder if it would be possible to DIY add a skirt. We had a nice balance of work and family time – and spent a lot of time being grateful for everything that Memorial Day stands for.
We're going for rich neutral-ish tones and this color would fit right in with our decor. Plus, when you hang crown molding there will be less vertical space to fill, so the mirror might feel too squished vertically then. Which is why the legs that come with Karl (along with a 10 year warranty) seem like a smart thing to stick with.
We took these photos before all of the white plantation shutters got installed throughout the house, which really finish off each room.
The island also houses the dishwasher, a roll-out double trash can cabinet, and tons of other storage spaces. They're deep gray like the backs of the stools at the island, so they tie in nicely (you can see them in the video tour at the bottom of this page). But we love how this one turned out, especially the stain color (we used the same tone as the hardwood floors – Jacobean) and the glossy bar coat on the top. Two woven benches (clearanced down to $33 from Target) sit at the foot of the bed to round out the texture-heavy space (we love how they tie into the woven headboard).
We also went with arched trim along the base of each vanity to give the built-in cabinet a bit more of a furniture feel (you can see that better two shots up). I think I'm going to test out a bunch of different techniques for you guys and rate them all (should be fun to see which are urban DIY legends and which ones work the best). And the other two walls wouldn't work thanks to the doorway into the room and a closet that we needed to maintain access to. So our next step was to do some internet trolling to see what was out there online- just to test the waters. And blindly ordering the $689 option (which was only available online and not something we could experience for ourselves to ensure that it was soft and easy to sleep on) felt a bit too risky to super cautious sofa-sissies like us.
And feel free to tell us all about any sleeper sofa or murphy bed victories that you guys have experienced.
He was large and in charge- the perfect oversized dimensions for our oversized room (and supersized family- when we get together for something casual there are at least 16 people in one place).
We had to tape off the outline of the sectional on the floor just to make sure it would fit. And then it happened, we remembered that Anna over at Door Sixteen actually purchased a Karlstad sofa after her pups had ruined her fancy Room & Board one (read all about that here).
I do have one minor complaint about it–the slip cover goes over the arms and then you assemble the couch.
I also feel like the mirror hung vertically actually competes with the vertical curtains instead of complimenting them.
We'll start in the kitchen, where Kelly and her husband whipped up some extra thick homemade concrete counters (and shared a tutorial right here).
Check out the great paneled ceiling and those sleek bulb lights (from West Elm) over the farmhouse-ish table (from Material Things in Monroe, LA). My faves are that rich and glossy glass tile in the kitchen and that insanely inviting jumbo sectional. FWIW, I tried the stuff they sell at hardware stores called DIF gel and it made a sticky mess and wasn't all that successful. I guess I could then do some DIY legs for the 2 seater to keep it all even… But then the slipcovers! Besides, that honey wood was a bit too futon-ish for us, so the fact that we'd have to paint it or somehow make it over after paying full price and not being able to try it out felt like a bit much. Like nerds we totally pulled it out in the store and laid on it for a while as we thanked our lucky stars and then popped up to sign on the dotted line.
Plus Karl is 100% slipcovered (which means nothing is nearly as scary since the cushions and even the arms and base can be laundered – or even replaced for a few hundred bucks if we want to switch colors down the line). So to take the slipcover off you would have to take apart the couch (I haven't yet done this). This will make the site muc hmore interactive and I bet other commenters will help cut down on the amount of replying you guys have to do.
The chairs and picture ledges are from Ikea and that amazing folk art cow painting is by Erickson T.
The little vases on the top are from World Market and the framed sea fan art is from HomeGoods. So we wondered if we could bring in a piece that would provide functional seating space all the time, just with a much smaller footprint when it wasn't serving as a full sized bed.
And we decided we preferred upholstered arms for the higher end look and for the comfort factor when it's being used as a sofa (for nursing, reading stories to Clara, etc). Not neccessarily for a nursery, but just in wall groupings in general, with photos, and the other stuff that you have framed.Like, do you use scrapbooking papers??
Not ideal, but the cushions ARE easy to clean, and they tend to see a lot of the mess anyway. And we definitely don't want to beat ourselves up every time the dog gets past us with muddy paws or the baby shows us her previously swallowed green beans after a rigorous dance interlude with daddy.