There was almost always music happening, but not necessarily with her active participation. Dartmouth had a relationship with the Royal College of London and Lindsay spent a semester there. This is where her life starts to resemble five miles of twisting water slide at an amusement park. Also, while she was still in college, she saw a flyer on which a rock (but rootsy, folky) band was looking for a cellist.
While she had made strides in breaking free of classical constraints, there was a lot more to be done. I'd done classical harmony, but that was about looking at the page -- it was like math -- it wasn't about what I heard. The switch to standing with the cello had its genesis with a 5-song demo CD she'd made when she was with the band in New Hampshire. Another new development during this period was the coordination between playing and singing. Dev Ray, her manager, was part of the recording and believed in the product and what she was doing.
Local concertgoers can hear her sing what's real and true on January 9 at The Outpost in the Burbs in Montclair, NJ. Then it hit me between the eyes like that nasty thing that Javier Bardem used in No Country for Old Men.
Then, she started studying cello in the fourth grade, and this would be her primary instrument from then on, but she still took piano lessons for 12 years in total. She then spent another semester at Dartmouth and followed that with a summer in San Francisco as a bike messenger.
She'd given it to one of the production professors at Berklee, then figured they were too busy to do anything with it. This was in addition to playing the New Year's Eve Concert for Peace at the Cathedral of St. This CD has been chosen to be played on all American Airlines flights this year and has been named #2 in Music Connection's TOP 25 New Music Critiques Of 2008. As she sings about the protagonist's sad dance around the kitchen, all your old ghosts will come dancing out as well. It's a metaphor for her own life and the world, a hope to preserve what's decent about humanity. This CD has been chosen to be played on all American Airlines flights this year andA  has been named #2 in Music Connection's TOP 25 New Music Critiques Of 2008. Students wore uniforms and a major and minor was required She majored in cello and minored in choral. While there had been the choral experience in early childhood and at Interlochen during high school, singing was pushed far into the background. Not by pushing harder, but by getting better contact; by putting the weight of your arm into the bow, into the string, and then it comes naturally.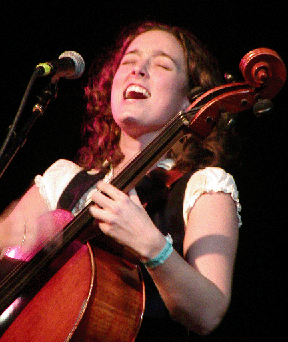 She sings about a girl who tries to protect a lighthouse from storms with just seven stones, She wants to protect something sacred to her. There was this really cool thing, when I started to sing and I hadn't had any lessons -- I could go up or down -- finally it fell into this groove of what felt real and right and natural. For me, it's like, make a sound in your belly and try to not interfere with it on its way out. Maybe if I learned something about jazz, or how to write chords and songs, it would get me where I needed to go. It turned out that, while all the players were top notch, she was tired of hearing regurgitation of standard pieces, tired of accuracy and excellence but with a lack of heart, genuineness and inspiration.
I studied jazz, songwriting, cello performance in general, ear training and harmony, all that stuff.
People were always talking about 'one-four-five' [chord progression] -- I had no idea what they were talking about.