20.10.2013
You must have JavaScript enabled in your browser to utilize the functionality of this website. The CTEK D250S Dual Charger provides the perfect solution for charging two batteries.More details Reduced price! A DC to DC charger is the most effective way to recharge maintain a caravan battery while towing. The CTEK D250S DUAL charger automatically selects the best connected DC energy source (of 2) for the purpose and switches between these energy sources to achieve high efficiency multi-stage charging.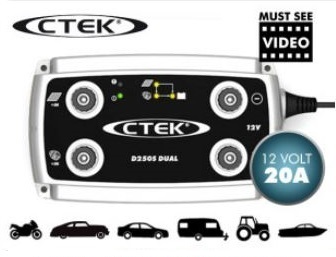 The CTEK D250S DUAL 12 Volt Battery Charger is particularly suitable for charging caravans, motor caravans, boats and second homes that do not have access to grid power supplies.
Charging automatically starts as soon as DC energy is provided to the charger, such as from alternators when a vehicle is started or from solar panels when connected. The CTEK D250S DUAL Battery charger has a temperature sensor which ensures optimal charging voltages at all temperatures. The CTEK CTD250SDUAL 12 Volt Battery Charger ensures that your batteries are always in good condition, quick charging and long battery lifetimes.
The charger is IP65 classified (water jet and dust protected and approved for outdoor use), protects vehicle electronics and is suitable for all types of lead-acid batteries (Wet, MF, Gel, AGM).