01.09.2014
You can still get house numbers based on Neutra's specifications, through a collaboration with his son Dion. To attach mine to the wall, I used some 10-24 bolts off of which I cut the heads with a hacksaw. Sadly the link is broken to the bit where you explain the jointing compound (what is that?) and the primer. I've been looking for these for a long time, but couldn't justify the cost either.   Where I live now, I have 2 O's in my address. They're attached by inserting the threaded rod into anchors in the wall, and then spinning them into the nuts in the back.
I would be interested in how you got all those threaded rods so perfectly aligned when you mounted the numbers to the wall. The Shabby NestYou can find the information you are looking for in a couple of different ways depending on how you are using Houzz.
Surrounding - Modern Lighting & Furnitureyou can find a link on each products that links to the website where you can buy the items.
He's best known for his integration of both his residential and commercial buildings into their landscape, and for his care in matching his work with the lifestyles of his clients, rather than imposing his own vision over their needs. They're absolutely beautiful, precisely crafted in aluminum, and, if you can afford them ($50 a piece), a lasting addition to your home.
I knew there was no way I could create mine out of metal, as that'd require lots of fancy tools I don't have, and thick aluminum stock that would probably cost as much as just buying them from DWR.
You can also use threaded rod, available in the weldable steel section of the hardware store, cut to size.
As OrangeSugar mentioned, there's a series or two (non-Neutra) at the home improvement store. I bet the offical ones have all the female inserts in the same line, which would make it easier.
But now I need a lesson in MCM, I understand Eames and atomic and can recognise most at a look, but, what exactlly makes the numbers Mid-Century? His attention to detail extended into every element of his buildings, including signage and house numbers. To do so, I epoxied nuts into the back of the numbers, and then attached bolts to the nuts. You will be covering everything in oil-based paint, but I don't see any reason to take any chances. I used "Aluminum" from Rustoleum, and found the sponge brushes to work better than bristly ones. Use an anchor designed for the material the exterior from which your house, wall, or mailbox is made. Maybe I'll give it a try anyway.  But the 0's are the hardest, huh?  I just finished installing a prarie style door and framed it with wide trim- they would look great on the top 6" board.
Admittedly, the 0 was difficult to do (I was ready to move to a house with a different address!), but I think I got it right on the third try.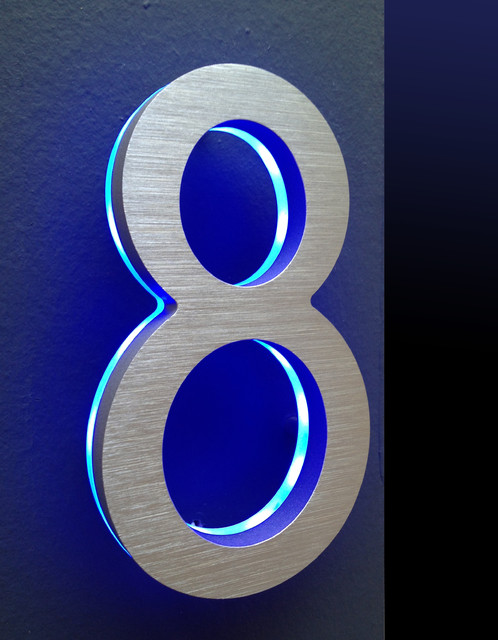 Thanks for a great tutorial and please tell me how to attach them to my concrete block shop wall.
Since they're going to be outside, I wanted to use something that can stand up to the weather. Also, cut any internal angles first, and then complex curves, and lastly the straight line that attaches the shape to the rest of the panel. I did this after painting, but recommend doing it before, so you don't have to repaint the holes later. Basically, you want to seal the "edge grain" with joint compound, and then cover the faces with an oil-based primer. I opted for Extira, which is an exterior-grade panel product, that looks and works just like MDF, but won't soak up water.
Extira will send you a free sample, so you might be able to get enough to make these for free.