The inability to change the network ID I made in 8 seconds and didn't realise was going to be quite so permanent when I was 17 isn't a new problem. Should I cut my losses, lose trophies, severe ties with virtual friends and start afresh next generation with a gamer handle that matches Xbox Live, Steam, and even my neglected Wii U? I've just stumbled upon the shameful realisation that I don't even know what my handle is on PSN (why is it different to the user account I sign in with?
While deplorable for someone who writes about games for a living, I rarely play multiplayer games on PS3, and on the odd occasion I've been known to dabble, it's never been with the 40 or so friends that must have added me five years ago.
Only, like trying to remember your super-secret security question about your parents' wedding anniversary that you definitely never authorised at the bank, it's not that easy. This is the problem with old user accounts becoming a mainstay of gaming — and digital life — beyond their intended lifespans.
Keeping a seven-year-old derisive PSN ID is like using your Year 9 Hotmail account to manage all of your pertinent financial information.
This is almost on par with the age restrictions Sony has where they don't get lifted even when you're 18.
First of all I am the Founder of Raise Hell Gaming Community, we have Gamers on both PSN and Xbox across the UK, USA & Canada. I have decided to start a Petition and after it receives a certain amount of signatures to present it to Sony PlayStation and make them change their policy about Online IDs and give the Gamers the service to change their Online ID when they want. Also, the Online ID is checked each time you sign in to the PSN, and changing this could mean that you'd lose access to purchased content as well as leaderboard information and game progress and trophies.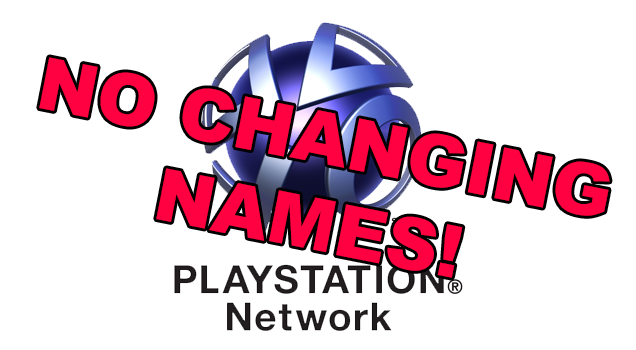 Although signing up to PSN and creating an account is fairly straightforward, there are numerous steps in the process. Enter sign-in information: a valid email address (sign-in ID), password, and security question. Right, Ive reached The Maximum Of PSN accounts And Some People Said If i Delete All My Accounts I Can Make Sum New 1s. But as the burgeoning era of the PlayStation 4 approaches its inauguration, it's become an embarrassing inconvenience that isn't going to go away. Or do I tough it out, accept whatever my username currently is, and hope that Sony either eventually allows name changes or is serious about this real name business pushing gamertags into early retirement? I'm happy to become a born-again PlayStation fanboy (I'm thinking of giving the ol' PS greater prominence next-generation) with an agnate gamer handle across all my platforms. Do I abandon the remaining six months in favour of a network ID that I can actually remember?
If I had known my 2007 username was going to be carrying weight in 2017, I'd probably have put some more thought into it, and devised something equally ridiculous.
Losing trophies and abandoning prepaid PlayStation Plus is an annoyance, but being stuck with a nonsensical PSN ID in 2023 will be a disaster. Also my Square Enix ID, meaning if I wanna play FFXIV on PS4, I can't use my existing character! I have decided after speaking to the Communities PSN Gamers that they would like to change their Online IDs but Sony PlayStation does NOT offer this service.
This is to help us ensure that all users comply with the Community Code of Conduct for the benefit of all PlayStation Network (PSN) users. If Microsoft Xbox can allow their Gamers to change their Gamertags and still have all their data linked to their accounts why cant Sony PlayStation do it too?.. If you made a new account then it counter acts the games that are currently on your PSP go.
Online and gaming IDs need to be able to evolve with us, and the PlayStation Network is one of the biggest culprits for not allowing it. At least I would have tried, but regardless that's why we need an option to be able to change usernames. So the point really is that the account that the games belong to should be signed into the PSP go. I don't care about them right now, but that doesn't mean I want to be mistaken for an incompetent ninny without a trophy history. I'm joining the heaves of people and fellow work-mates who have all moved to 360 once and for all.