The more we can encourage our community to practise mindfulness and meditation… the more peaceful our world can be.
The Gesture of Teaching (Dharmacakra Mudra) with both hands in front of the breast, tips of the index finger and the thumps touching. The Gift bestowing Gesture of Compassion (Varada Mudra) the right hand pendant with the palm turned outwards. The Gesture of Meditation (Samadhi Mudra) with both hands resting on the lap, palms upwards.
The Gesture of Fearlessness (Abhaya Mudra) the right hand slightly elevated, the palm turned outwards, also called the Gesture of Renunciation. The Gesture of Debate explaining the Buddha's teachings (Vitaka Mudra) with the hands raised and the tips of the forefingers and the thumbs touch each other. The Gesture Warding off Evil (Tarjani Mudra) with forefinger and little finger outstretched. The Gesture Beyond Misery (Buddha-Shramana Mudra) also called an ascetic's Gesture of Renunciation. You should be able to swipe up on a tablet, probably phone too, to get the text in the first post to display. The shinobi or ninja had a series of psychological tools to enable their clandestine activities. As an example in a more Buddhist context, we can create a sense of 'calmful abiding' during meditation and use an innocuous mudra to link with that feeling.
In a society of competition, constant stress, over-stimulation through media, and perhaps bullying at school, it can be a challenge to make sure that kids are always happy. Longitudinal research proves that today's youth experience higher levels of pressure and stress compared to previous generations. In a world of sensory overload and school, family and internal pressures, kids need meditation as much as adults.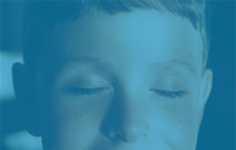 When you teach your kids to meditate you'll be helping them to stay mentally strong and healthy. The use of this material is free for self-development, developing others, research, and organizational improvement.
The British School of Meditation has been established to meet the growing need for accredited, qualified meditation teachers.
I joined the School of Meditation in Holland Park in 1984 where I learnt to practice the Vedic technique of meditation. Chris has been practising meditation for over 10 years, and has a daily Vipassana practice. Now a qualified meditation teacher working with the British School of Meditation, and a teacher trainer, Chris has been teaching formally now for over five years, and has brought the benefit of his experience to the emergency services, sports clubs, businesses, workshops, and independent students in London, Essex, and Kent. Previously a Policeman with the Metropolitan Police, and having served in the Armed Forces, he has seen the benefits that meditation can bring to a hectic stressful working life, and in the most trying of conditions. If you live in or near London and want to train as an accredited meditation teacher contact Chris for an informal chat to learn more.
The course is fully accredited by The Open College Network South West Region Ltd, and has Ofqual recognition. The British School of Meditation has been established to train teachers in meditation techniques to meet the growing demand for highly trained and accredited meditation teachers throughout the UK including: the Midlands, South West, Wales, North West, North East, London and the South East. Meditation helps kids develop focus, regulate their own emotions and learn how to pay attention inside and out. By teaching meditation to kids you help them stay calm and focused. That first experience of connecting with the silence and stillness that lies deep within all of us was one of the most profound experiences I have ever had. I am really looking forward to sharing my experience and providing training and support to others wishing to become an accredited Meditation Teacher. He started out by looking for a tried and trusted method to relieve stress and anxiety, and then moving on to learning with Buddhist and Secular Teachers throughout the UK.
Make it your choice of training provider and join the many BSoM qualified teachers throughout the UK training people in meditation techniques. These were part of a clever mind association practice, partly from Buddhism, Shinto, Taoism and shamanism. From time to time I will be updating this guide so follow me on my Facebook Profile or Twitter for updates. I found that meditation gave me a framework which enabled me to assess and reflect on my lifestyle and make much needed changes. I then went on to become a consultant and trainer working with schools, supporting them to develop a whole school approach to the health and wellbeing of both pupils and staff. I also discovered that the beauty of meditation practise was not just the sitting in silence for 40 minutes, as part of the sessions at the SoM, but also the way it directed me to be more mindful in day to day living, to truly experience each and every activity of the day and strive to 'just be in the moment'. For me being a meditation teacher draws on all of the skills and knowledge I have gained over the years as a teacher and trainer and brings me full circle back to meditation.
It is exceptionally well planned and comprehensive and I can honestly say I enjoyed every moment - even the coursework! It was important for me that I found a reputable course which gave me a recognised qualification.
The BSoM offer of expert training accredited by The Open College Network South West Region Ltd, (trading as AptEd) with a qualification recognised nationally by the Government agency, OFQUAL.