An eye-opening, heart-rending tale of love, honor and betrayal from veteran foreign news correspodent Atia AbawiFatima is a Hazara girl, raised to be obedient and dutiful.
Although the subtitle may mislead with tabloid-style possibilities, Fatima and Samiullah's love blossoms shyly from a childhood friendship, and Abawi depicts it deftly. Enabling JavaScript in your browser will allow you to experience all the features of our site.
The two are teenagers, daughter of a Hazara tenant farmer and son of the Pashtun landowner. She is a Hazara girl, he a Pashtun boy; they should not be considered equal, but their village is relatively open-minded. Among the many novels set in Afghanistan for young people or for adults, The Secret Sky stands alone.
Readers will recognize the Pashtun-Hazara class tensions that Khaled Hosseini etched so powerfully in The Kite Runner (Riverhead, 2003). Its Pashtun and Hazara families have endured heartbreaking losses and, amid crushing poverty, hold tight to what remains.
Now a teen, it is no longer permissible for Fatima to spend time alone with any men outside of her family. The elderly woman teaching her to read recalls freer times, but Fatima, who's Hazara and barely past puberty, faces a drastically limited future—her mother wants her married.
And the story that follows shows both the beauty and the violence in current-day Afghanistan as Fatima and Samiullah fight their families, their cultures and the Taliban to stay together. The innocent teenagers have not yet even declared their feelings to each other when Rashid brings down upon them the fury of their parents and of a murderous band of Taliban-like thugs. However, she and Sami cannot deny their mutual attraction and begin spending time together in secret, risking their lives in doing so. When Fatima's childhood Pashtun friend, Samiullah, returns from his madrassa, their mutual attraction grows.
But even chaste meetings violate strict cultural edicts; transgressions can have lethal consequences.
He learns only gradually how religious extremism can cloak inhuman greed and brutal power-mongering.
This is an important story; it gives sensitive insight to a culture that many Americans do not understand beyond what they read in headlines.
Their discovery by Sami's cousin Rashid, embittered by jealousy and family tragedy, sets in motion events that change their lives, and those of their families and village, forever. Rashid's posturing is off-putting at first, but a wise mullah sows seeds of humanity when Rashid grasps at a vision of forgiveness for his betrayals.
It also does not shy away from the horrors of a deeply divided, war-torn country: boys are raped, murder is widespread, and parents mutilate their own daughters.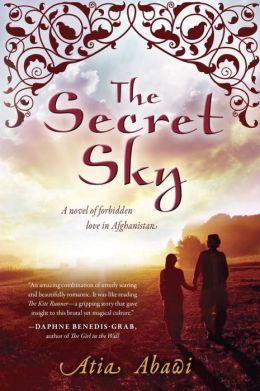 All characters are Afghans, political attributions vague or neutral (the Taliban's criticized but not vilified).
Abawi reserves condemnation for the violent, twisted opportunists who take advantage of chaos. Atawi lived almost five years in Afghanistan as a TV news correspondent and she writes that this story was influenced by real events and real people. Juxtaposed with horrific events, the tone and stylistic conventions of lighter teen fare occasionally feel jarring. First-person, present-tense narration confines the story to the here and now, yet that immediacy brings closer this ancient, complicated country bound to ours.
Riveting plot, sympathetic characters and straightforward narration studded with vivid, authentic detail: a top choice.