As another year ends for Secret Garden Party and the tide turns back to the real world of royal baby coverage for 30,000 hazy gardeners, Tuesday mornings grating commute seems a little more bearable with the knowing of surprises concealed for gardeners-eyes-only.As most reviewers from this weekend will tell you – Secret Garden Party's tenth year was a stand out one, filled with pyrotechnics, geriatrics and a whole host of wonderful new spectacles that made the garden turning a decade old feel like a special, life-affirming experience. The Privee member arrived on the morning of Friday 26th July and was directed to a dedicated 'boutique camping' car park packed full of desirable cars ranging from Audis to Maserati's. The couple had a choice of many fabulous boutique options available, from spacious 6 people Tipi's, to cosy 4 people Yurts. With their Saturday night backstage passes and artist wristbands, which gave the couple restricted all areas access, they spent the weekend wandering the stunning location of the festival with its beautiful lake, trees and rolling hills whilst soaking up the magical atmosphere of the playground for adults, while all the time experiencing an amazing range of food from all corners of the world. This truly unique festival is renowned for its magical atmosphere; from its variety of musical talents to its specially created stages to accompany them.
After an enormous fireworks display which lit up the entire festival on Saturday night, the couple were taken backstage for the headline act, Faithless, where they watched them play out to a crowd of thousands of people from the stage. I am the director here at Privee Concierge, a high-end concierge service catering for medium to large business clients, multi-tenanted office buildings and the top flying individual. Once again, our friends at Lansons Communications will be opening their private courtyard especially for Clerkenwell Design Week attendees, and even better, they're hosting a Secret Gin Garden.
The Gin Garden, travelling purveyors of drinks and garden delights, works with local distilleries, complementing the botanicals of their gins with local herbs, fruits and flowers.
Stop by 21-23 May during CDW2013, and choose from a menu of tantalising gin cocktails made just for the occasion. I'm no gin enthusiast but used to work near the London gin distilliary next to Vauxhall Tesco. On my journey I passed so many ethnic food joints, I was spoiled for choice or the choice of a simple full English breakfast (I opted for that in the end) armed with my camera, I decided to take some photo's as seen here.
We found our spot, chatting away when suddenly all the lights went out 'World War 2' type sirens blasting (boom I was back in the magical world) surrounding the lake was an array of fire performances that lit up the whole area, then IT began! This entry was posted in Festival reviews and tagged secret garden party 2014, secret garden party festival, sgp.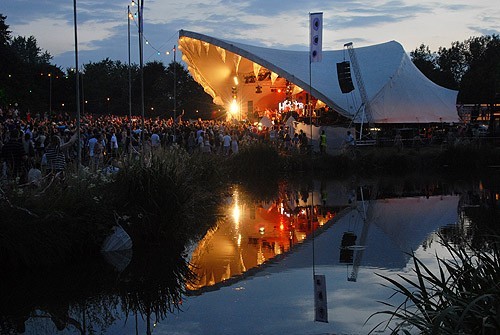 The line-up already includes Public Enemy, Hercules And Love Affair, Little Dragon, Fat Freddy's Drop, Martha Reeves and the Vandellas, Deap Vally, Morcheeba, Jagwar Ma, Fat White Family, Dub Pistols, Foxes, Maya Jane Coles, Sub Focus (DJ Set) + MC ID, Mo, Kwabs, Rosie Lowe, Wolf Alice, Years And Years, Gorgon City, Denai Moore, Bipolar Sunshine, The Amazing Snakeheads, Kyla La Grange, Le Galaxie, Teleman, Superfood, Matrix And Futurebound, David Rodigan, Tunng, Zervas and Pepper, Jack Garratt, My Nu Leng, Kidnap Kid, Tourist, Ulterior Motive, WOZ, The Mispers, Mausi, Pete Molinari, Fickle Friends, Big Boy Bloater, , Foreign Beggars, King Charles, Alabama 3, Big Deal, Say Lou Lou, Big Gigantic, Rae Morris, The Skints, Thumpers, Koven, John Fullbright, The Hics, Lxury, TCTS, Jacob Plant, Josef Salvat, Eagles For Hands, Nimmo and the Gauntletts, Ted Zed, Mad Professor, Coves, Jon Batiste, Melt Yourself Down, and many more. The end of July delivered a boutique camping festival experience for a Privee member at the Secret Garden Party event in Cambridgeshire. From the car park, a porter met them to escort and carry the couple's bags to their 'camping' area; this wasn't going to be your ordinary festival.
Once through the registration desk, where aside from one other person they were the only people in the queue, the couple were ushered to their 2-person 'squrt', an airy comfortable mini yurt, accompanied with its own double bed and front door with lock and key. Stages such as Pagoda, a man made stage overhanging the lake with keynote set from Ejeca playing his blend of disco and techno with his trademark vocals. The captivating festival proved to create many fantastic experiences with a few eccentric yet incredible nights to remember for the Privee members. We really do offer a unique service that you won't find anywhere else, so get in touch to find out about our membership packages. The old office building and some industrial buildings have been carefully boarded-up for about a decade.
This stage was built out of trees yes that's right trees, surrounded with wooden branches decorated by bright coloured buntings and lights, overlooked by the beautiful Lake. Oh boy did I skank my feet off to them, while the crowd surfing and a stage invasion took over. With such a variety of things to do and see, it's not just about music, as you have just read. But the reason this is, becomes very clear once you find yourself on site.With the new lake attracting much use due to the soaring 30° heat, baptisms and Bearded Kitten's own version of the international Birdman competition became drowned out by the lust of people to bathe in it's cooling waters. The boutique camping area was complimented with hot showers and luxury toilets, with a dedicated breakfast bar and restaurant run by the Breakfast club, meaning fresh eggs benedict and steaming hot coffee in the mornings.
Also featuring high up on the list was James Lavelle in The Artful Badger; an enchanted stage lit up and set in the depths of the woods.
If you could find out who owns them and organise a ghost factory tour, then I'm sure some people on your mailing list would like to go-along. The program was a book of dreams, where you could plan anything that'll take you into a 4th dimension, because what you plan would never turn out to be quite what you think, as I soon found out.
In the center of the lake was a stage that looked like a full sized, half sunk pirates ship, in the clasp of an octopus. This trio performed such a beautiful set and the whole crowd was in unison, it was stunning and quite moving.
Brilliant and barmy costumes delighted this year's superstition theme, as those in broken mirror ball space costumes sat alongside savvy twenty something's who'd feigned building ladders into their outfits. Finally a creatively built half sunken pirate ship that had its own stage in the middle of the lake, which was only accessible via a boat ride, s another magnificent example of what makes the Secret Garden Party festival a truly unique experience. During this set I heard a whisper that a secret guest will be making an appearance, so I hung around. But Garden Party did it's best in supporting the theme too, with giant magpies adorning the site.The annual burning of the lake stage upstaged a driven if slightly disappointing set from Faithless. It will be the BEST experience you'll ever have and by far the BEST value festival money can buy.
With a reveille calling time on the action, and a firework display choreographed beat-by-beat to perfection – this year's design, a pirate ship tangled in it's kraken enemy exploding, made for a beautiful image on Saturday evening.Stand out sets from the brilliantly folky Keston Cobblers Club, and the Williams Farey Brass Band made the weekend flow on in a fine musical fashion, while David Icke being booed off stage while talking about hologram people. But for those not interested by wisdom – Secret Garden Party always made sure there was a dance off or bouncy hopper race to match the seriousness with silliness.For everyone that made it to the Garden last weekend, there's one token memory they've left with. So if you don't find yourself in a field in Cambridgeshire on a weekend in the middle of June, next year, believe me, you're doing festivals wrong.