The Secret Seven are a series of 15 books written by Enid Blyton, and are mystery adventures with seven boys and girls sorting out criminals.
Each book is a different story in which they end up having an adventure, be it sorting out a gang of thieves or stopping people from stealing jewels!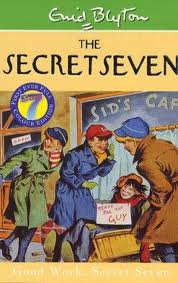 Apart from the wrong-doers there is also another main protaginist: Susie, Jack's irritating sister. Now I have a granddaughter who is 7 yrs old, so I have bought her the series of Secret Seven books for her.