This DLC can be accessed using the fast travel system and heading for the starting location of T-Bone Junction. Lancer, an APC capable of carrying four characters, as it has a gunner seat (with a two-stage laser), a minelayer seat, a driver seat, and a blast seat. Racer, the fastest vehicle with a single rocket launcher (similar to the one on the original runners) and a spoiler. The Secret Armory introduces some new non-player characters (NPCs), and brings back several previous characters.
The new areas are all located in the Parched Fathoms, a dried up lakebed home to T-Bone Junction as well as other areas. T-Bone Junction, a new friendly city, also the starting point of this DLC and the only map with a Fast Travel New-U station.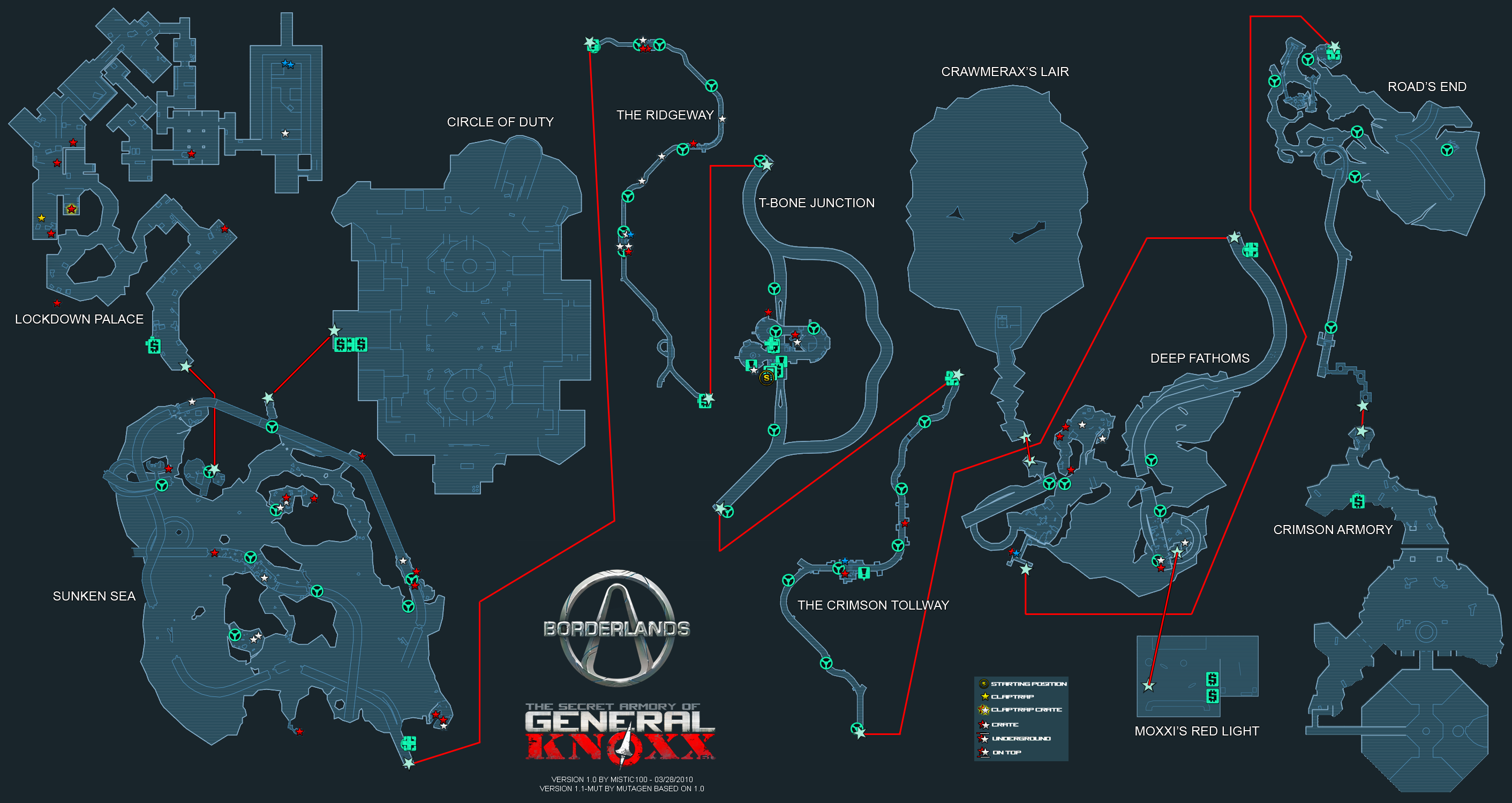 The Crimson Tollway - The long road controlled by the Crimson Lance, who have set up a roadblock. Road's End - An extension of the lakebed, the Crimson Lance presence here is stronger as the road ends at the Armory. The Ridgeway - A highway built through ridges of cut rock, in the opposite direction from the Crimson Tollway. Circle of Duty - An arena (with battles against the Crimson Lance) similar to the Circles of Death (skags) and Slaughter (bandits).
The Xbox 360 achievement list was revealed, with the following achievements associated with The Secret Armory.[10] They are also the same for the PlayStation 3.
The level increase, by the unusual number of eleven levels, is a reference to the potentiometer dials of Nigel Tufnel's guitar amplifier in the mockumentary, This is Spinal Tap, apparently to give it "that extra push over the cliff".
This is section of preview screenshots and videos, until they can be better integrated into their respective topics.
Recent Commentsjohnconnor777 on Bella Thorne Loves Her Statement-Making Stylejohnconnor777 on "Manus vs. NEW YORK, NY - NOVEMBER 13: Model Lily Donaldson walks in the 2013 Victoria's Secret Fashion Show at Lexington Avenue Armory on November 13, 2013 in New York City. All four ladies looked absolutely amazing as they got runway ready backstage at the Lexington Armory in NYC!