Having both previously been engaged and planned big weddings, we really didn't want to do that again!
The decision to elope and the reality that we wouldn't have any of our family present was tough.
Baker Creek Mountain Resort is only 10 minutes from the Lake Louise Ski Area and is the best kept secret in Banff National Park. Having both previously been engaged, neither the bride nor the groom were interested in going through the process of planning a big wedding.
We already had a big holiday to the US and Canada planned and so about 3 months before we left we decided to elope while we were there!
We were so lucky that we had my close girlfriend, Meagan, over there to help out (especially getting information for the legal side of things) and our photographer, Jenn, who from the beginning made the whole process a lot easier! I think the biggest challenge for us, however, was keeping it a secret! Guest accommodations consist of one bedroom suites with full kitchen, Jacuzzi suites with fireplace and deluxe loft suites with kitchen and double Jacuzzi as well as a selection of chalets, each with a kitchen or kitchenette and wood burning fireplace. Instead, they decided to tie the knot while on vacation, keeping it a secret from all, but a select few family and friends.
There were less than 10 people who knew what we were planning so it was so hard not to let it slip! All rooms are beautifully presented in a traditional mountain style and have a log cabin feel to them.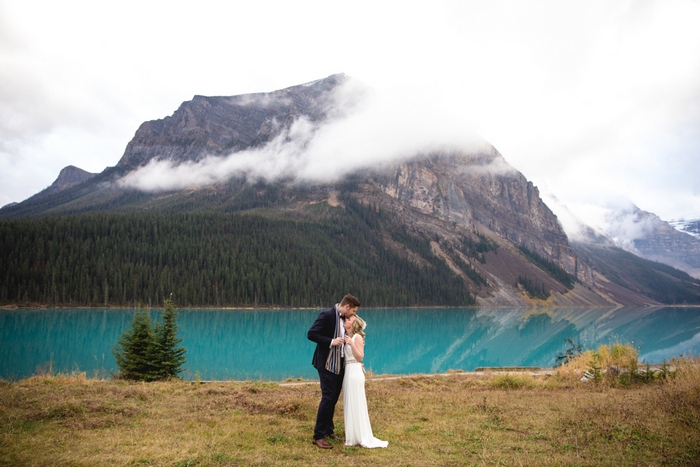 And so, with the majestic rocky mountains rising up around them and the turquoise waters of Lake Louise stretching out behind them, the couple exchanged their vows in an intimate ceremony while their photographer Jenn Beal captured every breathtaking detail of their perfect (and stress-free) day!