When I was younger I never understood why so many of my friends complained about eating their vegetables.
I remember asking my mami why so many people disliked colorful, seasonal vegetables at their peak of freshness. The Mediterranean secret to phenomenal vegetables is a combination of using the ingredients garlic, olive oil, onions, and fried tomatoes with the methods of either sauteing or roasting.
This method will make any vegetable absolutely scrumptious that both adults and children will love.
It gives the vegetables an amazing bright flavor and cooked together with sauteed onions… an incredible depth everyone will enjoy.
All you need to do is gradually heat up some extra virgin olive oil in a cast iron skillet or pan.
This is such an easy way to cook vegetables that leads to an incredible deep depth of flavor by the roasting alone.
Once you get a feel for cooking your vegetables in these different methods you can start to get creative with how you cook them. One of my children's favorite meal is a combo of olive oil, fried tomatoes, garlic, zucchini, and garbanzo beans all on a bed of white basmati rice.
The dinner literally takes about 20 minutes to make especially if you have your beans already cooked ahead of time. I discovered the wonders of kale sauteed with olive oil, garlic and anchovies a few months ago. I was sceptical, but the anchovies add saltiness and a savory yumminess that is not at all fishy but totally addictive. I plan on cooking fresh green beans from my garden tomorrow and am looking forward to trying this method.
I ate it with pasta one day and had to make it again the next with leftover brown rice because it was so good!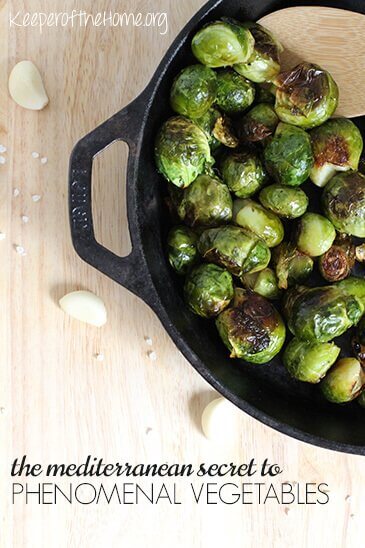 Add your vegetable of choice and simmer for about 15-20 minutes or until the tomato sauce has condensed. We…Orzo Salad with Spinach and Sun Dried Tomatoes By Andrea Green, Contributing Writer I love this recipe for orzo salad with spinach and sun dried tomatoes for many reasons.
He choked a few down, but mostly he spread them around with his fork and then snuck them onto a child's plate.