Si estas intentando escribir un mensaje, el administrador pudo haber bloqueado tu cuenta, o necesita ser activada. Originally released both on VHS and as a live album in 1994, Secret World Live documented the world tour for Peter Gabriel's Us album. Gabriel's finest touring band to date performs this set, featuring bassist Tony Levin, longtime foil David Rhodes on guitar, and French drumming wonder Manu Katche. Other features include time lapse video of a day in the life of the tour, from load-in through the show to load-out.
The improved picture quality, fresh remaster and new surround sound mixes are worth hearing, even if you played the live album as much as I did eighteen years ago.
The song selection and running order traverse Gabriel's themes of self-discovery, connection to others, and reconciliation between male and female. Here is another Step by Step guide, all you do is travel around the map for the most part, with one little exception. Bonus features include a documentary in which Gabriel describes his ambition for the show as his grandest since Genesis Lamb Lies Down on Broadway tour, and the challenges in pulling it off visually.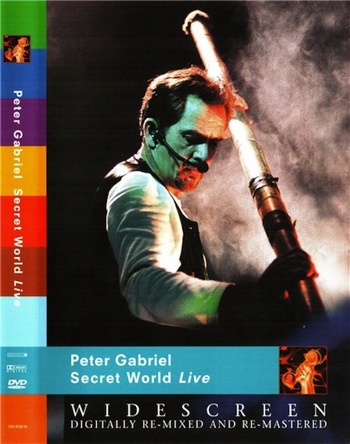 For the newly curious, Secret World Live provides a compelling overview from Peter Gabriel's heyday.
Ten years later, Secret World Live receives that overdue overhaul along with extras to make up for the wait.