That's the case, at least, when it comes to the world of today's mobile consumer.According to exclusive research from Experian Simmons, fully 29% of cell phone owners today believe that their cell phone will be the primary device for their entertainment needs, in the future. Screen size and limitations on creative, the report says, present obstacles to mobile advertisers. These obstacles and opportunities make it more important than ever for marketers to understand the behaviors and mindset of the mobile consumer.In this first in a series of blog posts, we will explore some key findings presented in the 2011 Mobile Consumer Report recently published recently by Experian Simmons. Media outlets have started to take note, citing the report in articles here, here and here.
Come back to this blog frequently for further updates, or download the full report today.Mobile Market OverviewCell phone ownership among American adults stands at 91%, up from 72% in 2006.
The vast majority of teens, too, have joined the mobile revolution, with 74% of those ages 12 to 17 porting a portable phone, up from 59% in 2006. Even tots are getting into the act, with a reported 22% of kids ages 6 to 11 owning a cell phone today. Among adults ages 22 to 24, the idea of not owning a cell is virtually unheard of, with an astounding 98% of consumers in this bracket reporting personally owning a cell phone.
While cell ownership among adults age 65+ is the lowest of any adult segment, it is the fastest growing, having increased a relative 52% between 2006 and 2010. Battling for third place are Sprint and T-Mobile, which respectively claim just 11% and 10% of the mobile market.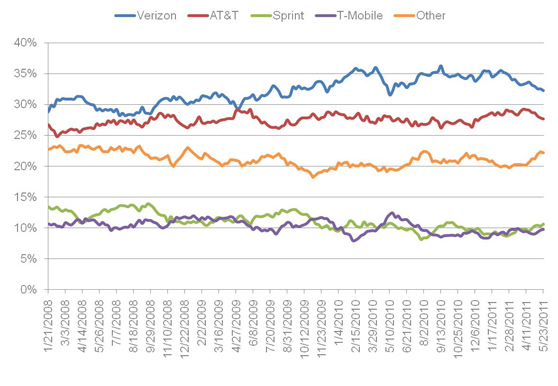 As of May 23, 2011, the average cell phone subscriber had been with their provider for 3 years and 2 months, up from 2 years and 11 months observed at the beginning of 2008.
Experian and the Experian marks used herein are service marks or registered trademarks of Experian Information Solutions, Inc. Other product and company names mentioned herein are the property of their respective owners.