After a lot of the feuds were inserted into the main event of Survivor Series, still leaving some names out, I was thinking, could they do a traditional Survivor Series this year with all team matches? Yea really, there's literally nothing they could do now to prevent this from being a weak card.
As I said in the WWE TV thread, I'm pretty sure there will be Cesaro v Truth also with the way Cole was talking during the tag match on monday night. It seems pretty obvious to me at this point that Miz is going to have a pretty significant role in this ppv.1 . TOP 806 MATCHES OF WWE 2012:Please note how almost 75% of the matches in WWE 2012 were under **. It would be cool John Cena would be in it or at least doing something else besides fueding with Ziggler.Thoughts? It would be cool John Cena would be in it or at least doing something else besides fueding with Ziggler.Thoughts?Yea same here. All they would need are 3 or 4, 5 on 5 team matches because they could easily go 30 - 45 minutes each. A traditional Survivor Series Tag Team Elimination Match will actually main event Survivor Series!
It locks in the 365 day reign and (could have) made for an interesting match-up.The problem is how uninspired the teams are.
Not the worst year ever for match quality, but it's what made this so god damned hard to get through. It's an award as a sort of recognition that someone should have won WOTY if all things were just, or would have if not for some minor setback like the structure of TV not letting the Ace work enough to get #1 or injuries costing them or them not being on TV the entire year, but being so far head and shoulders above everyone else. In 2009, JeriShow was EASILY the best tag team of the year, but due to them forming in the second half of the year and not working frequently as a team on television, they weren't able to put the points together to actually get to #1, and a team that was together all year and consistently working as a team on TV and PPV managed to hold the award. Also it would be like a throwback to the old school Survivor Series and a nice change of pace.
Maybe they'll throw them together into a feud on Smackdown leading up to a match between them. They just did this swerve last night with him sticking up to Heyman and being removed from that teamI could be wrong in my assumption, but I think they setup is definitely there. Someone had #1 pretty much sewn up by the end of October, and would have won a third Wrestler of the Year award if not for a very untimely injury. I'm not saying this should be the card, but based on who's around now I could see the rest of the card shaping out like this.
The reveal was just awful - how painfully obvious would it be that each man on the team would be the other;s opponent from the night before?To me, this match could have been the PERFECT opportunity to cash in on Ziggler. The award goes to the guy who had the best title reign of the year and one of the best of all time, constantly produced great title defenses on TV and PPV, and when he turned heel and things got bad in WWE in the fall, basically carried the company on the strength of his promos and matches before getting hurt.
They both the World Title, have a match to see who's better and might get a Title shot.Possibly a filler matchSix Man Tag Team Match3MB vs Team Cobro and The Great Khali? Not literally in the sense of the Money in the Bank, but the chance to make him a solidified star and do it without ruining anybody.Put Cena on Foley's team. The Usos and PTP are still developing, The Colons are solid but unspectacular as ever, Air Boom dies in January, and Team Hell No doesn't begin to click in the ring until December.
Mark Henry, Royal Rumble (January 29th) [WORLD HEAVYWEIGHT CHAMPIONSHIP - STEEL CAGE MATCH]Posted Image23.
At the same time, Sheamus stayed tight at #3 all year on the strength of several great matches and the opportunity given by being on TV twice every week.
And as with 2010 and 2011, Dolph Ziggler made his now annual fall rally, and the race became between Daniel Bryan and Dolph Ziggler.
Now, it seems blatantly obvious that Ryback will pin Punk clean, so we need a bit of a swerve.We're down to Cena & Ryback vs.
It brings a smile to my face to report that after 10 years of chasing this and 10 years of barely missing or being screwed by booking or injury or someone catching fire right near the end of the year, THE WRESTLER OF THE YEAR AWARD FINALLY GOES TO DANIEL BRYAN! Posted Image1.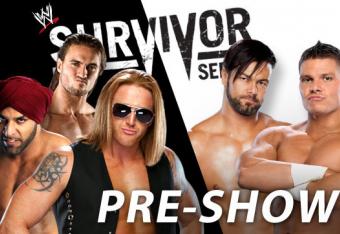 The Big Show, Hell in a Cell (October 28th) [WORLD HEAVYWEIGHT CHAMPIONSHIP]Posted Image21. Vickie, Eve, Aksana, Natalya & RosaRandom Undercard or Preshow matchKidd, Uso's, Tatsu & Dibiase v. Ryback gets incredibly aggressive with Punk, who provokes him in one way or another, and as a result, gets himself disqualified.
Epico, Primo, JTG, Otunga & McGillicutty There could be guys returning from injury, debuting and what not.
Cena shrugs it off, pins Punk, and we're down to one on one.Punk rolls outside and we presume he's left. While the referee is distracted by Heyman and Foley, Punk slides in the ring, nails Cena with the title, Ziggler gets the 3 count.Ziggler beats Cena. Daniel Bryan, Money in the Bank (July 15th) [WWE CHAMPIONSHIP - EXTREME RULES MATCH]Posted Image15.
Chris Jericho, Extreme Rules (April 29th) [WWE CHAMPIONSHIP - CHICAGO STREET FIGHT]Posted Image13.
Dolph Ziggler, Charlotte (March 25th) [WWE CHAMPIONSHIP - BEST OF THREE FALLS]Posted Image11.
Daniel Bryan, Extreme Rules (April 29th) [WORLD HEAVYWEIGHT CHAMPIONSHIP - BEST OF THREE FALLS]Posted Image6.
Rubric: Canada Emergency Preparedness