You can find more homemade gifts and submit your ideas on the 100 Days of Homemade Christmas Gifts post. If you're anything like me, though, finding the right jewelry to match your outfit can be really difficult if it is disorganized. Lucky for you (and for me!), there are some really great ideas out there for DIY jewelry organizers!
Here are 11 fun, creative, and stylish ideas for organizing your jewelry.DIY Jewelry TreesFeeling like bringing a little bit of nature indoors? Taking the idea of a jewelry tree literally, both My So Called Crafty Life and Sincerely Yours made gorgeous jewelry trees from sticks they found in their own backyards!
Slap on a little spray paint and some sort of base and you have yourself an inexpensive (or even free if you use leftover materials from around your home) jewelery organizer that certainly makes a beautiful statement.DIY Pegboard Jewelry OrganizersOur next two ideas by The 36th Avenue and Say Yes To Hoboken definitely prove that pegboards are not just for basements, garages, and workshops. With a coat of paint and a DIY wood frame, these pegboard jewelry organizers are an attractive, fun addition to a bedroom or dressing area!
The Elli Blog shared a stunning jewelery organizer made with an antique frame, linen backing, and a few cup hooks. North End Loft shows us how to re-purpose an old desk drawer with some fabric, paint, hooks, and shallow bowls to create a lovely and efficient jewelry station.
Create-Celebrate-Explore used an antique wood type set tray to make an awesomely-rustic jewelry organizer with a little crackle pain and some elbow grease!Other Unique DIY Jewelry OrganizersLooking for more of a quirky or unique way to display and organize your jewelry?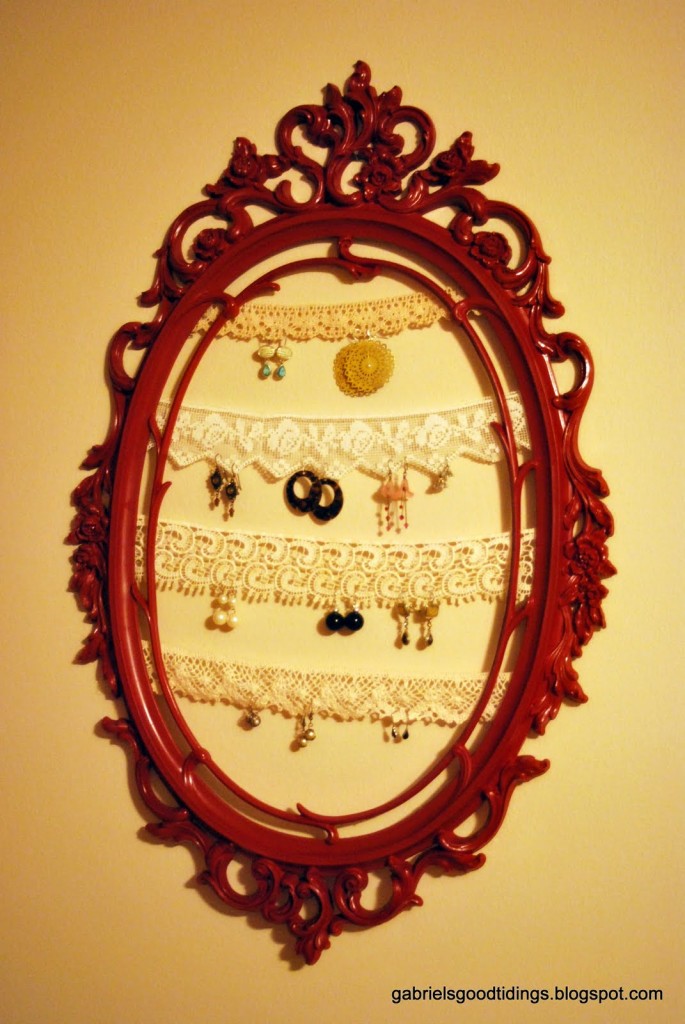 Visibly Moved used an eclectic collection of knobs screwed into a piece of driftwood as an amazing DIY jewelry organizer.Another fun way to organize your jewels is to hang them from a rake. Check out how awesome this old rake head looks as a jewelry organizer (made by Sarahndipities).Finally, to finish off our collection of DIY Jewelry organizers, Gears Co. Although the tutorial is in Spanish, I think that the pictures explain the DIY process very clearly!