You must have JavaScript enabled in your browser to utilize the functionality of this website. Meet Bayley Guymer, Showfront's 2nd year apprentice and a recent nominee for Master Builder's Apprentice of the Year. Our aluminium-frame display cabinets are ideal for product displays and point of sale merchandising. At Showfront, we lead the Australian market with unrivalled quality and unbeatable value for money! That's right, unbeatable! Ready-made or custom-built, Showfront's Glass Display Showcases and Display Cabinets with glass doors offer a superb range of styles, colours, lighting options, additional storage, security and mobility features, toughened or laminated glass, and adjustable shelving. Unlike many suppliers of Glass Display Cabinets, our showcases are delivered fully assembled.
Our Display Cabinets are delivered from our showrooms in Melbourne, Sydney and Brisbane to all urban and regional centres Australia-wide including Perth, Adelaide, Gold Coast, Darwin, Newcastle and Tasmania. Compare the difference in price and quality - visit a Showfront showroom in Sydney, Melbourne or Brisbane.
Fill out the quick form with detailed information and you can get the best design solution for FREE! Ideal for showcasing giftware and small valuable items, a Showfront Display Case is an invaluable asset to any merchandising display. Call 1300 99 36 36 now to find out which glass display cabinet is suitable for your requirements. If you can find a written quote for a Glass Display Cabinet of the same outstanding quality and delivered to you fully assembled, we will BEAT IT BY 10%! This is our committment to value and to you, our customers.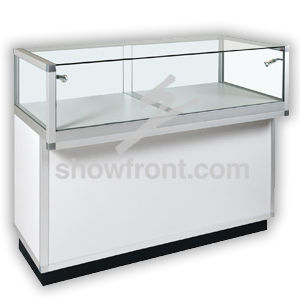 Stylish and elegant, a Glass Cabinet from Showfront requires no set-up, no assembly and no tools to install. Simply unpack the box and your Display Cabinet is ready to start displaying your merchandise instantly!