If you continue to use this website then we will assume you consent to the use of cookies for this purpose.
Do you want to ask a question about this?If so, click on the button and fill in the box below. How to create a wildlife-friendly garden Wildlife-friendly gardens are not only more interesting as you can watch all the comings and goings, but they are often more productive as many creatures will help increase pollination.
Garden ponds act as a magnet to dragonflies and damsel flies, along wRead full articleJuly pruning of trees, shrubs and climbers Early-summer- flowering shrubs can be pruned this month to keep them vigorous and flowering well. It is also the ideal time to prune several trees that are prone to bleeding if pruned at other times, and it's not too late to complete the pruning jobs for Read full articleEvergreens for leaf alone The Victorians loved evergreens and they planted Aucuba japonica widely.
I had originally intended to put them on opposites if the garden, but now I'm toying with idea of putting them in the same flowerbed. Familiarity shouldn't breed contempt though, for the all-green leaves of Rozannie are a high gloss rich green and red berries also follow.
I have a quite small garden - and I'm looking for a packed in style, ie almost overgrown look with lots of plants so dont mind if the plants won't get their own space compleatky - but what is the closes acceptable for them to not kill each other off? Answer this question1 answer A: Hello,The Viburnum has an eventual spread of around 3m, while the Camellias do vary in size, so how close you can plant them will vary depending on which one you have chosen. Answer this question1 answer A: Hello thereYes Viburnum tinus varieties can happily be clipped to form a ball head, often you see them as 'lollipops'.
They flower on the previous year's stems so pruning would normally be done after flowering in the spring. Could you recommend a climbing plant i could combine into the hedge that compliments and will not affect the growth of my newly planted hedge.I would preferably like the colour to be white.
Answer this question1 answer A: Hello,It is worth keeping in mind that whatever you plant will have an impact on the Viburnums as the plants will all be competing for water, light and nutrients.
I would recommend waiting until the hedge is reasonably well established (so it can take the weight of the climber) before you plant anything else. When the time comes to plant the climbers, then they will need to be kept really well fed and watered.
I have ordered a Berberis darwinii from you to fill a space between 2 Cotoneaster franchetti shrubs that run along a fairly short piece of garden fence.
I cut away a gap between the 2 Cotoneasters to break up the uniformity last year, and put some Sedums in as the soil is pretty dry here, but this doesn't look right. This part of the garden is west facing so gets the afternoon sunshine, and the soil is clay based but without much depth. I thought the Berberis would be good as it is also evergreen, produces flowers and berries and according to the literature is pretty quick growing, and seems to tolerate most situations and soils.
So before the Berberis is sent out is there another shrub that you can suggest (ideally evergreen) that would do the job i.e. Answer this question1 answer A: Hello there, I would be tempted to put in a Viburnum tinus as they are reasonably fast growing - just click on the following link to go straight to them. Answer this question1 answer A: Hello Terry, If you click on the following link it will take you to all our winter flowering climbers - of which the Jasminum is tougher and more like a shrub. I'm looking for an evergreen shrub to provide an division between me and my next door neighbour's front garden. Both of us don't know much about gardening, and we can't decide what type of shrub to have. So instead of planting another privit we would like some thing that doesn't grow too high, stays evergreen, flowers and also easy to manage, and not too expensive.
Answer this question1 answer A: Hello Christine, One of the Viburnum tinus might be a good option, which can be cut back if it gets too big - just click on the following link to go straight to them.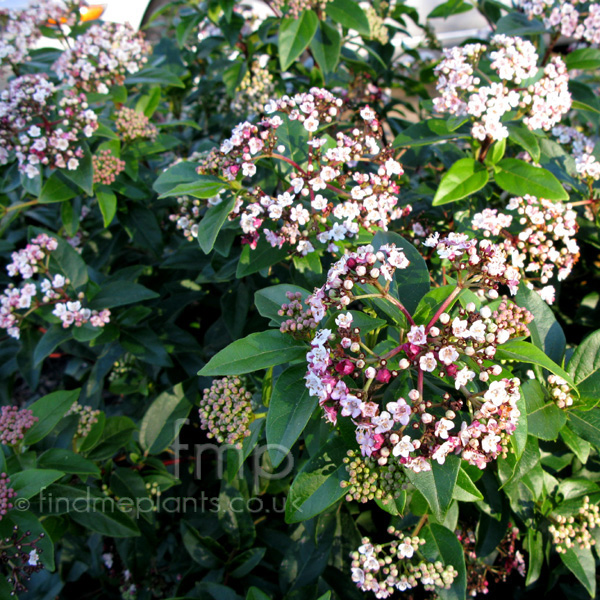 It is a triangular bed with two sides bounded by low walls, which form part of the boundaries to our property.
The soil is more alkaline than acid, and has been described as silt, with quite a lot of flinty pebbles. Unfortunately for us the whole corner area is overshadowed from the south by our next door neighbour's tree. This is a walnut, which during the summer months cuts off most of the sunlight from the bed and which also throws a rain shadow over it. It is now filling in downwards with flowers, leaves, nuts etc all falling into the triangular bed at regular intervals. It seems to dislike any neighbouring trees - we lost a rather lovely white-flowering prunus from our front lawn two years ago, the crown of which grew just high enough to touch a branch of the walnut. We have one Camellia japonica (about 2.5 metres high) and one Fuchsia magellanica which apparently are reasonably happy in their situation ina corner.
We planted a small Pittosporum tenuifolium (which is surviving but not at all happy) and two Ceanothus thyrsiflorus var. We do want something that will at least partially block the view of a small block of flats on the opposite side of the road, but are finding it difficult to work out a solution to our present problem.