You must have JavaScript enabled in your browser to utilize the functionality of this website. Block up to 90% of unwanted ambient noise with vQuiet's world-class active noise canceling technology. Large 40mm custom voiced drivers ensure you will always enjoy deep accurate bass, expressive mid tones, and detailed high tones. Class-leading battery life allows you to enjoy superb sound performance with active noise canceling for up to 35 hours.
Pushing the signature blue bypass button mutes playback and deactivates noise cancellation, allowing you to hear your environment without removing your headphones.
Innovative design and incredible durable construction make vQuiet the perfect headphone for travel. Active Noise Cancelling Velodyne's vQuiet headphones practically remove all unwanted sound with a 90% reduction.
Unlike other noise canceling headphones, you can rock your favorite tunes without a battery- just a single charge from our built in rechargeable battery can keep you in the groove for up to 35 hours!
Swapped with a friend on a flight to compare to his Bose & hardly noticed any difference . The sound quality is excellent, with near perfect highs and lows, and not an overpowering bass. The only cons that I have with these headphones are, the audio cable is not long enough for my applications. The velodyne Vquites are a pair of good quality ANC ( Active noise canceling) headphones.
The build quality & design looks very slick and you definitely will feel good wearing them around your head , bet it in a work setting or in a coffee shop on long flights. Built-in rechargeable lithium-polymer battery enables up to 7-8 hours of talk time or audio playback. 64 ohms impedance Space-saving foldable headband Allows simple transport and storage in the included hard travel case.
Included micro USB charge cable Passive noise reduction Up to 15dB blocks background sounds for an immersive listening experience.
In the smart glossy box you get the headphones, soft bag, cables for USB charging and for a wired audio connection (no microphone when wired), and a leaflet with a guide to pairing.
There is no charger; you can use the USB port on a PC or one of the many USB chargers you likely have already. Controls on on-ear devices always tend to be awkward, because you cannot see what you are doing. You could say that the vFree is "like the vLeve but wireless", but although the looks are similar they do not sound the same. Perhaps for this reason, I found that the vFree sounded substantially different in the various configurations I tried.
Yet on the two mobile devices I tried, a Surface tablet and a Google Nexus tablet, the vFree sounded better wireless than wired.
All of this makes it hard to state definitively how the vFree sounds; it will depend on your set-up. These are high quality headphones, though not good value at the full price listed on the Velodyne site. This entry was posted in audio, reviews and tagged bluetooth, headphones, velodyne on May 14, 2014 by Tim.
In addition, unlike most noise canceling headphones, the vQuiet can be used without battery power.
The vQuiet headphones allow multiple users the ability to listen to the same thing simply by plugging their additional headphone cord into one of the two headphone jacks.
Also, I have experienced some issues with the in-line volume controls not working properly at times.
If you are in the market for a great sounding, and quality built headphone at a very fair price, I would highly recommend them. The One touch button to quickly put it on silent to listen to your environment is a good innovation that you don't see on most ANC headphones. Now it is time to look at the similarly-styled vFree, a wireless model which sits a bit higher in the Velodyne range. Under the left cup, you will find a battery status LED, the USB charging port, and a socket for wired audio.
I like the generous size of the vFree controls, but finding which button to press is still tricky at first. Fairly straightforward, though in my experience some devices pair more easily than others, and there is no clarity about whether you can pair to multiple devices.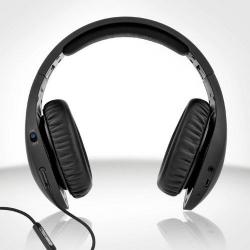 Further, bear in mind that a wireless headset contains its own amplifier whereas with a wired set you are dependent on whatever comes with your device. The best sound I got was when wired (there is a wired option using the supplied cable) and using a dedicated headphone amplifier: this gave rich bass, clean, clear and spacious sound. Mobile devices often have poor audio amplifiers, and when you listen wired, that is what you get. At their best they sound very good, though I doubt wired use with a dedicated amplifier will form typical usage for most. Fortunately you can get them elsewhere for considerably less, making them worth consideration.
Signature Style International artist, Marta Hall, created the signature style and shape of the vQuiet.
The range, incidentally, looks like this, though the prices (taken from the Velodyne site) are the most you can pay and you will likely do quite a bit better. I believe you can, because the Nexus was able to reconnect after I paired to the Surface, but I had trouble the other way around and had to re-pair. In addition, I found with both these and with the vLeve that they are more than usually sensitive to amplifier quality.
With the wireless option though, you are using the built-in amplifier that is specifically designed for the speakers in the vFree. The bass is particularly clean and tuneful, as you might expect from a supplier of sub-woofers, and the sound in general is refined, never brash or harsh, but lacking the spaciousness that characterises the very best audio.
Against that though, wired is a better electrical connection than Bluetooth, so it is a trade-off.
Another factor is whether your mobile device supports the higher quality apt-x codec over Bluetooth; many do not, though the vFree does support it.