The number of computers being released ahead of Windows 8 might seem crazy, but there's also a bit of crazy in the computers themselves. This evening Lenovo released the details of its Yoga convertible laptop and its ThinkPad Twist and Lynx models. In some cases, as with the Lynx, Lenovo is offering a simple tablet with a keyboard accessory, but in others, like the Yoga, it is offering a laptop with a hinged screen that is more flexible than your yoga instructor. The Yoga, which was first previewed at the Consumer Electronics Show last year, looks like a regular laptop -- until you start pushing the screen back. The Yoga 11 will have an 11-inch screen and be powered by an ARM Tegra 3 processor from Nvidia. The lower-powered processor enables the computer to run Windows RT, a version of Windows that doesn't support older applications.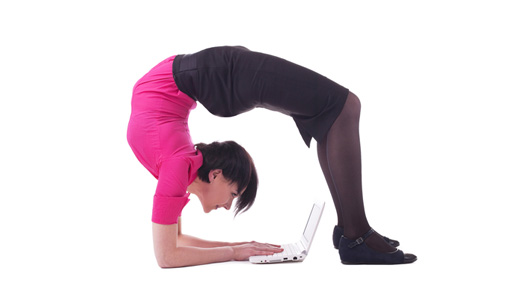 Aimed at business users, it will be available with Intel's Core processors, solid-state hard drives, and optional 3G. The Lynx is a tablet with an 11.6-inch screen, available with a keyboard that connects to it.
Lenovo announced last week that it will start making PCs in the United States in January 2013. Lenovo wasn't willing to say, however, what other crazy computers might be coming out of the factory next year.
The hinge moves 360 degrees, allowing you to rotate the screen all the way over the back of the keyboard to make it a tablet. The Yoga 13 comes with Intel processors (Core i3 or i5), a 13.3-inch display, and Windows 8 Pro.
However, because of the lower-energy chip, it will run 13 hours on a single battery charge.
Many Windows 8 computers are following this design, including Microsoft's own Surface tablet and Acer's new Iconia W510.
Lenovo announced the Windows 8 Thinkpad Tablet 2 a few weeks ago and is now announcing a similar tablet with a dockable keyboard called the Lynx.