The power to enact change, the ability to create miracles, she argues, rests within ourselves.In her innovative, six-week action plan, Beattie helps us establish the miracles weA'd like to create and then walks us step-by-step through her Miracle Exercise, which combines the most powerful spiritual and recovery principles into a simple activity that can be done individually, with a partner, or as part of a group.
Along the way, she reveals her own experiences of making miracles, and those of the participants in her Miracle Workshop.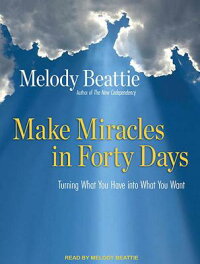 These moving stories of overcoming hardship and finding acceptance and forgiveness demonstrate that transformative change is within our reach and inspire us to move forward with a renewed vigor for life.The best-selling author of The New Co-dependency shares her personal experiences of overcoming obstacles and healing from tragedy, outlining a six-week plan for instilling faith, practicing gratitude and pursuing goals.
Reprint.Counsels readers on how to transform their lives for the better, sharing anecdotes about experiences with grief and loss while outlining a six-week plan for achieving gratitude and enabling change.