The goal of "California Teach Science – High School" is to introduce prospective science teachers to the field of high school education and the teaching and learning of science in high school classrooms. In combination with the seminar, students participate in a 3 hour per week (24 hour per quarter) internship.
We have three partner high schools (University High School, New West Charter, and Palisades High School). You need to fill out a short online application in order to receive permission to enroll in the seminar though MyUCLA. Once accepted into the seminar,  we will send you a PTE number that will enable you to enroll in the course. Note that you will need to provide proof of negative TB status prior to visiting a school (read more about TB requirements). Between playing trombone as a member of the Solid Gold Sound — also known as the UCLA Bruin Marching Band — and volunteering as a mentor and tutor for middle school students through the university's Bruin Partners program, Bianca spent those four years majoring in Environmental Science: learning Geographic Information Systems (GIS), conducting research on green labeling and sustainability practices in the wine industry, and much more.
Now residing in the nation's capital, Bianca's days are spent creating green places for people to play with the Trust for Public Land (TPL), a conservation organization committed to ensuring that everyone has parks, gardens, playgrounds, trails, and other natural places within a ten-minute walk from home.
Her job: working with teams around the country that have an urban focus, pursuing and managing funds for research and projects that help people across the United States stay connected to nature and the outdoors — places that provide multiple environmental, human health, and community and economic benefits.
A nonprofit with about 30 offices nationwide, TPL focuses on making sure the 80 percent of Americans who live in or near a city have easy access to a safe, green place to play and don't become disconnected from nature and the outdoors, missing out on the fun, fitness, and relaxation green places provide. Starting as an intern in TPL's conservation division, Bianca took on the role of federal grants program manager at the beginning of the year. As a member of TPL's Federal Affairs team, Bianca helps advance the creation of parks, community gardens, and green alleys in cities by exploring funding opportunities, researching projects, and building relationships with other nonprofits and agencies.  She says the Institute's Environmental Science Practicum, a yearlong team research project, taught her how to work effectively in a group setting.
In addition to the Practicum's project management experience, Bianca praises the degree's balance between providing instruction and training on a broad variety of issues and the concentration requirement that enables students to specialize in one area.
Students involved in this course will participate in a 5 unit seminar (Science Ed 100SL) in addition to a 24-hour per quarter internship at one of our partner high schools.
Through this seminar, students are introduced to inquiry-based learning practices, National and California standards, reading and learning differences in children, and the cognitive ability of high school-age children as it relates to the introduction of concepts, curricular planning, classroom management, and learning assessment.
University High School and New West Charter are approximately 20 minutes away via a single Big Blue Bus ride.
Other majors are welcome to apply and your eligibility is based on the amount of science classes you have completed.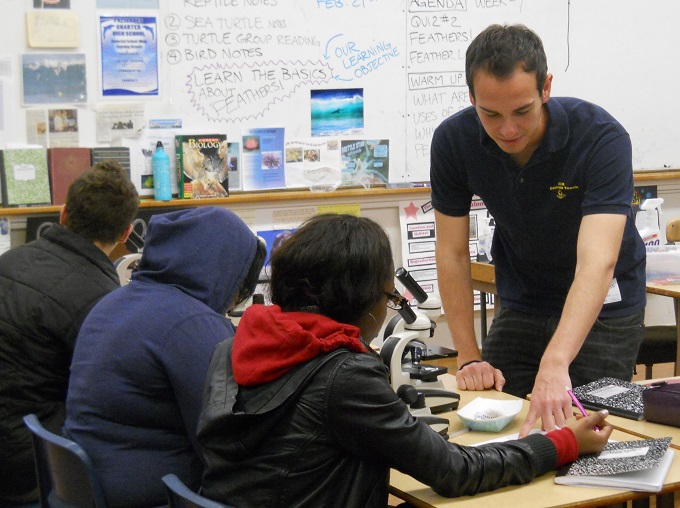 Managing federal grants and awards for various programs, her work supports urban parks — places that can provide economic, ecological, and social value to users. Pairs of students are placed in local high school classrooms to observe, participate, and assist a Mentor Teacher. The California Teach program will reimburse you for the registration fees associated with CSET tests that you pass.
The culminating project is to teach your own lesson plan, created in the seminar and based on California standards, during your internship. The internship is scheduled based on your availability and is scheduled Monday-Friday between 8am and 3pm.