24.06.2014
My sister in-law had asked me to be her MOH for her December wedding before I even knew I was pregnant.
We had chosen and purchased my dress early but during and after my pregnancy I had upgraded a couple of sizes. Bub was born on the 21st of February and since I was (and still am) breastfeeding I did my best to eat healthily, however with my three boys to look after I found all I could manage was a half hour walk in the morning – if that!
Also sometimes I found myself rushing through dinner and then later on feeling hungry I'd snack on a banana and a glass of milo (after the kids have finally been tucked in bed). I spent a couple of days reading all about your the healthy mummy products and allowed all the great reviews and successful stories to decide for me. I ordered my Basics pack on the 19th of September and soon after started to enjoy my yummy healthy mummy smoothies in the morning then later changed it at night in replacement to dinner.
If you are ready to lose weight then the Lose Baby Weight plans offer a healthy and safe exercise and diet routine. Hi Lose Baby Weight My sister in-law had asked me to be her MOH for her December wedding before I even knew I was pregnant. I am now 68.1kgs and I have to say that it feels so amazing to be under 70kgs for the first time in so long! I follow the 28 day plan but also mix it up with some of the yummy recipes from the website also. I am now concentrating on fitness alot more also, have joined the gym and love doing group classes and bootcamps.
Because the workouts on your DVD are split up into 10-15 minute blocks they are perfect for me with 2 young boys and not enough time in the day.
All the information is great and so important to all Mum's, whether you have only just had a baby or if you have older children. I love my new healthy lifestyle, wouldn't have been able to do it without the Lose Baby Weight plans and Healthy Mummy products! Hi Lose Baby Weight, I made this Banana Paddlepop Healthy Mummy Smoothie for the first time yesterday after feeling like trying a new smoothie recipe. Every month, a mum who is on the Lose Baby Weight plans will be writing about their journey, exercise, ups and downs and will be here to help motivate YOU and THEMSELVES along the way. I first heard about the Lose Baby Weight plans from a well-intentioned friend who suggested it as a possibility since I still couldn't do any physical activity at first after Lawrence's birth. I'm proud of losing those 5kg so far and each time I step on the scales lately, I'm not scared anymore.  My goal, being a long-term one is based on wanting to get back into my running but also to set the groundwork for becoming a positive role model for my child into the future. As I watch the scales go down and the cm's melt away, I feel happier, more confident but also positive that I'm doing it in healthy and safe fashion.
I use the 28-day plan as a guide for my meals, sometimes taking creative license but always following the guidelines and portion sizes.
All through pregnancy, due to my injury, I was very limited in my exercise options, but now I have been cleared to start more vigorous exercise and I'm looking forwards to incorporating strength training and longer runs back into my routine. I will be in touch with you all very soon to let you know my progress and any tips or hints I have found to make the journey easier.
A Big thank you to Gemma Stanley for sending in her tasty healthy mummy smoothie recipe for her Blueberry & Raspberry Bomb smoothie recipe. As the weather warms up it can be tempting to grab an icy treat from the freezer at the corner shop. But what if you could make your own delicious ice blocks at home with natural ingredients, no added sugar and no additives whatsoever? The choice is yours whether you choose to moisten your ingredients with water, yoghurt or coconut milk.
Alternatively you could use some small plastic cups and pop the sticks in after they have been in the freezer for 2 hours.
Why not keep some of these delicious treats in the freezer for a hot day and enjoy with the family? Throw the chopped strawberries in (without blending) just before pouring the mixture into the moulds. Every month, a mum who is on the Lose Baby Weight plans will be writing about their journey, exercise, ups and downs and will be here to help motivate YOU and THEMSELVES along the way – and if you want to become our Motivating Mum for one month see here on how you can enter (we pay you for it too!).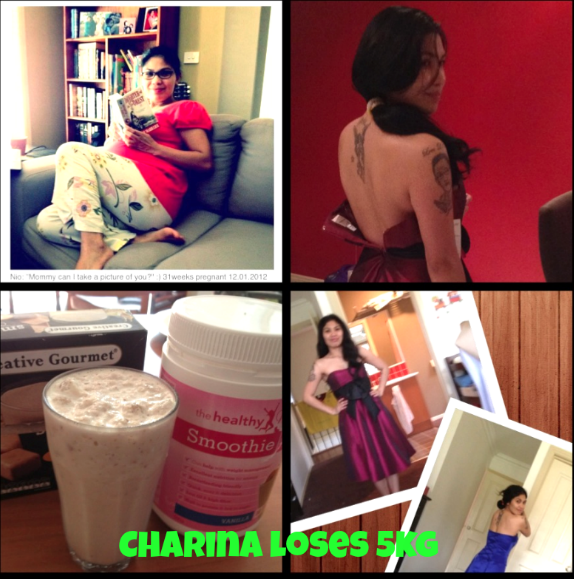 And in May our Motivating Mum of the Month and taking up the challenge to motivate you is Robyn Parkinson.
And below is her first Motivating Post of the week – a great read to inspire you this week!
As my little girl turned one last Monday, this last week has been a big one, with 4 (yes 4!) birthday parties, and being interstate for most of that time. I didn't feel as though I would have lost any weight, but when I hopped on the scales this morning, they told me I had lost 400g. On the days that I work, there isn't enough time to cook dinner in between arriving home and helping my 1year old with her dinner.
So my husband and I make freezable meals on the weekends and simply reheat those for the days that I am working. The 28 day plan and the website are great resources for loads of meals, and there are a lot of freezable meals too! The other thing we do is buy 2kg of chicken, marinate it in herbs and spices and cook it all up, freezing in portions.
We are also creatures of habit, we often make the same breakfasts, lunches etc for weeks at a time.
My biggest traps eating wise are both letting myself get too hungry, and choosing less than ideal snacks.
But, like with everything else involved with losing weight, I have found planning is the key and I have planned some healthy snacks that I can wolf down quickly if I need to for that time (fruit) and of course I will have my morning latte (my vice!). If you want to become our Motivating Mum next month see here on how you can enter (we pay you for it too!).
So yes, we are called Lose Baby Weight and on the whole we help mums to lose baby weight in a safe and healthy way. So we were overjoyed when when of the hubby's decided to send in his weight loss story and we HAD TO share it with everyone as how awesome for a bloke to share his before and after shots with us! After a month of watching her using The Healthy Mummy Smoothies to stay within a healthy weight range and manage her glucose levels I decided to join her to help keep her motivated. Not only have I lost weight, but I feel as though I have gained time especially considering how fast it is to make The Healthy Mummy Smoothies at work, and now there is no excuse for skipping meals even with the early morning rush. This month we meet Motivating Mum Amy Babty who has lost 35.5kg our Lose Baby Weight plans. I then look for salad ideas to keep my lunches varied based on these books too, lastly I look for a couple of new smoothies to try.
I try to base my shopping list around seasonal fruit and veges as much as possible to keep the cost down. Leading up to weekends or public holidays, I like to plan out my meals for that time partly as a reminder and partly to make sure I am using up the last of my fresh food and not wasting any. I find with any of the challenges mentioned above, I need to increase my focus on maximum nutrition for minimal effort. Mum of 1 Isabelle Boulliat has been following the Lose Baby Weight healthy eating plans and Challenges since May and has lost 6.5kg.
After doing the September 28 Day Weight Loss challenge and losing 7.8 kilos it has just made me more determined and motivated to keep going on my weight loss journey. Instead of getting some snack organised when the kids were all asleep I was happily reading my book or calling it an early night too. Here is a picture of me now happily trying on both my size-8 dresses thanks to the healthy mummy smoothies and your wonderful foods and smoothy recipes! I love my healthy mummy smoothies and trying new flavours all the time, I love how versatile they are. I try to do at least one of the workouts from it a day, and do more if my children allow me the time. I love how they cater to different skill levels by having women in the video doing an easier and harder version so you can just follow whichever one you are at. When I first started with the healthy mummy smoothies and 28-day plan about a month ago I updated my weight and it was 82 kg – 16 kg from my long-term goal weight of 66kg. The recipes are fantastic and my fiance loves the meals so much that he has also come on board.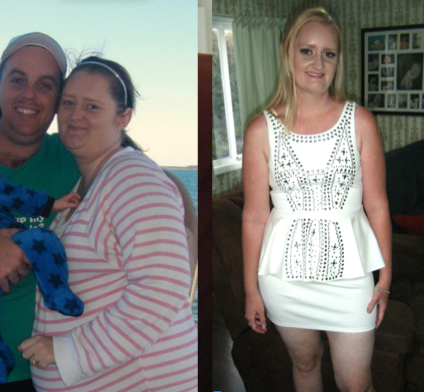 Having been a former competitive long-distance runner, this was one thing I have missed over the last few months! Once frozen, run the bottoms of the cups under the tap to help loosen them and they should pop right out.
You can read Robyn's introduction post here and read about her amazing weight loss on the Lose Baby Weight plans so far already losing 9kg – doesn't she look FANTASTIC!! But, I feel that to be able to maintain healthy eating and weight loss on the Lose baby weight plans – as it is important to be able to enjoy myself at social situations like that (so I don't get bored, tempted or resentful or feel deprived!), so I allow myself to indulge a little, but still try to make good food choices. I then write the meal plan up on the blackboard on the back of our front door so I can see it easily to remind me.
After she eats there is the bath and bed routine so if dinner isn't organised before her bath, I don't eat until very late and am more likely to say stuff it and order takeaway. This would probably be a bit harder if I worked full time, but would still be doable if we did a massive cookup over the weekend.
One of the staples in our house is the lamb shepherds pie (we make it with mince though) as everyone, including Charlotte, loves it! We then take that and some frozen vegies to work with us for an easy and cheap (works out to only about $4 a serve) lunch for work days. I make sure I change it up occasionally so I don't get bored, but having regular staples means that I don't have to think about what I am going to eat next, and keeps me eating healthily.
These will be big challenges for my work days this week as I have 2 x 4 hour conferences this week and it can be difficult to find time to eat during those. While many desserts are full of fat, sugar and other nasties that would de-rail your weight loss plans – these contain no pastry, flour, butter or sugar.
But we do get lots of emails from the mums on our weight loss plans telling us about how their husbands have been doing the plans with them and have been really successful too – which is always fantastic to hear!
It has been fairly hectic between attending weddings, birthdays and going on holidays but thankfully it is due to calm down now! If I have been a little slack on my planning I get by with frozen fruit and mix up what I add to it between oats, nut meal and flaxseed meal. My pregnancy was very difficult; I come from a competitive running background and with a severe injury to my pelvis and hip I was restricted to doing only minimal walking and stretching for the entirety of my pregnancy. I have religiously been using the 28-day plan and healthy mummy smoothies and as of my last weigh-in, I am at 77kg. What I love about the Lose Baby Weight program is that the smoothies are great tasting and full of all the nutrients I need.
I find that the smoothies taste so much better than those "rapid" weight loss shakes you can get elsewhere – and, along with the support from the online forums and mantra of safe, steady and realistic weight loss targets; makes it a program that I feel not only confident in, but happy to use. Now that I'm ready to step it up to the next level, so I volunteered for the Motivating Mum program so that I could share my progress and motivate myself, whilst hopefully motivating other mums in a similar position.
As last week wasn't the best eating wise I am determined this week to be very, very good and stick to my 28 day plan meal plan and exercises!
I find that if I just leave it on a piece of paper I either lose it or forget to look at it.
This week we made sang choy bow (we bulked it out with lentils to make 2 meals, or you could double the mince) and vegetable and lental pilaf (quadrupling the recipe) from the 28 day meal plan and the lamb shank soup from the Lose Baby Weight website.
Then I pack my toddler in the car and go shopping (I hear "Mummy, I come too?" when I am writing my list – too cute!) and he gets to choose the fresh fruit (apart from for my two new planned smoothies) we have in the house for the week. Not being able to exercise throughout my pregnancy affected not just my physical health (I ballooned to 93kg) but also my mental health. I hope that through sharing my journey I can inspire others to get on the Lose Baby Weight program and push for healthier lifestyles. This week I decided to do something different and put my goals for the week and scheduled exercises on the board too so I can keep myself on track.