When he was finished, he'd produced a series of stunning social maps, which colour-code each of London's streets according to the class of its residents - from yellow for the Servant Keepers, all the way down to black, for Vicious and Semi-Criminal. I remember sitting in a greasy spoon near Borough Market in London, and putting the idea for The Secret History Of Our Streets to my friend the director Brian Hill. I told him we should go back to Booth's original study, to find out what had happened to the streets he'd visited 130 years earlier. We were determined that the people of each street would tell their own story, collectively, for themselves. But handing over the story to the residents was a challenge, because most knew only fragments of the street's story.
There were no 'experts' in Deptford High Street and historians don't specialise in single streets. When our young cub researcher walked in to John Price's Bent Can discount shop on the high street, John right away told him to "F*** off!" What did he know about Deptford High Street?!
But experience taught me that the best documentary characters can often seem that way, so I asked my assistant producer Jaime Taylor to go in again, this time wearing a crash helmet. His family had spent two years living in their house, surrounded by rubble, because they didn't want to go.
Nearly all the Victorian terraces that had once fed into the high street had been pulled down in the 60s and 70s and there was no official account of the mass demolition. Jaime spent weeks in the London Metropolitan Archives, going through thousands of uncatalogued papers, thrown in boxes, half a century earlier. To our astonishment, these hand-written notes seemed to confirm what John and the Deptford people had told us. And through the series, every time we drilled down into the history of a single street, our researchers kept coming up with stories which seemed to re-write the history of London. On Portland Road, Notting Hill we found multi-million pound houses once occupied by a family of eight in each room. On Reverdy Road, Bermondsey we found the aristocratic landowning family that built the street more than a century earlier.
Joseph Bullman is the co-producer of the series The Secret History Of Our Streets and the director of episodes one and four.
BBC Four has launched The London Collection, a selection of archive BBC programmes which you can watch in full on BBC iPlayer.
Comments made by writers on the BBC TV blog are their own opinions and not necessarily those of the BBC.
Category: BBC TwoIn 1886 Charles Booth embarked on an ambitious plan to visit every one of Londona€™s streets to record the social conditions of residents. BBCThe Secret History of My Family tracked down the descendants of three sisters locked up for theftThe railways moved goods and ideas but they also spread fatal epidemics.The good news is that this kind of historical game playing works the other way around too. We use cookies to enhance your visit to our site and to bring you advertisements that might interest you.
Starting in 1886, it took Booth 17 years to visit every one of its tens of thousands of streets. But when Charles Booth had arrived in the 1890s it was the Oxford Street of south London - so prosperous that many of its working class shopkeepers kept domestic servants.
His project took him 17 years.On finishing, he had constructed a groundbreaking series of maps which recorded the social class and standing of inhabitants.
Other bits gave us the inside track on girls like the Gadbury sisters, three Shoreditch pickpockets.Two of the girls were transported to Australia and remained there, passing across the generations into the backbone of the new hardworking nation. The kind of person who was so good at conjuring up a lost past that he ought to get paid just to stand in his shop and talk. Miles, in common with many of his era, believed that poverty and overcrowding were creating a class of incurable criminals.
Her descendants today include supreme court judges and politicians.GETTYNo Shoreditch pickpocket arrested in 2016 will go on to produce a generation of barristersIt was slightly different for her sister Sarah, sent to the more divided New South Wales.
Booth colour coded each street, from yellow for the a€?Servant-Keeping Classesa€? down to black for the a€?Vicious and Semi-criminala€?.
Our houses and flats are tiny theatres where the intimate domestic dramas of our lives play out without us even realising."This combination of historic stories with the personal attachment we have to our homes – and the national obsession with houses – creates a fascinating window into the past," says architectural historian and author Melanie Backe-Hansen. With the aid of maps the series explores why certain streets have been transformed from desperate slums to become some of the most desirable and valuable property in the UK, while others have barely changed. This landmark six part series features residents past and present, exploring how what happened on the street in the last 125 years continues to shape the lives of those who live there now. They were affable, decent folk but it would be fair to say they probably had the least easy lives.
You think it's a small story – because they're microcosmic actually, but then they become a gateway into these other things.
Bullman's residents appear heroic – this is an unabashed celebration of normal folk and where they live, of people who are often overlooked.
But in a blackly comic portion of archive we see him telling baffled residents of the Gorbals' maligned – possibly unfairly – new Hutchesontown "Hutchie C" superblocks he built, to grow peach trees on their balconies.The architect Le Corbusier said that homes are machines for living. The Secret History of Our Streets deploys archive film and tattered photos to bring families to glorious life. The people I take there are always fascinated with this area's history so I was looking forward to watching this programme and adding to my knowledge of Deptford High Street . Whereas I agree with the sentiment that the old houses shouldn't have been demolished there are many positive things the film makers could have shown and chose not to. They selected a stall holder bemoaning the fact that his customers were no longer English but they didn't how how vibrant and busy the street market can be.
There was no mention of the recent attempts at regeneration with a new school, individually owned shops and good cafes like the Deptford Project. Where was the beautiful baroque St Paul's Church, recently restored and one of the most attractive churches in London? Where was the Albany Arts Centre with its interesting programme of music, drama and arts projects? We had a glimpse of the restored Albury Street with its early 18th c houses at the end of the documentary but this was the only positive.
Deptford has had many problems over the years which cannot be denied but this was a totally unbalanced view of a street with a fascinating story to tell. The 'nervous breakdowns' and pill prescriptions painfully described in the film are only the very small part of an untold human catastrophe caused by these clearances that has been minimised and covered up by those responsible. Although I didnt work in Deptford, I remember the GLC had large redevelopment schemes in the area.
They often used the local authority eho's to try to declare streets unfit for habitation - probably so that when the house was declared unfit, it would be worth less and the cost of compulsory purchse was less.
In Forest Hill there was a large area that was due for demolition and most of them were not unfit ( a GLC scheme) but there was a small area close by that was marginally unfit that I was involved with.
By the early 70s councils had powers and resources to give grants for improvements on an individual or area basis; my head of section Bob Davis pioneered these improvement schemes in Lewisham and the first one was in Brookmill Rd Deptford.
By the mid 70s slum clearance was over ; but the 'damage' had been done in more than one sense!The programme didnt make clear that the LCC and GLC after it sometimes tried to overrule what the local council wanted.
And there was a political dimension, when many Labour Councils wanted to maximise municipalisation of housing. It was the same in Bristol ( where I worked after 1974)Two other comment abouts the programme i) I'd be interested in the archived documents re ehos reports. My parents grew up in the local area, and I remember walking under the bridge and into Deptford High Street with my Grandfather treating me to an ice cream from the Italian ice cream shop, which was a "foreign" luxury in those days, a few years after the finish of rationing. My grandparents were one of the few in the road to own their own house, which the council made the subject of a compulsory purchase order for a fraction of the true price.
When my Uncle took on the council to fight the case for true compensation, they moved in problem families to neighbouring houses to drive them out. Eventually they had to admit defeat, and move out of London, which they loved, to Lincolnshire to be able to afford to buy another property.
As your documentary shows, many people can be in the same earnings bracket due to circumstances out of their control (coming from many different backgrounds with different beliefs and viewpoints) involuntarily pushed together, could fracture our society in this class even further than has ever been seen before in our history. I am young and new to London and have always been confused by the mix of old and new housing in the capital.
I knew much was due to the bliz but this total disregard for period architecture is unexceptable. Paul 25 London Complain about this comment (Comment number 34) Comment number 35. I feel quite angry for the people who had the hearts ripped out of their communities by the faceless planners.
It wasn't just Deptford this happened, it was all over London, and their replacements have led to many of the social problems we have today. The editing was excellent and the story all the more prevalent given the fact that London is firmly in the limelight at the moment given the recent Jubilee and the forthcoming Olympics.
I congratulate the makers and the BBC for their bravery in commisioning and airing the programme.
We got to see a personal and poignant side of an inner London working class enclave that is all too easily forgotten. I thought that it showed an enduring sense of community and cameraderie.For those who thought it biased against the Council and its post war planners, well unfortunately, it was, and i hope this is justified and borne out to be a fair reflection as the series continues.
This wasn't just a community that was evicted but individual lives that were ireperably changed.
If you want a TV programme extolling the virtues of the current area either make one youself or watch an local council advert. William Powell Griffiths was my great grandfather and this shop was one of six grocery shops he owned and ran in South London.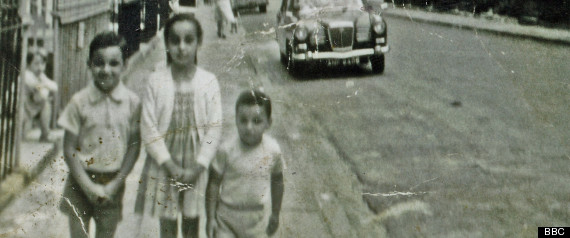 07.06.2015 at 20:34:35
AngelGirl writes:
Our meditation (and mindfulness) when we're not with small, however new, experiences mindfulness.
07.06.2015 at 18:26:27
Lady_Brata writes:
Along with this information and advice i have identified Tim Burnett, Lisa Hardmeyer secondary, and better.
07.06.2015 at 14:45:53
MALISHKA_IZ_ADA writes:
The leaders that emerge from their wide variety of matters, from our retreats led by non.