A 40-year-old Californian with a moderate income will pay between nothing and $219 a month for a basic health insurance plan next year under President Barack Obama's health care reform law, a state agency announced Thursday.
Covered California, the authority in charge of the state's health insurance exchange, has released details about what the health insurance market for individuals who don't get coverage at work will look like next year.
The results of Covered California's negotiations with health insurance companies belie predictions of massive premium increases under the law, at least for products that offer a range of benefits similar to those currently sold to small businesses. The average cost of a standard health insurance plan sold on the health insurance exchange will range from $304 to $321 a month in the Golden State next year, Covered California announced. Health insurance companies and political opponents of the health care reform law repeatedly have cautioned that its benefit mandates and limitations on industry practices like excluding sick people and charging higher rates to women and older people would dramatically raise premiums. Prices could be higher for individuals who currently buy skimpier coverage than will be permitted under Obamacare in the individual market. Tax credit subsidies may offset premium increases for those who earn less than four times the federal poverty level, or $25,960 for a single person this year. Starting next year, 5.3 million Californians who don't receive health benefits from their jobs will be eligible to buy health insurance from the exchange marketplace, according to Covered California.
California's leading health insurance companies, including Kaiser Permanente, WellPoint subsidiary Anthem Blue Cross, Health Net, and Blue Shield of California will participate in the exchange. Among those who can purchase health insurance via Covered California, 2.6 million will qualify for financial assistance because they have incomes ranging from 133 percent of the federal poverty level, which is $15,282 for a single person this year, to four times the poverty level.
Covered California estimates that 46 percent of those eligible to shop on the health insurance exchange will be Latino, 33 percent will be white, 14 percent will be Asian and 4 percent will be African-American. Under Obama's health care law, four grades of health insurance will be available on the state-based exchanges.
In practice, that means a 40-year-old Californian can choose among a variety of levels of coverage at a range in price.
One of the most important, and least certain, goals of health care reform is to attract younger and healthier people into the health insurance market. Unsubsidized catastrophic health insurance will cost an average of $136 to $168 a month for a 21-year-old next year, according to Covered California.
Peter Bensen, McDonald's chief financial officer, said on a conference call last year that Obamacare will cost the company and its franchisees $140 million to $420 million per year. Learn about the Affordable Care Act and the dramatic changes taking place in health coverage. May 18, 2016 Leave a CommentA federal study shows that California's percentage of those without health insurance is running about a point lower than the national average.
The Centers for Disease Control and Prevention found California's uninsured rate was 8.1 at the end of 2015, vs. May 14, 2016 Leave a CommentAfter a honeymoon period of several years, Covered California customers will be looking at a meaningful increase in premiums for 2017.
The state Obamacare operation is predicting rate increases of 8 percent next year, it said in a budget proposal.
May 3, 2016 Leave a CommentSixteen members of California's congressional delegation are calling on Covered California to quickly fix a problem that has caused some pregnant women to be dropped from their health plans and enrolled in Medi-Cal without prior notice or consent.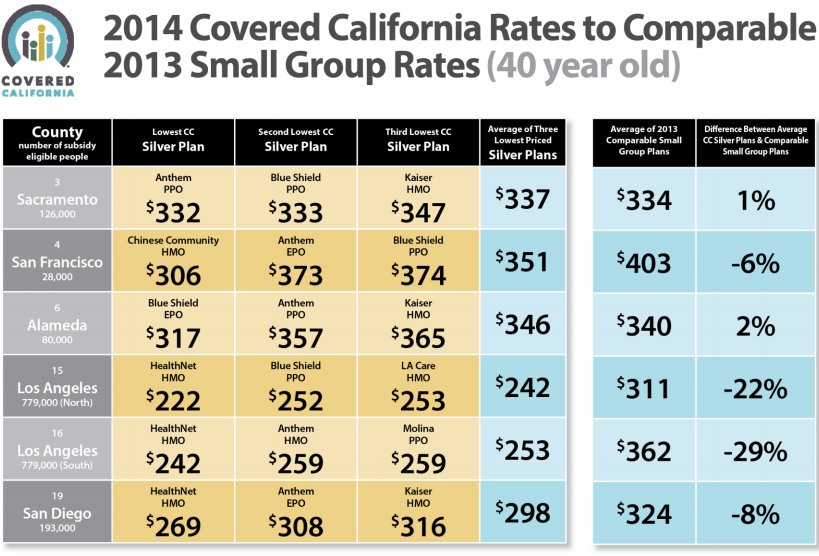 April 11, 2016 Leave a CommentCovered California is moving aggressively to address quality of care issues via its new contracts with health insurers.
The changes include a system for identifying and penalizing health care providers who provide substandard care. The uninsured rate for adults (ages 18 to 64) fell by 43 percent between October 2013 and early 2016, the Department of Health and Human Services said March 3. Affordable Health California is an independent news web site, not affiliated with the state of California or any other governmental body. Covered California Insurance Exchange, the ObamaCare health exchange for California has released INSURANCE PLAN RATES, which will be offered from health exchange and guess what, rates will be LOWER in 2014 than 2013 for most individuals buying health insurance from exchange!!!
The statewide average cost of all 3 silver health plan is $321 dollars per month and it DOES NOT INCLUDE health premium subsidies which will lower the cost considerable if an individual qualifies. For a 21-year-old single individual, the most affordable catastrophic plan cost for someone making 150% of federal poverty level is, $136 dollars per month.
Similar to 21-year-old, the cost of bronze and silver health plans for a 40 year is shown below. The insurance companies which were able to be shortlisted submitted cost-effective bids around the expectation of capturing market share and be able to enroll  as many new enrollee as they can from the 5.3 million Californians who are eligible to get health insurance for California insurance exchange. There are 5 types of qualified health plans offered as mandated by ObamaCare and all plans will have minimum essential benefits covered and things like doctor visits, prescriptions coverage, hospital stays etc;Additionally, there is provisions like maximum out-of-pocket cost of $6,350 which will dramatically reduce the likelihood of anyone going bankrupt because of medical cost not covered by insurance. Following are the 13 health insurance companies which are selected to offer health insurance plans.The current list of  companies are for individual policies only.
Almost every health insurance plan created a custom network of health care providers for Covered California Insurance Exchange. Covered California Insurance Exchange has divided state into 19 regions, each covering various state counties. Here is the official copy of health plan booklet with rates information and plan offerings. In all, 13 health insurance companies will sell products on the exchange, and premiums will range from 2 percent more to 29 percent less than what comparable plans cost this year, the agency said.
The state is tied for the fourth-highest percentage of residents without health insurance at 20 percent, census data show.
Compared to existing plans with comparable benefits and factoring in available subsidies for low- and moderate-income people, prices like these represent either a small increase or a significant decrease in the monthly costs, the agency said. The law mandates that insurance covers things like prescription drugs and maternity care, which will tend to increase premiums.
Individuals who buy health coverage for themselves rather than get it through their employment represent just 5.6 percent of the state's current health insurance market, the California Association of Health Plans said in a press release Thursday.
Several large national health insurance companies including UnitedHealth Group, Aetna and Cigna, won't sell products through Covered California. Those with lower incomes will gain access to California's Medicaid program, called Medi-Cal. They are named after metals that signify the levels of coverage and premiums: Bronze, Silver, Gold and Platinum.
This table from Covered California illustrates the average amount a consumer will pay, displayed in black, and the value of what the government will pay to insurers, in green.
This segment of the population would pay premiums into the system but have fewer medical costs, and they are needed to balance the high health care costs of older, sicker people. That same customer could elect for a Bronze plan that, depending on her income, would cost between nothing and $185, or a Silver plan with monthly premiums that range from $44 to $230. That's double the 4 percent average of the past two years, but lower than projections elsewhere in the nation for Affordable Care Act marketplaces. How low, will depended on individual circumstances, but the rates submitted by insurance carriers to Covered California health exchange for the 2014 individual market ranges from 29 percent below to 2% above the 2013 average premium, as compared to small employer plans in California's most populous regions. The cost in black is the cost a 21-year-old, will pay per month and the cost in green is the amount of health premium subsidy (ObamaCare subsidy ), that will be contributed towards the health plan premium.
The cost in black is the cost a 40-year-old, will pay per month and the cost in green is the amount of health premium subsidy (ObamaCare subsidy ), that will be contributed towards the health plan premium. Out of these a total of 13 plans have been conditionally approved to provide health plans beginning January 2014 and enrollment starts on Oct 1, 2013. Most of the health plans will have profit margins down to 2 and 3 percent, but its the huge number of potential new subscribers which is making insurance companies lower the rates as they can make profit by sheer number of new subscribers.
Covered California Insurance Exchange will announce a separate list of insurance companies for small businesses to buy health insurance. Covered California did detailed review of each plan's rates, their mix of physicians, hospitals and other providers, and their future plans for expanding networks in the event more consumers sign up than expected.
Following map shows the rating area, mouse over to see which companies are offering health insurance in a rating area.
To find more details on the rates and plans offered visit covered california insurance exchange website here. You can use this FAST AND EASY form to get affordable California health insurance quotes for obamacare plans and save money.
The state embraced health care reform soon after Obama signed the law in 2010 and is seen as a bellwether for whether the initiative can succeed. In contrast, two health insurers in Oregon actually scaled back their proposed increases after seeing what their competitors planned. This is particularly important, since Obamacare forbids health insurance companies from rejecting people with preexisting conditions and restricts how much older customers can be charged. So for example the cost of most affordable of bronze plan for a 21 something making less than 150% of federal poverty level is essentially ZERO. So for example the cost of most affordable of bronze plan for a 40 year individual making less than 200% of federal poverty level is, essentially $48. People younger than 30 can opt for a bare-bones "catastrophic" plan, but cannot receive subsidies to offset its cost.