DuPont is an excellent case study in how EHS management can translate to a stronger bottom line.
While there are many factors that contribute to effective EHS management within a company, the most critical is strong, committed and engaged leadership within an organization. One of the major outcomes of this effort was development of the Bradley curve, which enables an organization to understand where it is currently situated along the journey toward attaining a culture that effectively implements EHS processes, and what needs to be done to achieve improvement.
But in today's business environment, the more formal definition of leadership and how it is applied within an organization is evolving. The emerging trend of distributed teams of employees working with colleagues across practice areas or groups, and not exclusively with a consistent set of co-workers on a single project or task, is becoming the norm.
As a result, different leadership is required today to effectively move an organization along the Bradley curve to achieve interdependence and to successfully integrate EHS processes.
For organizations to capitalize on this trend, managers must first recognize the need to change their own approaches toward leadership.
By understanding they no longer have all the answers and by seeking input from workers they supervise, managers will show they value collaboration and, in the process, empower workers to find solutions and assume leadership roles. The new realities of today's business environment present a challenge for organizations seeking to effectively integrate EHS across their operations. While the number of pages varies, most handbooks are 16 pages in length and include a tear-out quiz.Handbooks must be purchased in packs of 10. With a total recordable injury rate that improved 13 percent compared to the previous year, 2012 was DuPont's best year ever.
At DuPont, strong leadership from the C-Suite to middle-management has been the most important component of a successful management system that integrates EHS in every corner of the company. The Bradley curve has become a leading quantitative indicator used extensively both inside and outside of DuPont to measure and rank an organization's maturity or relative culture strength (RCS). Organizations are now facing new realities and business trends in which a smaller, more global workforce must assume greater responsibilities and transfer knowledge among one another more often.
There is reason to believe that organizations that gain and maintain high levels of relative culture strength are better prepared to adapt and thrive in this environment.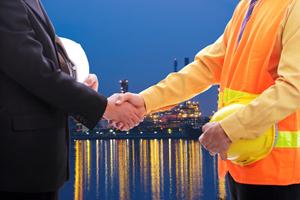 This leadership requires less over-the-shoulder management of employees and more freedom for smaller groups of individuals to work independently on tasks. Hierarchical mindsets toward leadership are still deeply ingrained in today's business culture. A leadership structure that demonstrates a commitment to EHS and conveys its importance through actions is essential to gaining acceptance and implementation of processes by employees.
It does more than convey leadership's passion and commitment to EHS throughout an organization.
Overcoming this challenge requires adapting long-held approaches toward leadership from that of a top-down structure toward that of a shared leadership approach that empowers and engages employees to take accountability for themselves and their teams to make sound decisions and achieve results. Of the thousands of bikers who are killed each year, 30 percent are victims of their own neglect of the basic rules. Your personal information (name, eMail, phone number and other contact data) will be stored in chosen customer systems primarily hosted in the United States. Companies that endeavor to integrate environmental, health and safety management (EHS) into their operations are not simply rewarded with lower incidence and injury rates among employees, but they also can realize increased financial and social rewards as a result. At the same time, DuPont saw 3 percent revenue growth in 2012, exceeded its target for fixed cost productivity, and many of its businesses delivered strong sales growth, earnings growth or margin expansion.
In fact, in the early 1990s, former DuPont CEO Ed Woolard chartered a discovery team to define a path to achieve sustainable improvement in safety while building business value.
Workers now must be brought onboard and trained quickly to handle multiple tasks, and that is happening more frequently as employers navigate a changing workforce. Successful managers will recognize that their traditional roles are evolving and begin to encourage shared leadership within their organization, in effect becoming change agents themselves. It probably comes as little surprise that team attitudes, turf battles and individual career goals can be impediments to decision-making. At DuPont, this is achieved through a concept called Visible Felt Leadership, in which leaders emphasize a demanding, uncompromising and ever-improving safety culture, and establish expectations that are clearly and universally understood, accepted and practiced. It also reinforces leadership's commitment to empowering workers rather than simply directing them, a necessary change to traditional management practices.
The good news is this new leadership approach can accelerate an organization's journey toward interdependence which, in turn, can deliver higher levels of EHS integration, increased financial returns and improved social rewards. Remind your workers that the first rule of motorcycle safety is unwritten, but it is the most important.
This information will be used by Coastal and DuPont, its affiliates, partners, and selected third parties in other countries to provide you with the product or service information requested.
For example, if you would like to order 50 handbooks, enter "5" in the quantity field.Quantity discounts are available for orders of 10 or more packs. More importantly, they will be trained how to respond effectively in case of an emergency.
In fact, shared leadership enables organizations to progress along the Bradley curve more rapidly. This points to the benefit of organizations striking the correct balance between formal and shared leadership. Furthermore, leaders ensure these expectations are promoted by every manager in the organization. The more leadership-ability workers assume and demonstrate across various teams within the organization, the more interdependency is achieved to enhance EHS as well as other functions. There is direct engagement by leadership with employees in all aspects of driving EHS as core values within the company.
This program will give your employees an eye-opening look at the dangers of motorcycle riding and provide them with important information they need to know before riding a motorcycle.
By providing your personal information, you agree to the terms and conditions of this Privacy Statement.