Exxon Mobil Corporation (XOM) today announced that production at its Kearl oil sands expansion project in Alberta, Canada, started ahead of schedule and is expected to double overall capacity to 220,000 barrels of bitumen a day. The expansion project consists of three additional trains that use proprietary paraffinic froth treatment technology to produce bitumen. The project produces blended bitumen with about the same lifecycle greenhouse gas emissions as the average crude oil refined in the United States. ExxonMobil expects to increase its global production volumes this year by 2 percent to 4.1 million oil-equivalent barrels per day, driven by 7 percent liquids growth. The Kearl project is located about 75 kilometers northeast of Fort McMurray, Alberta, and is operated by Imperial Oil Limited, an ExxonMobil affiliate. We follow a set of guiding principles and guidelines to reinforce our approach to Aboriginal relations and provide guidance in our daily interactions with our Aboriginal neighbours. In recognition of its ongoing commitment to Aboriginal student success, the Imperial Oil Foundation was presented with the Senator Thelma Chalifoux Award for 2011. The foundation was presented with the award due in part to Imperial's financial contributions to the Aboriginal Pre-Technology program, which bridges the gap for Aboriginal students who do not have the necessary pre-requisites to enter technology programs. We actively support Soaring: Indigenous Youth Career Conference, a series of career fairs hosted by Indspire and attracting students from across the country, many of them from remote communities.
The process reduces energy requirements and environmental impacts by not requiring an on-site upgrader, which avoided a multi-billion dollar capital investment and associated operating expenses.
Other environmental innovations include on-site water storage to reduce water use, progressive land and tailings reclamation, and a state-of-the-art waterfowl deterrent system. The volume increase is supported by the ramp up of several projects completed in 2014 and the expected startup of seven major developments in 2015, including the Kearl expansion, Hadrian South in the Gulf of Mexico, Banyu Urip in Indonesia and deepwater expansion projects at Erha in Nigeria and Kizomba in Angola. The award is presented annually by the Northern Alberta Institute of Technology (NAIT) to an individual or organization that has consistently demonstrated commitment to Aboriginal student success.
This program provides scholarships at post-secondary institutions that help Aboriginal students across Canada to gain academic qualifications and technical skills to compete for jobs in our industry. Energy needs are further reduced through the installation of energy-saving cogeneration facilities. The network exchanges information on strategies and consultation protocols to ensure consistency in how Imperial works with Aboriginal communities.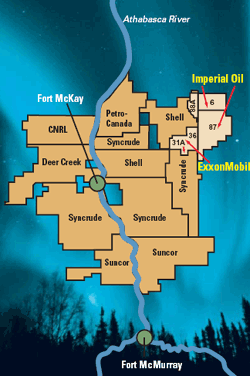 NAIT also recognized Imperial's continued support of Canadian education programs and Aboriginal businesses and its dedication to consulting with local Aboriginal communities where the company operates.
To better support students, we broadened this program in 2011 to cover trades upgrading programs, in addition to university and college programs.
Our funding helped to cover the travel and accommodation costs of students attending the events.We also participate in regional career fairs in communities where we operate. An additional $98 million was awarded to Aboriginal companies through subcontractors.As we pursue our growth plans, we are meeting with local Aboriginal businesses to ensure they are aware of the opportunities created by our projects and understand our requirements. It also shares best practices so that successful initiatives can be adapted for different areas of our operations.In 2011, the network met twice formally to discuss the company's Aboriginal relations programs and also participated in ongoing informal interaction throughout the year. In 2011, we sponsored and participated in career fairs for Aboriginal youth hosted by the North East Native Advancing Society (NENAS) in Fort Nelson and Fort St. In 2011, we created a new position of Aboriginal supplier development advisor to identify contracting opportunities and liaise between Imperial and Aboriginal businesses. Members also took an active role in supporting Aboriginal community initiatives, such as a new leadership program for Aboriginal women at the Coady International Institute at St.
We have provided $265,000 to support this program since 2007.In addition, our operations at Sarnia, Nanticoke, Cold Lake and Norman Wells sponsor numerous scholarship and bursary programs for students in local First Nation communities.
We also created a working group, led by our senior vice president, resources division, to develop opportunities to enhance Aboriginal business development at our growth projects, including a three-year plan to increase contracting opportunities for Kearl and the Cold Lake operation.
Francis Xavier University.Building relationships through consultationOpen and ongoing communication is essential to the way we approach Aboriginal relations.
These events provide us with an opportunity to talk to Aboriginal youth and help them learn about different career paths in our industry.
In 2011, the team continued to meet with band-owned businesses and Aboriginal joint ventures to review project timelines, the contracting process and our expectations for safety. In 2011, we discussed our proposed remediation and reclamation project with oil and gas representatives from the Louis Bull, Ermineskine, Samson and Montana First Nations. We also commissioned a traditional land use study by Elders and other community members to identify culturally significant sites in the area.Supporting workforce developmentIn 2011, Aboriginal people represented about two percent of our employee workforce. Since its introduction in 1998, the program has helped to increase total Aboriginal employees from three to 13 percent of Cold Lake's total workforce.In the Cold Lake region, our company is also partnering with the Tribal Chiefs Employment and Training Services Association.
This percentage will increase over time as we pursue new growth opportunities in Western and Northern Canada.We are continuing our efforts to increase Aboriginal employment in our company. This organization provides skill training to improve employment opportunities in our industry for Aboriginal workers. Individuals from all six Inuvialuit communities in the region have been trained and employed as research technicians and marine wildlife observers on Arctic research vessels operated by the Canadian Coast Guard. By developing targeted recruitment strategies and networks and investing in scholarships, work placement and training programs, we hope to attract and employ more Aboriginal employees.
Imperial is providing funding support and industry input to the development of training programs.In the Horn River area, we sponsor safety training programs at the Northern Lights College in Fort Nelson.
In 2011, we continued to engage Inuvialuit businesses as part of an environmental and geotechnical data collection program in our exploration licence areas.Pimee Well Servicing is an Aboriginal-owned business in the Cold Lake area that received start-up support from Imperial Oil in 1984. Today, Pimee has five service rigs on the Imperial Cold Lake Operations site, and in 2011 expanded to include two continuous rod rigs as a new business line. The course focuses on Aboriginal history, treaties and their significance, key issues and challenges as well as recent cultural achievements.
Pimee employees 66 local Aboriginal people at the Cold Lake Operations site and has expanded services to other companies in the area. Over the past three years, nearly 1,460 employees and contractors have participated in this program.
In addition, all contractors and workers are required to complete a one-hour online Aboriginal cultural awareness training program before beginning work at the Kearl project. This group of Aboriginal employees has played an important role in identifying and eliminating barriers for Aboriginal employees in the workplace. We are reviewing opportunities to extend this approach to other areas of the company, including Kearl.