Birmingham Coach Station is a major transport gateway serving destinations throughout the UK.
The new interchange was officially opened at the end of 2009, after a two-year, ?15million revamp, and is a modern, glass-fronted structure, complete with concourse, information centre and cafes. Nicholas Hawksworth Wayfinding Consultants won the tender from the National Express core brand team to analyse how effectively the new National Express brand could be used in the coach station, and to devise a new wayfinding concept. Following approval, we developed a detailed external and internal wayfinding scheme which incorporated high level lettering, vehicle directions and a concourse direction system which built on the core 'connector' of the National Express logo, enhaincing the brand relationship.
We then project managed a tender list for the main contractor, oversaw manufacture, installation and snagging.
Nicholas Hawksworth are now working on new projects with National Express and continue to act as wayfinding consultant and advisor to the National Express corporate brand team.
Bruce Springsteen at Ricoh Arena start and finish time, where to park and eat and can I still get tickets? The news comes after a man, named locally as Ron Butler, was killed after he was hit by a bus at around 2.30pm in Witton Lodge Road, Erdington, on Sunday.
Ease of use and safety are of paramount importance as many users will be totally unfamiliar with the location, in a hurry and possibly tired and travel-stressed. This provided a profile of traveller use and an insight into how users would need to navigate the new building, to orientate, and plan their onward journey".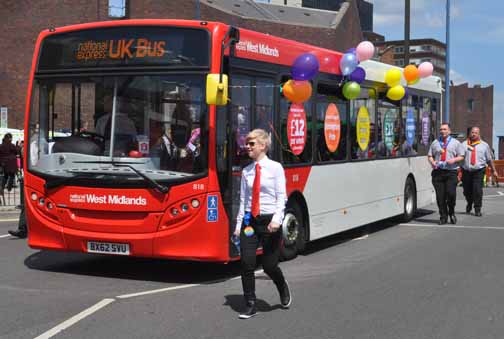 By analysing these problems we were able to advise the core branding team and set about proposing new concept designs for a full pedestrian and vehicle wayfinding scheme at the new station. The new building opened to the public at Christmas 2009 to instant full capacity use, and no wayfinding issues.