Booktopia - The Leadership Challenge, How to Make Extraordinary Things Happen in Organizations, 5th Edition by James M. The 25th anniversary edition of the bestselling business classic, completely revised and updated. For more than 25 years, The Leadership Challenge has been the most trusted source on becoming a better leader, selling more than 2 million copies in over 20 languages since its first publication. An indispensable resource for leaders at all levels, this anniversary edition is a landmark update and must-read. James Kouzes is the Dean's Executive Fellow of Leadership, Leavey School of Business at Santa Clara University, and lectures on leadership around the world to corporations, governments, and nonprofits.
Barry Posner is Accolti Professor of Leadership and former Dean (1997-2009) of the Leavey School of Business, Santa Clara University. Kouzes and Posner are the authors of Credibility, The Truth About Leadership, A Leader's Legacy, Encouraging the Heart, and The Student Leadership Challenge, among many other works. The leadership book that outshines them all, completely revised for today's business realities with more international examples and a laser focus on business issues. Based on Kouzes and Posnera€™s extensive research, this all-new edition casts their enduring work in context for todaya€™s world, proving how leadership is a relationship that must be nurtured, and most importantly, that it can be learned.
An accomplished scholar, he also provides leadership workshops and seminars around the world.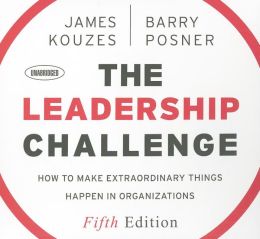 Enabling JavaScript in your browser will allow you to experience all the features of our site.
Grounded in extensive research, it captures the continuing interest in leadership as a critical aspect of human organizations.