Tiffeny, a forestry major at UNBC, has fun with a fungus while learning about stand dynamics at ALRF.
Biologist Jesse LaFramboise of DWB Consulting Services, Prince George, uses Hansard Creek to explain the importance of assessing and protecting stream habitat for sustainable forest management and road development. Students are taught through hands-on  modules (from  2 to 4 per day)  led by  both faculty and  natural resource practitioners ranging from forestry to guide-outfitting to mining. Since I first began my studies in post-secondary education, I have always pursued a strong scholarly interest in the sciences of plant biology and ecology.
Most importantly however, my supervisors, along with a variety of other professors, researchers and university staff, provided me with the unconditional support I needed to succeed in all the challenges I encounter during my studies. I am very proud of my University of Northern British Columbia Master of Science in Natural Resources and Environmental Studies degree and feel fortunate that I had the opportunity to earn that degree at such an acclaimed university under the supervision of highly respected experts. UNBC is a world class educational institution and provides its graduates with the opportunity to change the world around them.  I would not hesitate to recommend UNBC to undergraduates looking for an exceptional educational experience. After graduating from Oregon State University (Biology major), I moved to southern California and had the pleasure to work at the Dana Point Ocean Institute (a nonprofit marine science educational facility).
I am appreciative of my time at UNBC and the opportunities my education there has since afforded me.  As a biologist working for the BLM, I have a great opportunity and responsibility to help manage public lands to benefit wildlife. I was born and raised in eastern Ontario, Canada.  My decision to attend the main campus of the University of Northern British Columbia (UNBC) in Prince George, British Columbia (BC), was based on the opportunity to experience the developing issues and concerns of environmental studies firsthand.  And that's exactly what I received!
Over the course of roughly a decade, I earned an undergraduate degree in Environmental Studies and a master's degree in Natural Resources and Environmental Studies from the College of Science and Management at UNBC. It's not often that degrees and universities prepare a student for such diverse roles in the environmental field.  But that is exactly what I obtained from UNBC.
Domenico Santomauro is the Director of Great Bear Environmental and Cultural Consulting Ltd (Great Bear). After taking a lead role to increasingly larger and complex development projects in 2012 Dominic incorporated Great Bear Consulting. Samples of projects from Dominic's portfolio include environmental management and monitoring plans for multi-year infrastructure projects and trans-provincial pipelines, wildlife surveys, regulatory approvals for the upstream oil and gas sector, First Nation training, community-based sampling programs, reclamation programs and land use planning consultation.
I am currently finishing my PhD at University of New Brunswick working on the interactions of the living and nonliving components of an ecosystem.
Growing up in a small mountain town exposed me to the many wonders of nature at an early age, and it is no surprise my research career also focuses on Canada's magnificent ecosystems. Since September 2012, I have been working as an archivist with the Arrow Lakes Historical Society in Nakusp, BC. Prior to my current job, I operated the local community radio station here in Nakusp after completing my Masters in 2009 and operated a (surprisingly, at least to me) popular 'geo-oddity' website called The Basement Geographer which concluded its run in November 2013 once real life got too busy. Throughout the Masters' process I was able to publish 4 papers, one of which was my undergrad thesis. I worked in consulting for (at the time) Manning Cooper and Associates, now called Cooper Beauchesne and Associates, in 2007 and 2008. In 2009 Cory Ochs (BSc 2007 Biology UNBC) and I travelled 50 weeks in South America travelling 8 countries. I have so far published 5 papers during my PhD, and should complete my degree in August of this year. I graduated with a MSc from NRES in 2006 on a thesis investigating territorial quality influences on peregrine falcon productivity.
I worked on various projects around Western Canada largely focusing on habitat related wildlife research and management. After graduation my career started as a Fisheries Biologist with the Ministry of Environment in Prince George.
Part of my job involves managing funding for the Small Lakes Management and Conservation Initiative. I also represent FFSBC on the Provincial Angling Advisory Team, made up of angling stakeholders, resort and guide outfitters, and provincial government fisheries managers and biologists.
My current work is not directly related to my MSc in NRES; however, I cannot stress enough about how important ALL the transferable skills have been!
One exceptional thing about UNBC is the integrated studies and the exposure to a variety of potential career paths.
I spent the following 6 years working as the laboratory manager for the Okanagan Region Chemical Analysis Center at UNCO in Kelowna, where I spent several years conducting stable-isotope analyses on wolf and grizzly bear hair for the BC MOE, and in the UBCO Chemistry Department as the Analytic and Physical Chemistry lab technician. I have learned many things in the past… clearly, the most important being the value of advanced education.
I completed my degree as a part time student while working as a Planner for the City of Prince George.  Shortly after graduation from UNBC with a MSc.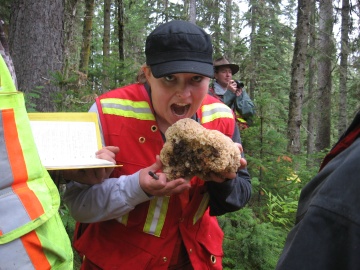 In addition to the above work I was able to stay connected to UNBC as an Instructor in the Environmental Planning Program, where I taught ENPL 410 (Professional Planning Practice), ENPL 104 (Introduction to Planning), and ENPL 204 (Principles and Practices of Planning) over a number of years. After finishing my MSc in Natural Resources Management I accepted a senior park warden position with Parks Canada and moved to Wood Buffalo National Park (Fort Smith, NWT). Over the past 15 years I have worked as an ecologist and science extension specialist integrating quality science into resource management solutions for communities, managers, and governments. I have significant experience in organizational development and multi-stakeholder processes, for example coordinating a process to set targets for the implementation of Ecosystem Based Forest Management on the Coast (retention of old growth forests) and designing a framework for policy development and business planning with the Ktunaxa Nation. Recently my research has focused on developing community-based monitoring based on traditional ecological knowledge. I have coordinated cross-disciplinary research programs in Canada (the Sustainable Forests Management Network), the US (Rutgers University Center for Environmental Indicators), and the circumpolar Boreal (BorNet, a boreal network of scientists and forest practitioners). In 2009 I worked with 8 colleagues to co-found a research group called the Firelight Group Research Cooperative.
My masters degree from UNBC was a great stepping stone for my career as it allowed me to take courses in a range of fields and to work across the disciplines of resource management and western science.
I believe my MSc has been remarkably valuable as my career has progressed over the past 17 years since I left UNBC. These successes ultimately led to me starting Ecora Resource Group with 4 other professionals, one of which (Kelly Sherman) is also a UNBC graduate in forestry.
Currently in my role as Chairman and COO of the Ecora Group of Companies, I rely on the critical thinking skills and communication skills that I first learned and honed from my mentors and supervisors at UNBC. This workshop is a mix of brainstorming and discussion-based exploration of the things most people don't think about, practice, or plan in advance until they're immersed in the situation.
We also spend a couple hours working through scenarios, including improvised stretcher building to get the creative juices flowing and get everyone working together.
And it's not all about hard science either, students are taught soft skills including concepts in multi-stakholder consensus-building and the social and spiritual importance of the environment to First Nations people.
In January 2009, I enrolled as a graduate student at UNBC in the Natural Resources and Environmental Studies Program (NRES).
I am extremely grateful for everything UNBC has provided me, both in my personal life and in my professional development.
Meletis and the wonderful community at UNBC for providing such a warm and welcoming place to learn. John where he was employed as environmental and cultural technician and as project ecologist. As its director he worked on contracts for industry, government and First Nations in British Columbia, Alberta, the Northwest Territories and Saskatchewan. Modern technologies are expanding our understanding of just how connected our ecosystems are. However, my passion to understand nature is equalled by my passion to teach, as well as understand how to improve the way individuals and institutions educate the next generation.
My task has been to re-scan, reorganise and re-catalogue around 11,500 photos, 7,000 negatives, and 2,000 slides (plus work with the countless additional documents in our archives), as well as provide appropriate metadata and historical information for all of them (as well as doing the same for all of the new accessions constantly coming in). Last semester, I was fortunate to be hired as a sessional lecturer at the University of Michigan for a 4th year course in Ornithology.
The ability to start conducting research in my first year as an undergrad gave me a lasting head start.
I feel that the learning environment that UNBC offers to students is invaluable for work in natural resource management.  As a student coming to UNBC from Winnipeg, I gained an appreciation for the forest industry, and an understanding of its importance to community and economy as well as how it can work in conjunction with a healthy environment, which is something that I don't think I could have experienced at any other University. In 2008 I started with the Alberta Government as the Provincial Wildlife Habitat Biologist, responsible for development of policy related to wildlife habitat management. After three years in this position ,  I was hired by the Freshwater Fisheries Society of BC in 2007 as the Head of the R&D unit. This program aims to improve the management of small lake fisheries while protecting wild fish populations.
The team's main goal is to assist the Director of Fish, Wildlife and Habitat Management in managing freshwater fishery resources sustainably, economically and in consideration of First Nation and stakeholder interests.
I am a western Canada regional policy consultant and, on any given day, I deal with labour market issues from any and all sectors - so having some critical awareness from different fields have been incredibly valuable in contributing to public policy refinements - especially when it impacts on small, resource-based communities! After two years I was accepted into a PhD in Biological Sciences at the University of Alberta and moved to Edmonton.
Kathy Parker were instrumental in my progress in both Parks Canada and the University of Alberta. I have coordinated strategic stakeholder processes, provided communications and extension services, and done community-based research on species at risk and community-based monitoring.
I have developed forestry standards for the boreal as a steering committee member for Forest Stewardship Council Canada, completed species at risk and conservation studies, and developed community-based monitoring plans for First Nations communities. At the beginning of my career, my MSc provided me with extra competitive advantage over many of my peers, allowing me to advance within my first few jobs substantially faster than those without an advanced degree.
Ecora has seen significant growth in the past few years and employs approximately 50 professionals full-time in BC, with additional part-time staff and contractors locally and internationally.
I could not have succeeded in my chosen career path without the advantage of an MSc from UNBC.
The UNBC students themselves represent several disciplines including Forestry, Environmental Science and Biology Majors, which promotes peer-learning.
During my studies, I was provided with unlimited resources and support that enabled me to continue with my professional development as a research biologist. I followed and worked on campus as the Director of the Prince George Public Interest Research Group (PGPIRG). In this time he achieved certification as Environmental Professional (EP) specialized in natural resource management, fisheries and wildlife, policy and legislation; as Applied Science Environmental Technologist (AScT), and became a member of the Canadian Institute of Planners (MCIP). Such an understanding will help us not only predict changes to our environment, but perhaps help our remediation efforts as well. It's probably the last thing I'd figured I'd wind up doing when I first enrolled to write my Masters thesis ten years ago, but my time at UNBC absolutely led to this position, and I couldn't imagine doing anything else right now.
I took a new position within the Alberta Government in 2013 as the Senior Wildlife Biologist in Calgary. Funds for the initiative are derived through angling license fees (another good reason to buy your fishing licence). Early on in my PhD, Elk Island National Park accepted a transfer of my warden position where I worked until shortly after I completed my PhD. I was lucky to have Fred Gilbert as a supervisor to challenge me to be the best researcher that I could be.
The degree gave me additional credibility as a consulting biologist, qualifying me for interesting research projects and allowed me to co-author numerous technical field guides on species at risk in BC. Our core business is still in natural resource management, but our businesses also include an engineering consultancy, an international log home company, a property management group and a timber export brokerage.
I was constantly informed of, and encouraged to participate in, professional events such as conferences, workshops and lectures, by both the university and my supervisors. Since then I attained my RPF designation with the ABCFP, and completed my PhD from UVIC studying climate and wood anatomy through dendrochronological techniques. The focus of my position is to lead several business areas for FFSBC including Fish Health Services, Research and Evaluation as well as Program Support and Business Development.
Supported projects range from specific lakes to regional or provincial issues and include: stocked lake assessments, wild fisheries assessments, stock development and evaluation, small lakes management, development of new management tools, and angler use and preferences.
It is easily the best job in the University, a job made possible by the advanced instrumental training made available to me by Dr. In July 2007, I took a position as an assistant professor in Environmental Science at the University of Alberta's Augustana campus and received tenure and promotion in October  2010. I was also privileged to learn about wildlife management from Mike Gillingham and to take Integrated Resource Management with Winnifred Kessler. I'm very loyal to UNBC and I actually still maintain and update the Community Development Institute website for Greg Halseth and his team to this day. In my role I work closely with not only our own staff but also with provincial fisheries managers and many other partners including universities and other levels of government. Thanks also to professor Annie Booth for first reaching out to invite me to attend UNBC, for supporting me on my Committee and for contacting me after all these years.
And, the courses I completed in soil and plant science helped me to develop a working knowledge of soil processes and how to construct adequate mediums for plant growth.
Soon enough I  was interviewing locally living people and kayaking throughout the canals of Tortuguero gathering information to better understand impacts of ecotourism-related motorboat use.
In my spare time (HA!), I double as the technician in the Fipke Laboratory for Trace Element Research, which houses an ICP-OES, a quadrupole ICP- MS, and a state of technology Element XR ICP-MS equipped with a 193nm eximer ablation laser.  Again, my training at UNBC laid the theoretical groundwork for expanding my skillset into these immensely interesting fields.
I now work at a Project Based Learning (PBL) charter school in San Diego county, where I share my passions with 11th grade students.