Graham Bantock sailed his 'Diamond' design superbly to win this Championship again, in difficult and unpredictable light fluky wind conditions in 17 races, against the biggest fleet of 10 raters in recent times. Guildford Model Yacht Club were delighted to receive 26 entries for this event from 15 clubs, including 3 from France, because this was nearly four times last year's entry. Guildford's water at Abbey Meads Lake (near Chertsey) was an ideal venue for this event, because of the ability to set long courses with good visibility from a raised control area. Light easterly winds and beautifully warm sunshine greeted competitors at Abbey Meads, Chertsey. After lunch Graham won Race 5 in front of Colin Trower, who maintained his challenge to win Race 6 ahead of Peter Wiles.
Competitors retired to a local hostelry on the banks of the River Thames to enjoy a relaxed 3 course dinner, which had been carefully orchestrated by Terry Rensch. With the wind forecast to come from an opposite direction competitors were again on the south bank and the wind gradually increased from nothing to a light breeze, but was hopelessly inconsistent and during the day came from every direction except from the East. PRO, Martin Crysell, set a similar windward leeward course with a gate in the forecast West south-west direction.
Race 11 was won by Patrice Montero with Colin Trower 2nd and Roger Stollery sailing his 'Crazy Tube Ten' 3rd. Alf Reynolds, who had been struggling with technical problems throughout the Championship with a modified 'Peken' design, sailed a brilliant Race 14 to win from Colin Trower. Martin Crysell and the 6 man GMYC race team were thanked by the prizewinners for running a good event in difficult wind conditions. A brand-new trophy, the Classic Cup, presented by Guildford Model Yacht Club to encourage older 10 raters to take part in the championship was presented to Nick Whyte, who sailed a 12-year-old 'ROK' Marblehead hull with a large rig as a 10 rater. The majority of boats were sailing on the waterline of approximately 1250 mm, with sail areas in the order of 1 m sq. We carry a very large range of quality yacht fittings for racing models by some of the world's best manufacturers. A range of woven cloth and mylar film is available by the metre, for all your sail making needs. We carry a range of 'fun' yacht kits for the person who does not want to be involved in competition but still wants to enjoy the pleasures of sailing. We have also sold the small 'Micro Magic' kit for several years along with all the spare parts for this amazing little model.
One evening in October 2008, my wife Eva took a telephone call from a lady asking if Robert looked after wooden boats. The hull, Photo 1, was in a reasonable condition except that the interface between the lead and the hull had deteriorated and the varnish on the deck had the usual crocodile skin effect indicating old French polish, Photo 2. In my workshop I found that the oilskin bag had completely protected the spars and sails from deterioration and subsequently found that these had not seen the light of day for over 40 years.
Returning to Contender and looking at the hull, it was obviously a 10 Rater and when checking against known designs the hull profile fitted XPDNC, a Bill Daniel design from the early 1920s. Work was commenced on the hull by removing the lead and re-fixing it with a screwed stud and fairing in the join, Photo 4. This is not quite the end of the saga as Photo 9 shows the construction of two 21 inch hulls, planked using strips from reclaimed oak laminate flooring, to suit the King Rig sails. As an addendum to this restoration, if readers are wondering how to line the deck then this is done with a simple tool as shown here. As you can see, the carriage has two sets of wheels with the small ones running on the deck and the large ones (black) on the hull side, thus the lines follow the deck edge contour. Distributors of Model Boats for our overseas readersClick here to see the contact details of our overseas distributors. Useful information published by the MPBA for anyone running an event or just interested in the legal position.
We welcome well written contributions from Website members on almost any aspect of Model Boating with a particular emphasis on practical hints, tips, experience and builds.
In order to maintain a consistent standard and format, all suggestions should first be sent to me by Personal Message for approval in principle. The Tomahawk Kit contains a fiberglass Tomahawk Hull, in your choice of gelcoat colors, a Tomahawk Deck, also fiberglass and comes standard in your choice of White or Smoke (other colors available at an extra charge). You will need a Transmitter and Receiver with batteries, a rudder servo, and a Sail Winch Servo. This is as a result of a remarkable revival of interest in the oldest of the International radio sailing classes. The steep bank has been a problem in the past, but Terry Rensch's fantastic new steps have made access to the launching area much easier and safer. Graham then had a consistent run of races winning Races 7, 8 and 10, only losing out in Race 9 to Trevor Binks. However the wildly inconsistent wind at times gave a lot of reaching both ways with winds both from the North and the South. Colin maintained his challenge to win Race 12 from Graham Bantock with Derek Priestley 3rd.
Graham Bantock commented that with the bigger entry the pressure of competition had been tougher in previous years. There were 6 older 10 raters that qualified to race for this trophy and it is to be hoped that there will be many more next year. Where designs have not been mentioned in the text this is because they were all Graham's designs, with the 'Diamond' being the most popular, as noted below.
Apart from 2 swing rigs and a rotating Waliki wing mast rig with a fat head, the majority of the rigs were very conventional, both in sail plan area and in detail.
Coloured luff tape, corner reinforcing tapes and narrow double sided seaming tape is also sold, along with eyelets and punches. To my surprise within the bag there were also three sets of King Rig sails for 21 inch Triang yachts, Photo 3. Checking the waterline in the carp pond and using the sail area it was doubly confirmed that this was indeed a 10 Rater. The hull was rubbed down and found to be of very nice bread and butter construction from yellow pine planks. This project is still ongoing and by the Spring of 2010 I hope to have all three yachts sailing in their natural environment at the Walpole Lakes, Gosport, Hampshire. The pen is held in a collet clamp with the top section screwing into a plastic unit and gripping just like a compression pipe fitting.
Only a very limited amount of time is available for editing contributions into a suitable format for placing on the website so it is important that the material is well presented, lucid and free from obvious spelling errors. It is an opportunity for Website Members to freely share their expertise and experience but I am afraid that virtue is its own reward as there is no budget to offer more material recompense! The electronics include a Spektrum DX5e Radio with receiver, RMG SmartWinch, digital servos for steering and backstay, and rechargable NiMH RX Battery pack (charger not included). The 10 rater class was created in the 1880s with a very simple idea relating waterline length and sail area, so that the longer the boat, the smaller the sail area. The wind varied both in direction and strength and gave advantage to those who could best follow the constant changes. Patrice Montero from the south of France and MYA 10 rater champion in 2011, also had a consistent run with 3 thirds in these races. Some of the gusts were strong enough to promote some planing for the lighter boats from both these directions. The prizes included a furthest travelled prize, which went to Eric Van de Kindere, who had driven from Marseille to sail at this championship.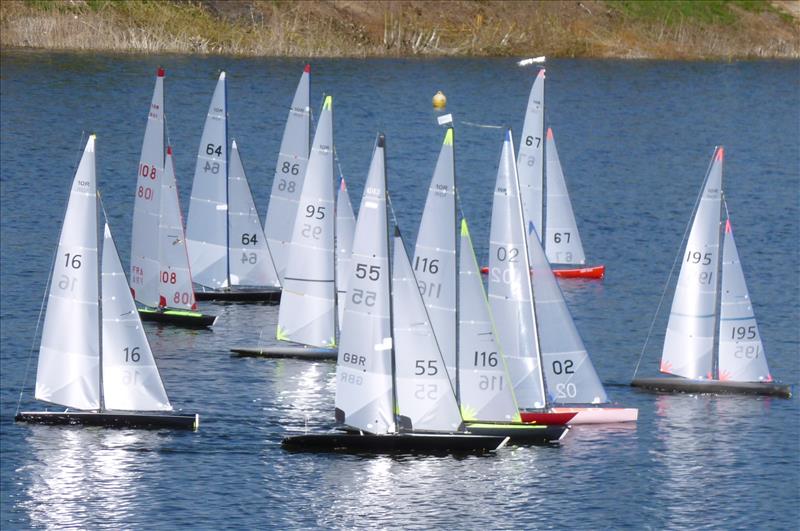 Carol had made contact with me after asking both the National Maritime Museum Cornwall, Discovery Quay, Falmouth and the MYA if they knew of a skipper interested in old yachts, both of whom gave my name. I left Carol with some reprints of my earlier restoration work and set off home with the boat and her email address in Australia with the promise to keep her up to date with any information on the history of the yacht that I could find and its ongoing restoration. Discussions with Trevor Smith of the Vintage Model Yacht Group revealed that these were of German origin and were produced between 1918 and 1938. There were two sets of sails for Contender in the bag, a Bermuda rig and a Gaff rig, both in beautiful condition with all their lacings still intact. The fittings had turned black, but with a little persuasion from a brass brush they soon cleaned up, which you can see in Photo 5 and also in the pictures of the finished yacht. The hole spacing on the bar should be pitched as accurately as possible because the eye is very sensitive to irregular line spacing. I think it goes without saying that contributions should be illustrated by appropriate photos. The class may be old, but modern 10 raters are state-of-the-art and are magnificent performers with their light displacement, narrow beam, high stability and plenty of sail. Graham Bantock came back to win Race 4 in front of Trevor with last year's champion, Peter Wiles, sailing his 'Tension' design into 3rd place.
After a couple of bad races, Patrice Montero renewed his challenge to win the final Race 17 from Robbie Nevitt sailing a 'Maverick' design and Hugh McAdoo.
In the light winds these perform very well as can be seen from Trevor Binks' results, and in the stronger winds the off wind speed of the swing rigged Crazy Tube was exceptional. There is no need for large expense to compete in this class; one boat was bought for just ?180, complete with several rigs, and the owner thoroughly enjoyed the experience.
Initially I thought that Carol was asking me to help her to sell the yacht, but she made it clear that she actually wanted me to have the yacht.
The deck was cleaned with spirit and the old button polish removed, which also removed most of the deck lining so that had to be reinstated, Photo 6. It is best to test the tool on a spare piece of shaped wood before using on the model and it is also most important that the hull be very securely clamped.
The beautiful sleek appearance with long overhangs has recently attracted enthusiasts from two full-size sailing clubs and there is now a regular racing available every week at Frensham Pond Sailing Club.
As she was in Cornwall and I live in Hampshire we agreed to meet at Exeter Services on the M5, a half way point for us both a week or so later.
The day before setting out I tried phoning to confirm the meeting and found that I had written the number down incorrectly, so further contact was impossible. However we will never really know, but the craftsmanship and the fittings certainly have that quality feel.
Contender is shown fully rigged in Photo 7 with the Bermuda sail configuration while Photo 8 shows the Gaff rig and sails, which I think are the most pleasing of the two. The name Contender was found on the stern plate and when checked against the 10 Rater Register, no obvious match could be found. During the ongoing work, photographs were sent to Carol and her husband David in Australia to keep them up to date with progress. There were no numbers on the sails, therefore it is unlikely that the yacht was ever registered. Such was their interest that in June 2009, David whilst on a visit to England came to see the yacht in its completed state. David was extremely pleased with the work and was happy that Carol had found a good home for Contender.