Well, I obviously missed the Hammapoluza trip in order to get some things done, and after checking out the posts from the get together, I really hope this is going to be worth missing that! After glassing in the floor, I had to do something about the seams, as they would allow the floor to flex -- a definite no-no if I want to keep carpet in there for any length of time. Another trip to AutoZone and I picked up the fiberglass version of Bondo body filler -- the same stuff I had to use on the nose. Joist mounts worked to stabilize the top portion of the platform, which was cut for two pieces of wood.
For the dashboard, I traced the originals onto a solid piece of pine, cut, and rough sanded with 80-grit sand paper, followed by glass resin to finish them.
By the time you guys tied into those giant slobs of stripers at Hammy, I was making my first cuts on the carpet.
Unfortunately, I ran out of daylight to snug and glue in the carpet, so this is as far as I got this past weekend. Remember, all this was and still can be done avoiding marinas all together, as all of the materials used were from hardware stores, Wal-Mart and auto care stores, helping to keep the cost down. With Instructables you can share what you make with the world, and tap into an ever-growing community of creative experts.
Epilog Challenge VI: I have entered this into the Epilog challenge please vote on it if you like the build. With the plan you have created in mind, design a support structure that will fit your needs for the deck. Measure the width of the boat where the ribs will be located, and cut a 2 x 2 to this dimension. Lay a large piece of cardboard down on top of the deck support that you have just finished. This step is optional based on whether or not you want to add seats or raise the seats like I did.
In the desired area, trace a line around the edge of the minnow bucket that you are going to use.
I did some research before doing this and have read that some people have done this without marine grade wood and have not had a problem over an extended time. The reason I used that spacing was I use the holes created from drilling out the middle seat. I have a 12ft v-hull that I'd like to do something like this too but I'm concerned about it being back heavy when sitting in water, is there a way to make it set higher? I used 1" square aluminum for the light rail - basically just putting the rails high enough to fit 50W LED lights from customfitz. Since I put the troller in the center, I used DE_Bowfisher's idea for the LED light strip navigation lights. And finally, I got some anti-fatigue mats from menards and cut them to fit the deck, zip tying them to the expanded aluminum. I love how youve taken somethin(and on a budget spent the $ where it counted!!!) and made it from nothin.
I definitely agree that welds would have been optimal, but I worked with my current skills for now. I'm definitely a tight wad, so I was trying to save money at the same time as doing this right so I don't have to do it over. I am the new kid on the block, I am hoping to do a few things to my small boat, the first will be a trolling motor bow deck, I see from some of the pictures some guys lay the wood on top of the curl of the boat, Are screws run into the curl to hold the wood piece in place??.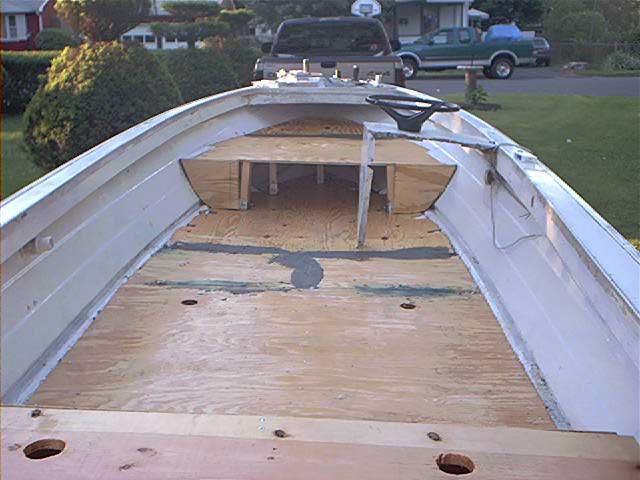 Thats very cool, What kind of block did you use for the mount and did you wrap that carpet around it after you did your main rug. Not mentioned on the forum here as far as I see, I will be wanted to pop rivet angle up near the top of the boat in the bow section.
Location: New Zealand Have a look at these hulls, better than a flat bottom less hp to drive and greater stability! Lemme see if I can get an image or two uploaded here just to keep the thread up to date eh?
Of course Now she weighs so much that the lil 25 hp Mariner just wouldn't quite plane her with anything but me aboard - so much as a stiff headwind would knock me off plane and one passenger turned her into a slug displacement 6 knot vessel that drank fuel like it was going outta style. For anyone contemplating building thier own alloy boat from a kit - there are a series of two Aussie boating magazine articles, where the female editor welded up her own 4.75 meter (16 ft) boat from one of CDM's Plasma cut kits. You can get back issues of the two magazines containing the articles &photo's on the CDM plate boat project below. You'd need the back issues numbers 61 from Jan 2001 & 62 from Feb 2001 available online thru the backissues order link off the mainpage link above to read up and get an idea of how hard or easy such a project can be. When making potentially dangerous or financial decisions, always employ and consult appropriate professionals. In my floor plan, I went with a rear bench, front casting deck layout, just because I like an open boat.
The rear bench will actually be nothing more than a platform for mounting seats, but gives the hull even more rigidity. Hopefully, my next article will be my last and I'll be sending photos of the finished product.
Screw the front deck support to thealuminum seat so the the top is collinear with the seat. I would use the laser to help me with some really cool projects like laser cut wood objects, led illuminated signs, engraved tile and much much more. The bilge pump is not necessary for me because I only have it in the water when I am using it. I also thought about making them in to rod holder by either drilling holes or buying rod holders with the foam but they are too close together.
It's not the fanciest boat in the world, and the guy I bought it from painted it camo but for a carp boat it works great! If I were to screw a board on top of the curl of the boat, I am thinking it will not be level, can someone give me an idea on where to get started, I am in no rush but I would appreciate all comments, Thanks, PeteThe one picture is the floor in front of the middle seat, Would you guys remove the front seat shown or build all around it??
I want to put a bow mount moror on the front, What would I do then, put it up on blocks to clear the edge as your set-up is recessed from the top curl. Your rig is sharp looking, I hope I get to feel better in the coming weeks so I can get started.
I just framed it up with some scrap 2x3s no ply just carpet wrappwd around it then secured to deck. Is there any certain rivet I need, I am sure its above the water line but I want to make sure I buy all the right stuff once I get started. A lot of thought (and measurement, did I mention beer?) went into building the front deck in order to get rigidity and still have some storage.
Hint, invest in stocks from the Bondo company before you start a project like this -- a little return on investment! The area for the rods extended under to front and rear seat so I can store 8' plus rods.
I'm thinking of adding a few more 27W for projecting in the front of the boat like headlights, as I'd like more light up there.
I think I'll put a couple more 27W on top of the rail up front to project out front and hook those up to the bigfoot switch as well.
If the stability and deck space is suffient ill build something more permanent and nicer looking.
The only reason I went with a front opening door as opposed to a top side door was just for added strength. The only thing I may have to change in the future is making it a solid deck rather than expanded aluminum but time will tell. However, I dont have those awesome side brackets attached to the bow of my boat (see pic below). Sorry Zach, looks like you'll have to win another two tourneys before you can make a shot at a trifecta.
They are center cut with a 2-½ inch hole in the middle so the pedestal mount would allow enough room for the seat mount to fit in without going through the bottom of the boat (Jim always comes up with the cool sh*t!). We did have a 14 alum craft with all the trimmings but it was just too much for us to get back on the trailer etc. Id like to have a hatch in it, id also like to have 2 hatches in the front seat as well, but that might come later on.
If I do anything to the boat it will be the bow and put wood on the seats, but they are not pedestal seats, they just have a swivel on them and thats the way I want to keep it, Your boat came out nice, you have to have a little caepenter in you as I am a electrician but I try. The main objective in my conversion was to create a large, flat, and sturdy deck area in the middle of the boat to stand on and cast from. I will also have to install wood on top of the bench's , Do you run the screws right into the top of the bench?? Since I am going to fish for pan fish and walleye, I planned on dropping an anchor in my fishing locations.
Would this be the way to go, or just go ahead and use rivets, I will not be standing on the bow, its just going to hold motor and anchormate. I would have liked to add a trolling motor to make it a more versatile boat, but because of weight concerns I did not.
I am thinking maybe tractor supply will have some type of waterproof rivet, There are no boat shops in my area. I am not a professional craftsman by any means, but I do have a good amount of experience with the common tools used in this build.
If you do add a trolling motor make sure to that the weight of the batteries, mount, and motor will not be a problem. Just looking for some encouragement and advice, to wards the back of the built bow I will be drilling into the seat if thats OK. I started will a rough drawing of the side and top view of my boat and modified to it match my ideas.
I am a disabled Vet and I do things when I feel good, so my chores take twice as long to do.