Ok well thats fair enough, im party against using epoxy as well as its not something easily available in the UK. Look for the 6 hour canoe book, or some of the old Cajun Batteau plans, they're simple boats and were built well before epoxy and 'glass. I used PL Premium, but as Gib said a waterproof carpenters glue and screws would work just fine. If you are going to omit epoxy then you will need rot resistant wood and quality corrosion proof fasteners.
Roofing tar or exterior slow drying silicone-latex caulk will seal well and unlike adhesives will allow disassembly for invasive repair later on and will not be brittle like epoxy or polyurethane resins. The reason that silicone-latex caulk warns against use below the waterline is because it will not cure when wet and they are referring to under waterlines on basements that will never be dry and therefore never allow the caulk to cure. Fast drying caulk or acrylic-latex caulk will shrink while drying and may become brittle over time, and interior caulk will degrade too fast and may not even be fully waterproof, so these are not to be used. I once met a man who paid over $10 per board foot for old growth cedar for a heavy edge nailed strip planked canoe and then sealed it like a tomb by putting fiberglass and epoxy inside and out hoping to protect it.
I've done exactly that, twice, for a 15ft and an 18ft-er, and posted construction threads on this Forum. Watermelon, you referred to epoxy as heavy chemicals, granted you need to be reasonably careful when using epoxy, but the small amount you would use in scarfing a joint really only require rubber gloves and common sense. My name is Dave S and I ordered a caning kit in order to complete a cedar strip canoe I was building.
I ordered a canoe seat repair kit in February to fix some dry-rotted canoe seats we borrowed from friends. You must have JavaScript enabled in your browser to utilize the functionality of this website. To get WoodenBoat delivered to your door or computer, mobile device of choice, etc, click WB Subscriptions.
This would be a chine log, and in a small enough dimension would bend just fine without too much effort.
MDO plywood (Not to be confused with MDF!), locally available decking lumber (except white cedar; good rot resistance but fragile) for framing, stainless nails, and coated hard galvanized decking screws will be reasonable choices.
The paint on the outside of the boat keeps water out, and any that does get in is allowed out by the oil, which repels most water but still allows the wood to breathe. If you're going to join 2 sheets of plywood, you might as well make the boat that long -- my 2 cents. Earlier when I e-mailed a couple of questions, you indicated that you rarely get to see completed projects.My canoe is completely assembled and with the exception of another sanding and varnish in the spring, is ready for the lakes and rivers.
The material is natural, it is the outer skin or bark of the rattan vine, and very impervious to just about anything but water.
I finally got around to fixing the seats, only after ordering brand new ones from REI in case I couldn't do the job (they moved last week).
Dry fit everything before gluing up and leave the screws in so you can line the parts up quickly once the glue is applied since it sets up pretty quickly.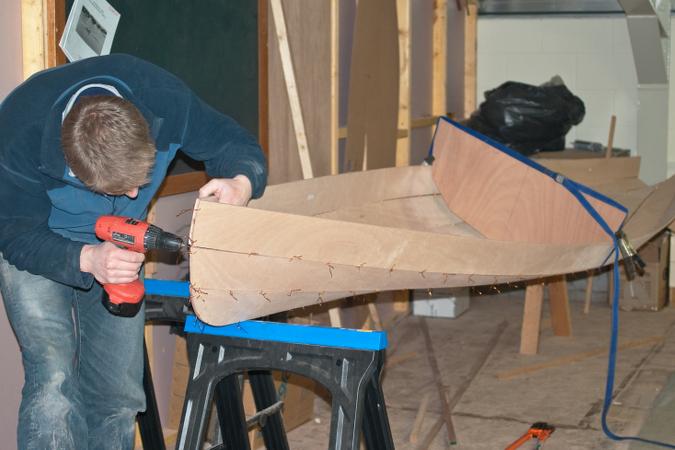 They are often quick and easy to build, and the boat will be much lighter, and you can certainly get a much better hull shape with SOF than these slab sided plywood canoes (some of which work just fine, of course).
Anyway, I wanted to say that the excellent directions worked wonderfully, and the kit was great. These kits were first put together by a woodworking hobbyist as a Christmas gift for his son J.J. I am so proud of the way they looked when I finished, and I am sure our friends will enjoy the seats for years to come. Keep it painted and store it under cover when not in use and it will last for a very long while.
If you but a finish on it, it will peel, A top coat such as varnish stiffens the cane and it will break easier. I use a marine spar varnish on all the wooden parts of my canoes but I'm not sure if it should be used on the cane material.