I have a 14' factory Grumman and would like to get some idea of what I am fixing to undertake.
What I was thinking about doing was putting carpeted plywood over both benches with the pedistal seats on top of that.
5-I am going to mount a stick steer motor(20) on the back before long-does that influence the way I need to make the other modifications? For stick steer, you will want to be low, so leave an area to sit at about bench seat height, and allow your feet to be about current bottom deck height.
When the deck is done, lay it in the boat and drill some pilot holes and attach it to your aluminum frame using wood screws.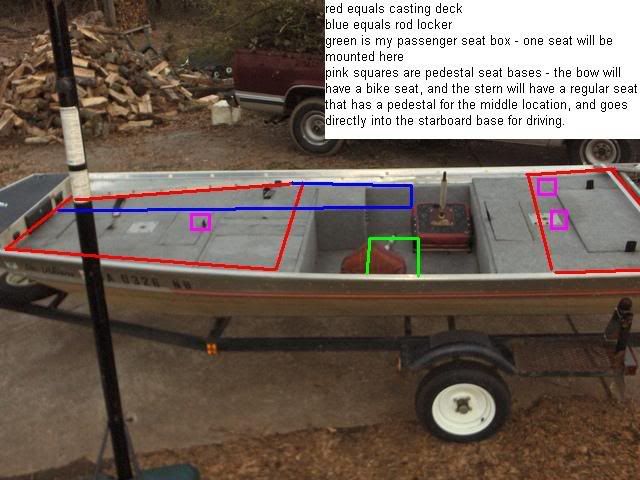 I used the plywood and carpet and screwed it down to the boat bench with about 8 wood screws.
Keep in mind where the steering controls will eventually be when you a setting up your boat and arranging the seating. I wouldn't mind using aluminum for the decking, but have no idea about building a support structure. I was to mount a foot-controlled trolling motor on the front at some point.If you look at the pictures I sent you a while back you can partially see how I did my deck. Once you get it fit pretty close , it helps to take jig saw and bevel the edges where it meets the sides of your boat.
This will help keep from have a gap for stuff to fall into all around the edges and it just looks better. It doesn't have to be precise or pretty cause the carpet and base will cover it up, it just need to allow the base to sit flush on the bench.