Sunfish Charters' 12 m purpose-built Sportsfisher is a true blue-water charter boat designed for serious game fishing and offshore deep sea fishing. Our New Zealand charter boat can carry up to 18 passengers in enclosed waters, 12 passengers offshore with sleeping accommodation for 6 people (2 double plus 2 single in three cabins) for overnight trips. So if you're looking for a boat charter for fish, sun or fun on the Bay of Plenty - Sunfish Charters does it all: from game fishing, to reef fishing, to diving and sightseeing.
Call Mike for your fishing charter or boat charter out of Tauranga on: freephone 0800SUNFISH or +64(0)7 543 2104 or +64 (0)21 047 6758 (mobile) or contact us here without obligation so that we can understand your needs and demonstrate our dedication to customer satisfaction. Gamefishing Onsite Charters - The ultimate in heavy game fishing, light game fishing, reef fishing, leisurely cruising and snorkeling or diving.
Onsite is now an official member of the Lizard Island Game Fish Club Inc 1000 Pound Tag & Release Club.
His name will be placed on The Peter Teakle 1000 Pound Trophy which is permanently on display in the Lizard Island Lodge. After leaving the Gold Coast we started our journey up North with some cruising through the Whitsunday's.
On Arrival to Cairns we headed out for Lizard Island, looking for an early season bite we put the lures out and not long after hooked up to a Yellow Fin Tuna. Day One of the tournament with Graham in the chair saw an early bite from a 700lb Black Marlin which was the first for the Tournament and gave the boys the Champion Team for Day One trophy. Day Three Graham was back in the chair and successfully tagged another fish around the 400lb mark.
Day Five Graham had a real cranky fish on very late in the afternoon but after about 40 minutes the fish chaffed through the leader. The next day the boys went for a snorkel before we headed out for some heavy tackle fishing. On the 17th June we prepared the boat for the upcoming trip North up the East Coast of Australia to FNQ for the heavy tackle season with our first destination being the Gold Coast for some minor shipwright work.
With the large amount of tackle required to fish for Giant Black Marlin and the Light Tackle set ups needed to take up the vast number of fishing hotspots that are just far to tempting to travel past, you could say we are well equipped for anything.
After a week of reports of red hot fishing from Port Stephens we took out a group of blokes that had came up all the way from South Australia just to fish for Marlin.
Both fish where caught in a mammoth effort from the boys as both fish went in different directions towards other boats. For our first trip of our Port Stephens season we took out a group of boys from a€?Links Plumbinga€™. Finally we got him on and it was a good Blue Marlin that took three quarters of line of the spool before it dove down deep. For our Final trip of this years FNQ heavy tackle season we headed out of Cooktown with Steven, Gary, Nick, Tim and Grant.
Nick caught one of the Giant Black Marlin which have given FNQ the reputation of the best big Marlin fishery in the world. Gary who last year was given the inaugural a€?GAZZAa€™ award for pulling in the most empty hooks had hit his best form when it came his turn on the reel. Fishing Linden Bank in preparation to head back into Cairns fishing was slow and not many other boats had hooked up.
Fishing a four day trip straight after the tournament we ended up with 5 smaller marlin from 150lbs a€" 450lbs which still put on a great show for the boys onboard. Day six we trolled lures out wide to head back up to Ribbon Reef #10 to fish our final day, without hooking any Marlin it was a cracker Wahoo for Lindsay that was the catch of the day. As we left Port Stephens for our journey up to Cairns for the heavy tackle season we fished out way up to Mooloolabah trolling lures off the edge of the shelf looking for a Blue Marlin.
After a 30 minute fight we got him to the boat for a good look and estimated it at about 150KG. We headed out off Port Stephens for our last trip of the season with the boys from DARACON, with none of the boys having any previous experience with game fishing the guys were all excited to get onto the fish. As we made it out to the Continental Shelf we were on the fish straight away with a double hook up to start the day, both fish were Striped Marlin around the 70-80kg mark.
As the nerves started to set in we had 3 simultaneous bites, 2 Black Marlin and a Striped Marlin.
As the end of the day loomed closer we had a double hook up with 2 Striped Marlin performing their acrobatics at the back of the boat. We took out the boys from the Penrith Panthers, Tim Grant, Trent Waterhouse, Lachlan Coote, Sam McKendry, Mathew Bell and Jason Wrigley. Mathew Bell then landed a nice fish which he brought onto the boat for a photo which featured in the Daily Telegraph. We headed out off Port Stephens for our first trip for the season with Keith, Benny and Wayne looking for some Mahi Mahi action. Toying with our lures the fish were in our spread for 2-3 minutes before we finally hooked up to 2 of them. On Site continued via the Ribbon Reefs to Lizard Island, Flinders Island and Princess Charlotte Bay. The following day saw a double header with Jake tagging a 250lber and Lindsay fighting a fish estimated at 800Lbs for well over an hour. Fishing the Lizard Island tournament saw some productive fishing for the first few days with angler Graham Whiticker tagging two fish putting us among the leaders. Fishing with Game Fishing great Frank Thomson gave the crew great insights into the world of heavy tackle fishing and a few of his secrets to catching the allusive Grander Black Marlin. Fishing with ET, Michael Guest and Clint Hempsall while filming Escape with ET saw some quiet heavy tackle fishing, though the Reef produced some nice Popper Fishing for both ET and Guesty.
After a days fishing which produced no fish we returned to the anchorage behind the Reef, when reviewing Clints footage taken by the TOWCAM we witnessed two black marlin to 500lb making an enquiry on a Scaly Mackerel skip bait. Leaving from Cooktown with another Charter we headed out to the Reef with Garry and Steven Riggs, Tim Grant and Grant and Phill Murphy. The second day saw Steve on the rod when a 950lb+ black marlin rose to the surface and had a magnificent strike on a skipping Mackerel Tuna, during the hour and a half fight the fish showed us some nice acrobatics which gave us a good look at her.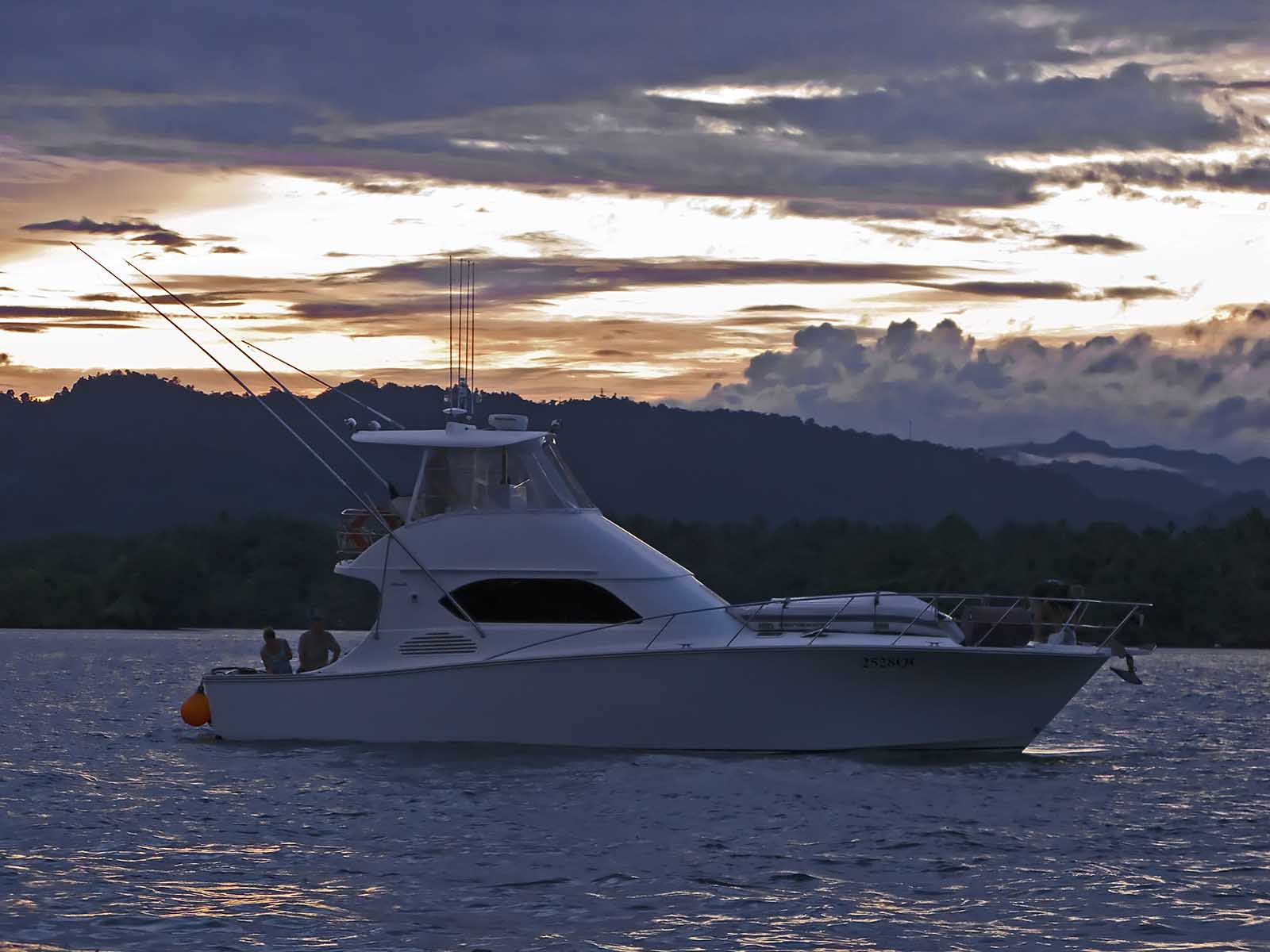 Day Three it was Garrya€™s turn on the reel when we hooked up on a nice fish around the 500lb mark, after a great effort from Garry the fish was at the back of the boat after a quick release the baits were back in the water and we got another bite out of a smaller fish with Tim in the Chair but with no result.
After a season of Heavy Tackle the boys from Patrician Brothers Blacktown came aboard for the journey back to Sydney. As we Trolled past our spread of five lures we were attacked by a pack of Dolphin Fish (Mahi Mahi). After picking up 'On Site' from the Gold Coast with her brand new Marlin tower fitted we began our trip north. Cruising around Lady Musgrave and Heron Island on the way to the Whitsundays, Skiper Glenn Hunter and Decky Rowdy arrived at Hamilton Island in early July.
The owner and his family enjoyed the next 10 days cruising around the Whitsunday Islands, enjoying the beautiful sights of Whitehaven Beach, Butterfly Bay and Blue Pearl Bay. The weather was great, the fishing was great and we even found a secret spot for the Mud Crabs that even the locals don't know about.
With over 60 years of combined experience, the crew aboard the Game On is more than capable of taking you out for your next fishing charter. The man, the myth, the rockfish legend- Captain Dan Parncutt has been fishing for over 15 years now both professionally and recreationally, all over the world.
We can hear billfish cowering in fear as we type… Captain John Yost has been spotted with fishing rods in hand for over 30 years, 11 of which professionally.
Catch of the dayFor the Big Game Fishing enthusiast we can arrange an unforgettable experience in Mauritius. Big Game deep sea fishing is naturally the best on the west coast of Mauritius due to the Indian Ocean currents that swirl around the foot of Le Morne, creating a marine environment attractive to bait fish, which in turn attracts the larger fish.
We have two 375hp Caterpillar motors which enables us to get to the fishing site in record time. If you wish to book the Big Game Fishing in high season, kindly make sure to let us know well in advance (at the time of booking your accommodation). This modern charter boat based in Tauranga, in the Bay of Plenty, with its 110sq ft cockpit and wide beam offers a safe and stable platform even in relatively rough seas.
The big cockpit can comfortably accommodate 7 anglers on a fishing charter or 8 divers on a dive charter.
Graham who has fished the tournament for 4 years consecutive now and Grant who was the rookie. Glenn calling this one 950lb at the time but after reviewing the footage it was clear that she was a monster closer to the 1050lb mark. Finishing with 5 tags with 2 fish over 900lbs and in fifth place Graham and Grant were both stoked with their trip and will be returning for next season.
Light tackle fishing through the inner reefs saw the boys get onto a dozen Spanish Mackerel and a hand full of Scaley Mackerel.
Trolling the bait lures on the way through the opening of the reefs we hooked up to a monster Wahoo which tipped the scales at 90lbs. With baits back in the water it was Tommy's turn when a small Black Marlin made his was through the spread and took the bait.
This was their second year in a row they had made the journey north to these famous Striped Marlin grounds. Being kept busy all day with Striped Marlin being caught on live and skipped baits the boys had a ball with seven Striped Marlin for the day and everyone catching a marlin for the first time. With all the boys being Marlin novices they didna€™t know what to expect but with a raging Striped Marlin taking a skip bait soon after they hit the water they were soon ready.
With all of the boys having caught Marlin before they knew what they were in for and the 1st day did not let them down.
Estimated at 900LBS+ Nick fought the fish for about an hour and a half before he got her to the side of the boat. In a day where there where multitudes of small Blacks on the bite outside the reef it was the fourth fished hooked of the day that he finally landed, after a great cheer the fish of about 200lbs was released. Some great inner reef fishing for mackerel and GTa€™s saw the boys kept very busy of a morning before we started on the outer reef. On the final day we tagged 1 Marlin of around 600lbs and jumped off another fiery fish of 800Lbs. Passing through the picturesque Sandy Narrows, Fraser Island, Lady Musgrave Island and Heron Island. As we trolled through some previously good grounds for Blue Marlin off Port Macquarie Graeme Manning was hooked up to his first Blue Marlin. The following day late in the evening as we trolled wide off Coffs Harbour we hooked up to another Blue Marlin, This time for Nancy Manning which was her first Marlin ever. Sam McKendry was first up and on 30lb tackle he did an outstanding job fighting his fish, having it released in about 20 minutes. Trent Waterhouse fought a fish which chafed through the leader and Hooked up to a shark which chewed through the 100lb leader. With some rough weather causing our day to be cut short we returned home with the one fish released, Nick Granta€™s 120kg Blue Marlin. With the Mahi Mahi quiet due to the colder water we put out the lures and headed east to the continental shelf in search of the warmer water but almost as soon as the lures went in 3 Striped Marlin rose to the surface.
Our first day of heavy tackle fishing resulted in three black marlin to 400lbs, the first bait in the water did not even make it into the rigger before it was eaten by a 250lber. We headed out for some popper fishing where the boys caught some nice GTa€™s and Coral Trout. The following days produced some bad weather with some even worse luck with us having seven strikes three fights for zero fish tagged, one of which was estimated 900lbs +. These experienced fishermen were great to have on board as we shared tall tales and fishing experiences. The experience of fishing with these two great fishermen and Clint the award winning cameraman was one of the highlights of our trip and we thank the boys for fishing with ONSITE. Our first day involved catching bait for the following days trips with all for the guys getting involved.
Day four began with some spectacular Popper fishing with all of the guys landing a GT and Steve catching a 15kg Coral Trout. Kevin King, Jake Hamilton, Mitchell Mahoney and Daniel Marchant were all excited to catch some fish on the way home, when just South of Port Macquarie we came across a Floating log. With the log producing great numbers of Dolphin Fish, Small Yellowfin Tuna, Wahoo (rare for NSW waters) and kingfish we got out the light tackle to set more of a challenge for the a€?Pattiesa€™ boys. We spent a few days just north of Hervey Bay where the boys had a great couple of days filling the boat with Snapper and Spanish Mackeral.
On Site will be fishing the TownsvilleTournament in early September, Hinchinbrook Island Tournament and Innisfail Tournament throughout September.
The Game On is powered by twin C12 Caterpillars (1446 hp total), and the Cats give this sportfishing boat an honest 28kt cruise. Our captains are also our mates, so no matter who you fish with as a captain, you will have a mate with just as much passion and experience working with your crew in the cockpit. Placing in many competitive offshore and inshore tournaments, Captain Dan has fine-tuned his skills as an angler and as a captain, which has proved to put fish on the decks! Captain John loves his billfish, and has chased them across the globe- fishing in locations such as Cabo, Mexico, Venezuela, Costa Rica, and more with some of the top anglers and boats in the sport! Fishing following your wishes, fast trolling with islander or cona, slow trolling with live bait. You can rely on our personalised service on day trips, overnight trips, as well as extended live-aboard charters, where we cater for both novice and experienced anglers, dive enthusiasts, and sightseeing groups. 20ft from the boat the Marlin screamed across the surface and nailed the tuna, tore off 100ft of line then went skyward tossing the tuna and the hook. With 3 days pre-fishing seeing 6 Marlin and tagging 3 of them the boys were off to a good start.
With 3 of the crew already being successful Marlin anglers catching striped marlin out of Port Stephens it was up to Andy to catch his first. With their last trip ending with no Marlin the boys where keen to just see a Marlin, little did they know some of the best fishing Port Stephens has seen in years awaited them. With four Striped Marlin and one Black Marlin for the day all but one of the boys had caught their first Marlin.
Displaying some great aerial shots for such a big fish he was stoked with this being his biggest fish ever. After a 45 minute fight we tagged the fish right on dusk which made for some wonderful photography.
At the end of day one off Escape Reef Jason released a fiery 250lb Black Marlin which put on quite a show. With a Wahoo following a lure up the back of the boat, leaping out of the water and hitting the transom the guys knew they were in for some exciting fishing. The Game On is a very well laid out fishing boat and has plenty of fishing space in the cockpit.
This level of passion, drive, experience, and customer service guarantees your best shot at a productive and enjoyable day fishing aboard the Game On. Captain John also has placed in the money in several tournaments, both locally and internationally. Captain Mike loves targeting every species, but if he had to pick one as his favorite, it would have to be croaker! Or why not let us put our expertise and resources at your disposal and work with you to make your party or corporate function a special day to remember?
On arrival to the shelf as soon as the second bait was clipped into the rigger both were on and it was a double hook up. On day four of the seven day tournament Graham Whiticker tagged two black marlin estimated at 750lbs and 850lbs, two great fish, Lindsay also landed another 250lb fish. Catching some great snapper and rescuing a small yacht from the reef made our time traveling through quite a thrill. Lachlan Coote then landed his fish which we got right up to the boat for the boys to have a good look at.
Below you will find a brief biography of each of our friendly crew members, all of which are United States Coast Guard licensed professional captains. So whether you are looking to chase billfish and tuna offshore, or stalk rockfish in the protected waters of the bays, Captain Dan Parncutt is ready and willing to guide your next trip! Fishing a half day the pressure was on, loosing a nice Striped Marlin early on in the piece we were on the lookout for just one fish to finish the tally.
Have any questions, want to book the fishing trip of a lifetime, or just want to tell fish stories? Big game is in Captain John's blood, and he is eager to share his experiences and skills with his next crew aboard the Game On! Captain Mike, much like everyone aboard the Game On, has fished around the world- Costa Rica, Mexico, Bahamas, etc.- but loves fishing his home waters of Ocean City, Maryland. Give any of our captains a call, they will be more than happy to talk- and we are sure to have some fish stories of our own!
When not running the Game On, Captain Mike also shares time working the cockpit and mingling with our guests.
On the bridge of the Game On, we have the most state-of-the-art electronics to help us find the fish so we can make your fishing trip a day you never forget. So if you are ready for a great day on the water, and want to learn from a great crew, Captain Mike can be reached at 443-521-4202.