Location: Houston, Tx Why don't you post a picture of what you want to build to get this started? Location: lake elsinore I was thinking how cool it would be to have a trailer that floated and powered its self .
Location: Eustis, FL Typically when you attempt to make things do more then what they normally do, you end up with something that does neither very well.
Houseboats, by their nature are not very good boats and I've designed a few that are better then the average.
Location: Ford, Wa, USA Pontoon supplier Have u checked out UFAB pontoon boats. Location: Coastal Georgia Don't get locked into the idea they have to be pontoons.
Originally Posted by rasorinc Instead of using pontoons you could easily build a trailerable (8'-6") wide beam houseboat hull using a catamaran hull as it is easy to calculate the weight of a house boat, I know you could get a 32' to 36' long hull (2 hulls ) with a flat deck on which to build off yet would give you a substantial sea kindly boat.
Location: OREGON Go to the Glen L boat design site and under boat plans look up under outboards Bearcat Cuddy.
This is the boat I am building lengthened to 32' Then go to customer pictures and look up Wildcat. Depending on what you want the catamaran sponsons ( pontoons ) will have to sized correctly if building a much larger hull but the basic structural designing will be very similiar. Location: Alliston, Ontario, Canada Where you planning to use it: lake, river or coast? When making potentially dangerous or financial decisions, always employ and consult appropriate professionals. Location: canada How come you can't buy a folding trailerable pontoon barge?
What about a folding tri toon, with engine in the middle pontoon, along with waste water, generator, fuel, etc, so you can hook you're camper up and use it as a houseboat? The only down side is that you'd need to haul the boat to the water, then the trailer, but at least it could be done with a regular truck; and it could be awesome! Originally Posted by parkland I'm just wondering, how come you can't buy a trailerable folding pontoon barge? Location: Great Lakes Use inflatable pontoons and you could probably put the whole thing on top of the RV. Originally Posted by jonr Use inflatable pontoons and you could probably put the whole thing on top of the RV. Location: canada Having 2 loads to transport has a drawback, but for some people might be a ton more practical than getting load permits etc. Plus, if you already have a camper, you wouldn't need to ALSO have a houseboat cabin to look after, just the trailerable barge, which should also be easier to store. But what I meant is a unit the would unfold using hydraulics or winches, so that even 1 person could launch it quick and easy. Probably just add weak auxiliary 'scissors' just to spread at least one end of the hulls after floating off launch ramp. I'm trying to create a whole standardized system, like tinker-toys, aimed at largest easily legally trailer-able, containable parts, but with FAIRLY easy and quick assembly, but fully up-gradeable to extreme strength specs for heavy work. Originally Posted by Squidly-Diddly I haven't worked out the fine points of launching and the first 4 bolts to make it together enough for the rest of assembly.
The trailer really should be more than 6' long and 4' wide to trailer behind a bike, the trailer can unfold to 8' by 12' if really needed, but the weight comes into play as well.
Not built or attempted due to the price of the inflatable pontoons sufficient for such a craft, not that 5K is high for a versitle boat, but for experiment, I shelfed the idea. Location: South Florida USA The Viva 27 was a sailing catamaran that folded in half for trailering, was launched that way, and set up very quickly. Originally Posted by keysdisease The Viva 27 was a sailing catamaran that folded in half for trailering, was launched that way, and set up very quickly.
How about a flatdeck trailer, and the pontoons rest on the deck, and hydraulics push them out and down for water use? You need to figure out what every piece will weigh and and calculate the weight and center of gravity of the final product. Location: Beaufort, SC and H'ville, NC Well, that isn't what I call a house boat. I think Busman did a good job of explaining the limitations of his build so I won't go there. The HUCK FINN CABIN PLANS come in three sizes and are specifically designed for use with our Huck Finn and Super Huck pontoons. Whichever cabin plan you select, you'll get a comfortable cabin arrangement which offers full headroom up to 6'-5" plus lots of light and ventilation. I've suggested to my wife that we take a tent on our pontoon and just screw it to the deck for a week or two. I seem to remember elsewhere on this forum someone telling about laminating foam and aluminum sheeting to make lightweight wall panels. Month later I was in the area with my friend,he wanted to show me the disaster waiting to happen,and it was dragged up on the river bank,obviously been sunk and flipped.
Originally Posted by Jeremy Harris I built panels that were 8' x 4', with built in framing that was the same thickness as the foam, 2" but only an inch wide, for lightness.
I found that to keep the alloy sheets flat I needed to build the panels by laying the alloy sheet on the workshop floor (on top of some ply sheets to avoid scratches).
The one important lesson I learned was to mark where the timber internal frame members were on the skins, so that I could find them later. Location: Eustis, FL The bottom line Rock is the pontoons and the rest of the boat need to be sized appropriately or ugly things can happen. That's taking 3' off the pointy end of each pontoon and figuring fresh water at 60# a cubic foot. Pontoons are not a good starting point to begin with, and 21" ones are small, but it's what you have, so you go from there. Making a amphibihouse is fraught with difficulties, that the best engineers and NA's would spend lots of nights scratching their heads over.
Sure it can, but it might be a hell of a sight cheaper to launch a houseboat off a trailer, putter around where ever you like then load her back up on the trailer and take her home. Inflatable pontoons would do it, any hard shell toon will be a problem folding up or carring as it would be a heighth problem as trailered. Busman considers his a houseboat and he also considers it a great success, having owned it for 10 years and having lived on it for months at a time. The construction methods used in these cabin plans assure you of the lightest weight cabin consistent with strength and simplicity of building.
I would rather stay on Busman's yellow thing than be all squeezed in a small, uncomfortable sailboat. I built a big box trailer like this a few years ago, using panels I made up myself and it ended up pretty light.
The glue I used was ordinary polyurethane construction glue, the light brown treacly stuff that cures by absorbing water from the atmosphere, a bit like Balcotan (but cheaper!). I just roughed the alloy sheet up with coarse abrasive, smeared the glue over it, then laid the foam sheet and wood framing on. I'm reasonably sure I didn't need as much internal framing as I used, but it was better to be safe than sorry.
The average pontoon boat is built very lightly and doesn't hold much up, by way or superstructure or weight.
That's what you've got to work with as far as the total weight of everything, boat, people, supplies, engine, fuel, beer, pets, food, toys, etc. I have no problem with others rechecking my figures, in fact I feel better if they are so go ahead and re-cipher them.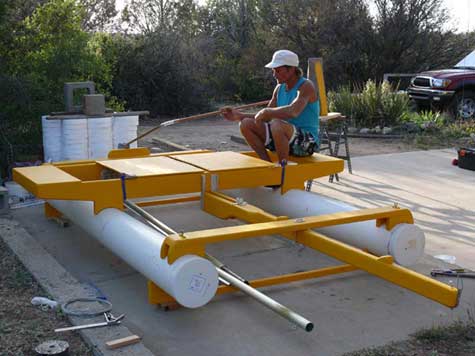 As for a novice to design something like this, well good luck and don't take family and loved ones on the sea trials.
We manufacture cabinets for the mobile service industry and the company that makes the boxes for the trucks can supply me with panels 8' x 16' with a smooth, nearly seamless gelcoat finish.
I just bonded 2" foam sheets to alloy sheets, using polyurethane adhesive, then bonded ply sheets to the other side of the foam. If I'd thought about it, I'd have used a joggling tool to created the lapped joint in the alloy skin more neatly, but it worked OK without this, as the outer skin was thin, just 18g. Considering the size of the proposed houseboat, this isn't much to work around, without some serious efforts to keep it light, such as composite walls and roof and light, spartan furnishings.
I think you'll find you don't have much margin for adding stuff, after you count the engine, tank(s), steering, controls, crew and usual supplies and other equipment.
Naturally big boats have trailer limitations, but these limitations would still exist, even if the boat had a trailer built in or was amphibious. You need inflatable pontoons really, the trailer frame is also the raft frame, the bike rides on the trailer.
I am sure I'm not the first to have this idea and thought maybe I might get a little insight. The boat has a structure supporting a roof now that I will keep using the panels for closure only. Some people make do living in a cardboard box, some people need marble pillars supporting their entryway. It's very difficult to engineer moving pieces, with any level of tolerance to be occasional immersed and not have issues. Built for float trips, fishing and camping, you can leave home, go fish and float down a river and you don't need anyone to pick you up, just reassemble and ride home. We used to have a blast in our motor home so we figured a motor home on water could be fun. Again I appreciate the input and will soak up all the info offered as I have no sperience in this particular field. The other option is to build it like a Class C coach with a 2 x 2 wood frame with possibly corrugated plastic panels. I built the framing into the sheets at the edges, so it was pretty easy to construct the whole superstructure.
You can add a third or even a forth pontoon to address the weight issue, but now you're going to be into more effort and money, volumetric and hydrodynamic considerations aside.
The plan is to strip pontoon and camper then build a small cabin on the pontoon utilizing what I have.
I know this will not look like it came from a factory but I don't want it to look like it came out of my garage even though it will be coming out of my garage. I only have it supported on the edges and its been a carport wall for 20 years with no problems, more intermittent support would help a bunch. I've seen a Carolina Skiff converted to a houseboat that survived several hurricanes to everyone's amazement. That left a solid pillar between the fiberglass mats to resist compression while the extra roving on each side spread out and tied them together to resist peeling.
Regular styrofoam would work with epoxy, I would think the blue or pink 2" stuff would be real strong and lightweight.