It was almost sink or swim in Lyme Regis today as a group of boat builders with little experience put the boats they'd created on the water for the first time.
A large crowd watched as the students from the town's boat building academy marked the end of their course with a mass launch. The boats are designed and built by the students, many of whom have little or no woodworking experience before they start the course. Hundreds of hours of planing, chiselling, stretching and shaping have taken place in the workshop. Some students are looking for a new career or a change of direction knowing the skills they'll learn are in short supply in the industry. Barry,I recall that there were a few posts about the Auk, either here or on the Woodenboat forum. Ian Oughtred only showed the Auklet to the world last year, so more should emege as they are built in the next year.
Barry,Do the Auklet plans call for a daggerboard like the Auk if one wanted to build a sailing version? Barry,Thanks -- my response to your response is also months late, so everything is all symmetric and stuff. Only modest progress over the last month what with the end of semester push, exams to grade, visits with family and friends over the holidays, other projects, etc.
The apron bevel went quickly with the spokeshave -- we'll have to wait until the hog laminations are installed to finish shaping it at the forefoot. Thanks, G.Progress is sort of slow -- it takes about five hours of fussing to hang a pair of planks (I don't cut them to finish shape in pairs because I know my boats never have bilateral symmetry ). Dick Phillips of Willow Bay Boats covered the Class of March 2013's boat launch for Water Craft magazine. The Boat Building Academy's spring student launch at Lyme included this traditional clinker-built Thames skiff built by students Lawrence Shillingford and Brooke Ricketts.
Rosina May made a glamorous first public appearance, as she was decorated with gold balloons tied on by Lawrence's friends. Originally from Twickenham but now living in Bridport, Lawrence joined the course to learn new skills after a 30 year career in the London Fire Brigade. From Maryland, Brooke worked for Inter-Rail Transport USA for 10 years before deciding to have a career change. With a love of boats he started an apprenticeship at Chesapeake Bay Maritime Museum, and wanting to develop his skills further he relocated to Dorset with his family to join the Academy.
Since graduating, Brooke has returned to the museum to complete his apprenticeship and Lawrence is starting a small boat building and restoration business in the Bridport area.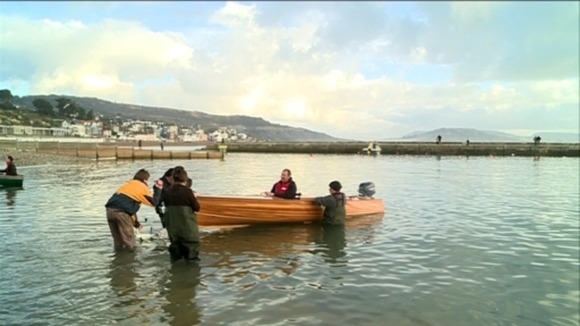 Lawrence says the journey through the course from knowing virtually nothing to having completed this project, learning from mistakes along the way, has given him the confidence to take on new solo projects. Named in memory of one of the builders' late grandmother, the Honda HP40 powered Rita rapidly left the harbour and raced across the bay.
Designed by instructor Mike Broome, the boat is built in stitch and glue, sheathed in bi-axial glass cloth and epoxy underneath a painted finish.
Joe and Alex added their own customisations, which included a burr walnut dashboard, bright finished sapele laid deck, cockpit soles and match boarding. Joe visite Lyme Regis regularly on holiday as a child, and in 2012 he completed the BBA's five-day basic woodworking skills short course. Every spring and autumn, the Boat Building Academy folks send over some photos and a few words about their student's  launches. The shots above were taken by Jenny Steer and Derek Thompson, so my thanks to them and to the Academy. Have you got news for us?If what you're doing is like the things you read about here - please write and tell us what you're up to. Classic Sailor is a new magazine about traditional and classic boats from ex-Classic Boat editor Dan Houston and colleagues that promises rather more coverage of the traditional craft around our coast.
Enter your email address to subscribe to this blog and receive notifications of new posts by email.
Follow me on TwitterLooking for something?This is a busy weblog, and what you're looking for is probably still here - just a little way down the list now.
Our Faversham-based friend Alan Thorne can help with boatbuilding projects - constructing to plans in very tidy stitch-and-glue or more traditional techniques. This Ebihen 18 sailing boat designed by Francois Vivier was built at the Boat Building Academy at Lyme by Edward Hoogewerf and Neil Walker with help from other Academy students. The 18ft strip planked sailing boat with water ballast is constructed in glass-sheathed Douglas fir, and is to be rigged as a gaff cutter. I am looking for informations about ebihen 18, for I would like to built one myself : can you tell me what you think about the sailing performances of this boat: are you satisfied? Boat Building Academy students Mike Tyler, Jon Bicknell and Andy Blundy built this strip-built South Bay-style catboat to a design worked up by the students with the help of instructor Mike Broome. Mike Tyler is now at Pangbourne, Reading, and involved in setting up the new Beale Park Maritime Museum. Jon comes from a background in information technology design and Jon worked predominantly with Mike on Lucie – although did spend an hour here and there on other builds. Having finished the course is now busy finding his feet in the boat building industry. I am part of a team of volunteers at the Long Island Marine Museum where a full size Gil Smith Catboat was newly built several years ago.
Anyway, we aligned the moldsshaped, marked and installed the apron (inner stem)cut out the transom profile and got it aligned with the moldsand are getting ready to install the hog laminationsAs with the MacGregor plans there is no bearding line specified on the apron (inner stem) pattern, so we'll need to cut the bevels on the building jig once we've got some battens down to check the lines (same with the transom).
Decided to wait on laminating the hog in place until we are happy with what the battens show after most of the bevels are done (hard to do the garboard bevel on the apron where it transitions into the hog until the hog itself is laminated in place -- a boatbuilding Catch-22).
We'll do an appropriate amount of hemming and hawing over the battens before marking final positions and moving on. It features moulded detailing typical of this type of boat and a decorative mahogany and oak sunburst design on the seat back and rudder. That course, and seeing the boats being built in the workshop gave him a taste for woodworking and boat building, and so he joined the 38 week course. Try scrolling down, clicking on the 'older posts' button at the bottom of this page - or try the search gadget!
However, he seems to be a man of many interests: previously he had studied sculpture at art college, where he frequently worked with driftwood, and dreamed of becoming a boat builder.
It's a plump little boat and a lot happens over such short distances, especially at the turn of the bilge. I'm finding the aft end in the run back to the transom the most challenging -- some of the planks end up banana-shaped. He wanted to combine rowing with a traditional Thames design, and says the skiff almost chose itself for the project.
It looked quite burdensome - good for a tender and very handy - something that would get used alot. I didn't do anything very systematic when I built the MacGregor and there are a couple minor oopses at the stems that I probably would have picked up if I had done it properly.
We don't see a lot of Catboats but I reckon they suit our sailing grounds remarkably well.
I assume it is best if the battens are all of the same material and the same thickness as the planking stock? I've got a bunch of cedar strips left over from some kayak projects that I can mill to the appropriate dimensions.