Slicker than the black seas around BP's rig in the Gulf of Mexico, DoubleTwist for Android is a new, fully featured music and video player vying to replace the built-in player. The app only plays music on SD Card though, which means that HTC Incredible owners are going to be left unhappy, and you can't create a playlist on the move as they can only be compiled with their desktop software. With future features set to include the ability to wirelessly sync media and online radio, this looks to be an interesting app – and you can bag it for free for a limited time.
It does look great but unfortunately is not very reliable, transferring videos across takes ages, and often fails. It's been almost three years since we last reviewed and compared these music giants back in 2005.
A big thanks to all the people who have helped iron out some errors, typos, and missing features in the old page.
This rematch was first created on the 31st January 2008 and updated on 10th Feb 2008, and again on the 9th May 2008. This first section will just display some eye candy for those who want to see what's in store.
Winamp (and Mediamonkey), have loads of skins available for download if you're not happy with the ones you get as standard.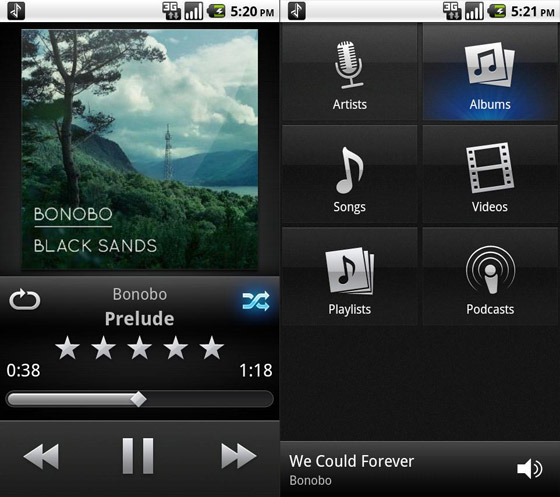 The last and smallest mini-viewer for WMP is supposed to go into the task bar area, but I was unable to, due to it not being listed in the Toolbars submenu. Finally, MM will convert to OGG, MP3, WMA, FLAC, or WAV, and retain tag information in most cases. More worringly, it would seem that WMP won't show these other formats (such as MIDI or AIFF) in the main library, despite being able to play them (from a playlist).
We've taken into account all your suggestions, from emails, forums, boards, and blogs, so this new rematch should now be more accurate and comprehensive. You have the main full screen window and alternatively, various 'mini' versions which can be perched in the screen corner so you can for example adjust the volume, skip a track, or pause a song while, for example, browsing the web. According to Wikipedia, in theory it should also read in Apple's QuickTime supported formats such as AU and AVI formats amongst others, but my copy of iTunes failed to import those files into the library (MIDI made it through though). As standard, it can support more formats than Mediamonkey including aif, aifc, aiff, asf, au, cda, m1v, mid, midi, mp2, mp3, mpa, mpe, mpv2, rmi, snd, wav, wm, wma, wmv. The review focuses on "basic operation, including file types, searching features, tagging, and the speed of the program", and goes into quite some depth over the five pages.
According to the writer, all of the players may be close enough to warrant sticking with for now, especially if you're used to their way of working.
This is a slightly modified and translated version of the Japanese "iTunes for WMP." Enjoy!
As before, we will run the programs on Windows XP, focusing on the basic operation, including file types, searching features, tagging, and the speed of the program. But a simple plugin will allow you to read rarer formats such as VOC, AU, SND, AIF, AIFF, AIFC, IFF, SVX, AUD, and VOX. As standard, it can read in (deep breath): 669, aac, aif, aiff, amf, asf, asx, au, avi, b4s, cda, far, flac, it, itz, kar, m2v, m4a, mdz, mid, midi, miz, mod, mp1, mp2, mp3, mp4, mpeg, mpg, mtm, nsa, nst, nsv, ogg, okt, ptm, rmi, s3m, s3z, snd, stm, stz, ult, wav, wma, wmv, wpl, vlb, voc, xm, xmz.
All four players have been feature enriched and it's not all that obvious which is the winner this time. Less emphasis will be put on things like video, podcasting, syncing, and store shops, but they will get a look at least.
You may also be able to utilize many of Winamp 2's plugins to support more formats; see this thread, and especially this site for a decent list.