I love the fact that in the past decade or two, microbreweries have popped up all over the country.
I love European cars and music, Asian technology and films, but the best beers are American, IMO, (sorry, Belgian fanboys), particularly Midwestern and Pacific Northwestern brewers. I preferred them to Bell's for in-person Kzoo experiences, though Bell's lends itself to larger batches and transportation far better. I'll be heading to Wisconsin in three weeks and definitely will keep on the lookout for some good local brew. I'll be heading to Wisconsin in three weeks and definitely will keep on the lookout for some good local brew.Paul, if you get to the Madison area, don't miss New Glarus.
They've been stressed, annoyed, or way overpacked on several occasions recently, and their beers actually taste better to me from the bottle than the tap (at least the tap there).
It might be considered a quirky mix of brewery choices (talking with others at several bars, we realized we might have missed a few worthy candidates in the Grand Rapids area), but in general it was a nice mix of well-known and less-well-known destinations.Overall, there were two big surprises. The Livery, in Benton Harbor, produces a wide range of fascinating beers - including a number of excellent barrel-aged ales. Friendliest service and most patient staff award goes to Lakefront, though I don't think their very best stack up to the very best at Sprecher, New Glarus, or 3F.
Robert the Bruce was the maltier, Scotch ale, with a distinctive note of apricot in the finish. Alpha King, of course, is well known, but an excellent version of an American Pale Ale – think of it as Goose Island's Honkers Ale on steroids. Pride and Joy was a nice session beer (a mild ale), with some flavor from the darker malts.
Mishawaka brews their beers in Elkhart, and used to have a brewpub in downtown Mishawaka, but they closed that. The current "home bar" for Mishawaka brews is at The Pub, in Mishawaka's outskirts.The sampler here was somewhat broader than at Three Floyds. The Kolsch (think of Budweiser with hops – it seems as though all these brewpubs feel they need to have an option for Miller Lite drinkers) wasn't bad, probably a little hoppier than a traditional Kolsch. They also served a mild raspberry ale (raspberry is probably the easiest fruit beer to brew), which was very good – we ended up taking a growler of this home. We had brought several empty growler bottles along from other breweries, and one of the other patrons collected growler bottles, so in exchange for an empty Minocqua Brewing bottle, he bought us a growler of IPA. When we got there, we were charged a $6 cover each, for the country-rock band that was okay, but wasn't the reason we were there.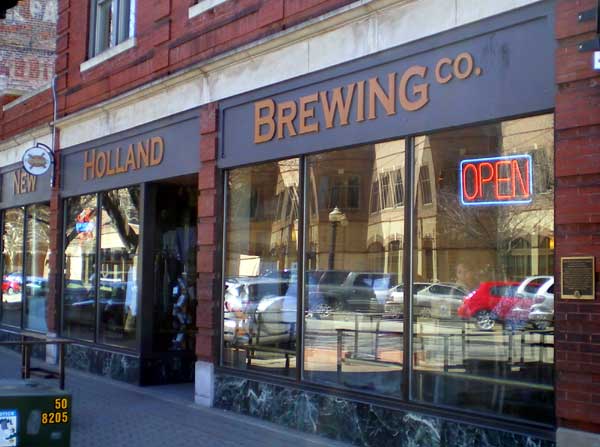 Everyone in town we spoke to seemed excited about the release of Bell's Oberon; while a good wheat beer, it seemed rather nondescript compared to what we'd had earlier in the day. Oarsman was like a slightly cloudy Miller Lite; the Spiced Pale Ale was fine, except there wasn't much spice to it. Their specialty is high-gravity beers – tasty, but not great to drink a lot when you're driving from brewery to brewery.
New Holland also distinguished itself by having the worst-designed sampler carrier of any of the breweries on the trip. It had no easy way to identify the beers, and you had to reach over the handle, or twist the carrier, to get to half of the beers.But the beers – especially what they call their "mainstream" beers, were all exemplary.
The Golden Cap – their version of a Belgian Saison – had an earthy flavor – maybe a result of a touch of Brett?