admin 29.11.2013
We believe in a holistic clinical approach, which involves first listening to patients concerns, then thoroughly diagnosing and explaining their individual treatment options.
The conclusions, findings, and opinions expressed by authors contributing to this journal do not necessarily reflect the official position of the U.S.
This patient presented with herpes simplex lesions around her mouth due to the herpes simplex virus Type-1, (HSV1) pathogen.
Both type-specific and nonspecific antibodies to HSV develop during the first several weeks following infection and persist indefinitely. The sensitivities of these tests for detection of HSV-2 antibody vary from 80% to 98%, and false-negative results may occur, especially in the early stages of infection. Vesicular stomatitis in a wild-caught juvenile Grauer's gorilla (Gorilla beringei graueri). Department of Health and Human Services, the Public Health Service, the Centers for Disease Control and Prevention, or the authors' affiliated institutions.
Herpes simplex virus type1 usually is the cause for oral lesions sometimes referred to as "cold sores", "fever blisters" or more technically known as "recurrent herpes labialis". This recurrent, incurable disease remains undiagnosed in most infected persons; they often have mild or asymptomatic infections and shed virus intermittently in the genital tract. However, many patients with herpes simplex virus type 2 infections have no signs or symptoms of the disease.
Isolation of HSV in cell culture is the preferred virologic test in patients who have genital ulcers or other mucocutaneous lesions. Because false-negative HSV cultures are common, especially in patients with recurrent infection or healing lesions, these tests are useful in confirming a clinical diagnosis of genital herpes.
Accurate type-specific assays for HSV antibodies must be based on the HSV-specific glycoprotein G2 for the diagnosis of HSV-2 infection and glycoprotein G1 for HSV-1 infection. Also known as a cold sore, this lesion is caused by the contagious herpes simplex virus Type-1 (HSV-1), and should not be confused with a canker sore, which is not contagious.
Gross lesions, histopathologic examination, transmission electron microscopy, and molecular screening confirmed human herpesvirus type 1 (HSV-1) as the etiologic agent.
Use of trade names is for identification only and does not imply endorsement by any of the groups named above. Although systemic antiviral drugs can partially control the signs and symptoms of herpes, they do not eradicate latent virus and have no effect on recurrence after therapy is discontinued.
Many infected persons do not have the typical painful multiple vesicular or ulcerative lesions (Figure 1). The sensitivity of culture declines rapidly as lesions begin to heal, usually within a few days of onset. They can also be used to diagnose asymptomatic infection and to test sex partners of infected patients.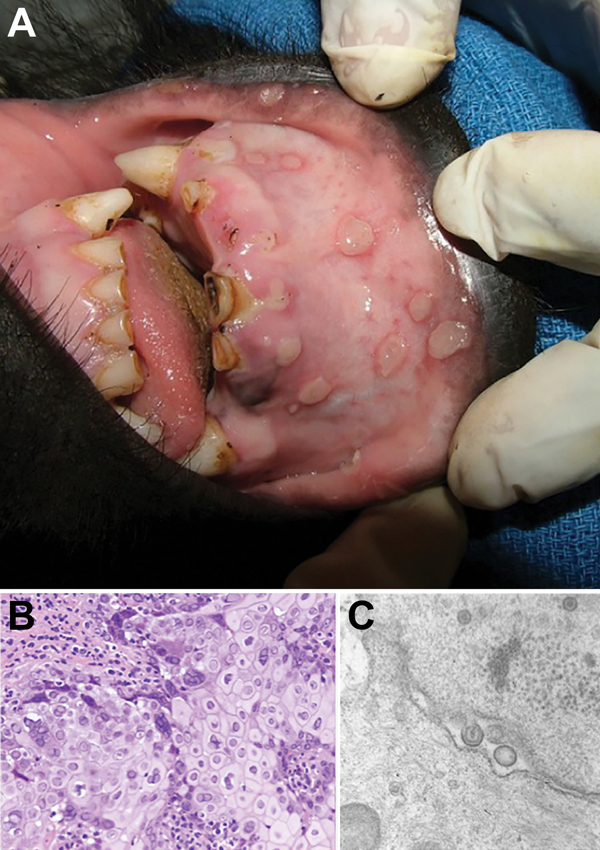 These assays became available in 1999; older assays do not accurately distinguish HSV-1 from HSV-2 antibody.
False-positives can occur, especially in patients with a low likelihood of HSV infection, and a second test may be required.
Thus, laboratory testing is necessary to confirm the diagnosis and to determine the HSV serotype.
Polymerase chain reaction assay for HSV DNA is the test of choice for detecting HSV in the spinal fluid of patients with suspected CNS involvement. Routine screening for HSV infection in the general population, however, is not recommended.
B) Section of oral mucosa adjacent to a vesiculo-ulcerative lesion exhibits epithelial cell necrosis, cytoplasmic swelling, nuclear chromatin margination (sometimes with discrete Cowdry type A inclusions), and multinucleated syncytia typical of herpesviral cytopathic effects (hematoxylin and eosin stain).
Although HSV-1 causes up to 30% of the first episodes of genital herpes, recurrences are much less common with HSV-1 infection than with HSV-2 infection.
C) Electron micrograph of the same lesion demonstrates intranuclear, unenveloped virions ?100 nm in diameter that are budding through the nuclear membrane to form enveloped virions ?140 nm in diameter; morphologic features of both are compatible with a herpesvirus.