25.04.2016
Corporate names & trademarks mentioned herein are the property of their respective companies. Submitted for the aproval of the deans of track plans I give you the N scale Boston & Maine Branchline of NH.
Track 4 is the inside loop of the layout and does NOT connect to track 3 in the front half of the layout, only in the back after looping around to the north side of the layout. Ok a lot of good thoughts here, I wish I had done this sooner as a dificult decision may be made, more on that latter.
Agreed, either moving the river north as you said and adding more land or just giving the industry one spur might make more sense. Everybodys input is significant to me, because it gets me thinking and seeing things in a different light. Sheldon: Those 2X5 layouts are fun, I have built a few, the only problem with a lot of the plans is they are too busy. I have a 4-4-0 from Atlas that pushed 3 cars up a 4 percent grade around a 12" radius curve. In fact, unless you just need that double loop on the LHS, why not make the mainline just run parallel along the front, ending at both right and left sides, but accessible from the branch by the above suggested two crossovers? Also, there is a lot of straight line stuff here that maybe what you're looking for, but might be more interesting if a wiggle or two or a curve in a siding could be added.
Please upgrade to Internet Explorer version 9 or download Firefox, Opera, Safari or Chrome. It may not display this or other websites correctly.You should upgrade or use an alternative browser. I would reposition the river more north and bend it down east to allow for more track on the double siding.
As depicted in your track plan, you could serve one while traveling clockwise and the other while traveling counter-clockwise.
The hill between the track and the town will be literally covered with trees to make a natural view block as is common in NH and VT. You knew my plan, I indeed was going to make a cassette for now and add a 18" wide by 4 foot long shunting yard to the right (east) yard.
After a few operating sessions on your layout, I knew you could help me with industries and such. The first trackplan was copied from John Armstrongs Scenic and Relaxed, a late 1960's track plan designed for Atlas code 80 snap track. The benchwork is rock solid and my cheap New England Yankee upbringing has told me not to toss the foam layout as it cost me money. I can put the plywood down, run to Home Depot and get a sheet of 2" thick pink foam and glue it down.
It still has grades in it to provide some interest and hide the double crossover and Far Point branch staging, but could also be executed without the grades.
This certainly cranks up the Spaghetti Bowl Factor, but will provide lots of operating action as well as having provisions for sending a train out and letting it orbit.
This gives you more places to spot cars for pick up or set out, plus it makes it possible to serve West Industry #1 and East Industry # 1 by B&M and West Industry #2 and East Industry #2 by the branchline power.
You could bring in a train or freight from east or west that way and drop east and westbound traffic as well. No run-around on the branchline's main track because there would be no level ground to put it on.
By looking on this side of the layout, you should only be able to see the maine line, river inlet and trees and if I get it right, the steeple of a church in the distance.
Although, that could probably be very easily corrected with a cassette, or an 0-5-0 switcher. I built the layout per his plans, substituiting flex for sectional and had marginal results.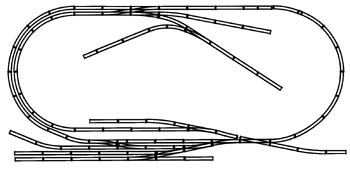 I don't think I would even have to re-do the fascia I installed this summer, but even if I did, no big loss as I still have a sheet of fascia stock and plenty of power tools. I placed the yard extension at the front (south) edge of the other section, but it could just as easily have been centered or positioned all the way to the back (north). Maybe put a run-around within the industries, if you can tolerate the higher Spaghetti Bowl Factor.
So starting in 2006 I ripped up the code 80 and went to code 55 and simplified the track plan. The MR Buzzards Cove by Jim Kelly would work even though my benchwork is 4 inches too short, it is possiable, plus it has an interesting look with plenty of bridges, a B&M requirement! Gives you a short run-around to use to access the switchback siding on the lower left, and a different spot to bring in cars from the mainline.
One mistake maybe the grades, so thinking of the wise man who said, stay away from grades in small layouts, I'm thinking of the inevitable. The other plan is a 4x8 HO plan that I could use with some modifications using 15 and 11" radius curves. That way, if you have a narrower space at some show, you could have a display that was only 7.5 feet wide instead of 10 feet wide (and the yards would be a little less vulnerable to sticky fingered or clumbsy viewers). I already was able to salvage all of the yard track without ruining the track or turnouts, whew! Like I said the benchwork is solid, so I would only be out of the Scenic Ridge foam and two pieces of foam roadbed.