15.09.2014
Boston's T is relatively cheap - in fact, it's a bargain - compared with subways in other U.S.
This link brings you to the same subway map that you see above, which lets you drill down for additional details.
If you need to print a map, you'll find links to .pdf (printable) versions in the upper right corner. The only thing that's missing is a description of the very cool public art and the performers found in and near some stations. You'll also find detailed subway maps at several points in all T stations and near bus stops on the Silver Line routes.
Like the schedules for each line, the Frequency Schedule isn't necessarily accurate but it will give you a general idea of what to expect, especially if you're planning to use the T on the weekend when service is sparse on some lines.
Another very important fact to keep in mind when you are entering a station is that not all entrances will let you access both outbound and inbound tracks (although most do). If you want to go inbound toward Downtown Boston, you need to look around and find either an inbound entrance, or one that leads to both inbound and outbound. Also, some entrances are not actually entrances - they are exits only, meaning that you will not be able to reach any tracks in either direction. However - if you have a folding bike, it will be allowed on all lines and in all stations as long as it is completely folded.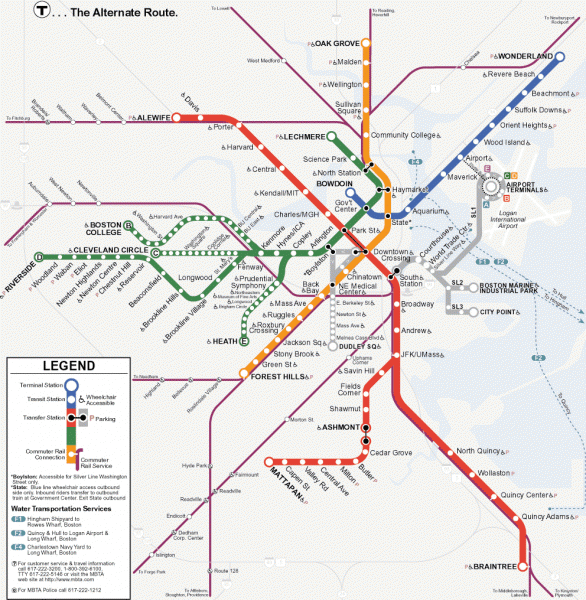 If you stopped looking at the T subway maps years ago because they never change, it's time to take another look. T officials used the Government Station stop on the Green line as a prime example of why they maps were in dire need of an update. The last we heard, the MBTA had ditched its ambitions to dig a giant hole underneath the Common, and had opted for a more modest Bus Rapid Transit (BRT) connection between New England Tufts Medical Center and South Station. This makes it all the more absurd that the Silver Line is colored as if it were a full fledged mass transit line.
Didn't they redo these just a few years ago at great expense along with the claim that all maps would be updated?
God, please some tech entrepreneur just offer to sponsor a series of LCD monitors in stations with a constantly updated map that can show delays, headways, and other RT changes. They missed a clear opportunity to upgrade the #1 bus to the Gold Line and the #66 to the Copper Line.
The new maps will include crucial updates?the E Line, for instance, hasn't gone to Forest Hills since 1985?as well as new features, like the routes of key bus lines, including the 1, the 22, the 39, the 57, and the 66. Is this a folly we're going to be laughing about in 2015 while we're still going from Chinatown to South Station by foot? From what I can tell in NY, each map is a large printed piece of paper placed inside a plastic frame.
Silver Line needs to be shown as a bus line, which is all the hell it is (sleazy deception that fools only the first-time gullible). Of course, nothing has been built yet, and the BRT is not expected to go into operation until 2012. How will residents prepare for the indigent loiterers who will inevitably arrive on the next 77 bus and stay permanently? As it is, these new Siemens Blue Line cars have the vibe of a Rubbermaid bin, the apotheosis of value-engineering. Some of the system maps in T stations haven't been replaced since 1967, making them hilarious artifacts that show buildings that were never built and subway lines that no longer exist. The map there seems to change constantly and often reflects temporary medium-term service changes. Pay 100 Fort Point artists to produce a map on etch-a-sketch, seek widespread community approval, and silkscreen the result onto permanent slabs of stone that can't be touched for 25 years?