05.03.2016
These O gauge model trains, collected by Bruce Macdonald, were made by more than 30 different manufacturers from across Australia and New Zealand between the 1930s and the 1960s.
Learn more about some of the model trains and scenery on show at the National Museum, with information on each manufacturer, from Bruce Macdonald's 2005 book Spring, Spark and Steam: An Illustrated Guide to Australian Toy and Model Trains.
Victorian Railways petrol tanker and open wagon made with tinplate and cast metals, by Kenneth Lowry, Hawthorn East, in the 1940s.
Kenneth Lowry established a small business at his home in the suburbs of Melbourne in 1938.
New South Wales Railways four-wheel open wagon made of wood, with turned brass wheels, by William Christie, Sydney, about 1938.
William Christie began constructing and displaying O gauge items at his Rose Bay home from 1936, moving the sale of model railway material to his umbrella shop in Bathurst Street, Sydney, in 1938. Solid metal road bridge with side ramps made by FW Strong and associates of Melbourne, in 1949.
Born in Stuttgart, Germany, in 1910, Frederick W Strauss established his business as a toolmaker and die caster manufacturing handbag fittings and toys under the name FW Strong in Melbourne from 1946. Box cover for solid metal road bridge with side ramps, made by FW Strong and associates of Melbourne, in 1949. Following the Second World War, local manufacturers responded to shortages in imported products by creating quality toy and model trains for a growing market.
Australian manufacturers, including Ferris, O Gauge House, Maurlyn and Robilt, produced trains modelled primarily on New South Wales and Victorian rolling stock. Bruce Macdonald received his first train set at the age of five, the start of a lifetime love of trains. A member of the Australian Railway Historical Society since 1943, Macdonald is one of Australia's foremost authorities on industrial railways and steam power in both full-size and miniature forms. New South Wales Railways C38 class locomotive with tender and passenger cars, made from aluminium by Maurlyn Manufacturing Pty Ltd, Sydney, in about 1951. New South Wales Railways 'Silver Chief' clockwork locomotive, tender and passenger cars, made from aluminium, by Maurlyn Manufacturing Pty Ltd, Sydney, in about 1948. New South Wales Railways 'Silver Chief' clockwork locomotive, tender and passenger cars, made from aluminium, with original box and track, by Maurlyn Manufacturing Pty Ltd, Sydney, in about 1948. New South Wales Railways suburban passenger coach, made from tinplate by Gordon McCredie and associates, Katoomba, during the 1940s.
Melbourne W class tramcar, made from tinplate by an unknown manufacturer, distributed by Meadmore Model Engineering Co, Melbourne, in about 1952. Clement Meadmore established a business selling manufactured parts and accessories for model railways in the Melbourne suburb of Burwood in 1928. Sheep van on a turntable, made from wood with pressed and cast metal components by Norman Coleman and associates, West Maitland, during the 1940s-50s.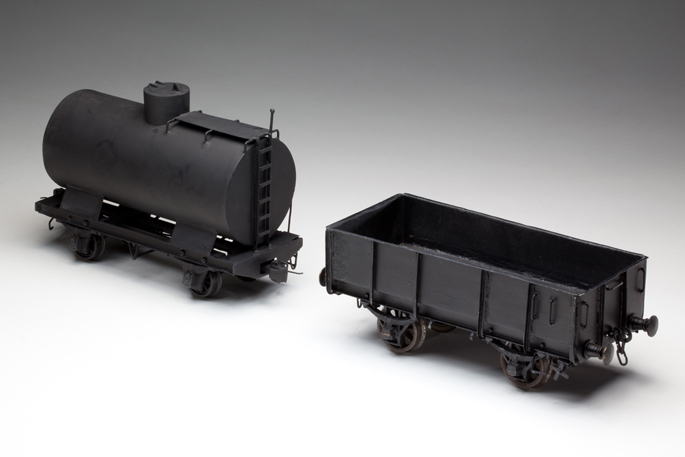 Working as a boilermaker at the Cardiff railway workshops near Newcastle, Norman Coleman began making O gauge model accessories in his home garage before leaving his employment in 1948 to pursue his hobby full-time. Because of non-railroad abuse of the site, new members MUST use their first names (at least) to join NO EXCEPTIONS! So with a few very hot days here in Melbourne 41.7 C on Monday I spent just a few hours in the early part of the day adding scenery material to the creek after letting several coats of Magic Water set up for about 24 hours. I also assembled a Showcase miniatures truck and stuck it on the RR beside a cantilever signal that is being removed from service.
But first here is the signalling maintenance crew preparing to remove an old cantilever that is no long in use. The truck is from a Showcase miniatures kit, the cantilever is a brass etching made by my good friend Vic. Relay houses, battery boxes, turnout motors and gas bottles that fed gas to heaters to stop the turnouts from freezing. There is about four different applications of dull coat, thinned oil paint and Pastels to get this effect. To add variety some of the trucks were painted during the weathering process with my airbrush others were painted with Tamyia Red Brown with a small brush. I have enjoyed doing these so much so that another lot of ballast cars are in for the same treatment but only different. Parts of this bulletin board may not function unless you enable JavaScript (also called Active Scripting) in your browser. The O gauge was a popular choice for hobbyists and a number of manufacturers chose to specialise in that scale. He began by supplying cast four and six wheel bogie components based on Victorian Railways rolling stock to fellow modellers. Along with his range of New South Wales rolling stock, parts and accessories, Christie also stocked a range of Fleet products and items produced by Frank Fitzgerald. Working from his home with business partner Rudolph Hersch, Strong produced a range of traffic lights, signs and railway signals for O gauge and HO scale, in die cast metals and plastic. During the 1950s and 60s, the Australian toy and scale model train industries prospered, creating products for children and serious collectors. While model trains of the 1930s and 40s were often made of wood or simple tin-plate, by the 1950s and 60s complicated and highly detailed pressed sheet metal trains that ran on electric tracks were being mass-produced. As an adult, he was involved in the restoration and conservation of historic full-sized steam-powered engines, including items in the Museum's collection. During 1942, McCredie began to pursue his hobby and supply items to several retail shops as part of physical therapy to recover from a serious hand injury. He organised a public model railway exhibition in Melbourne's Central Hall in 1932 to promote interest in the hobby.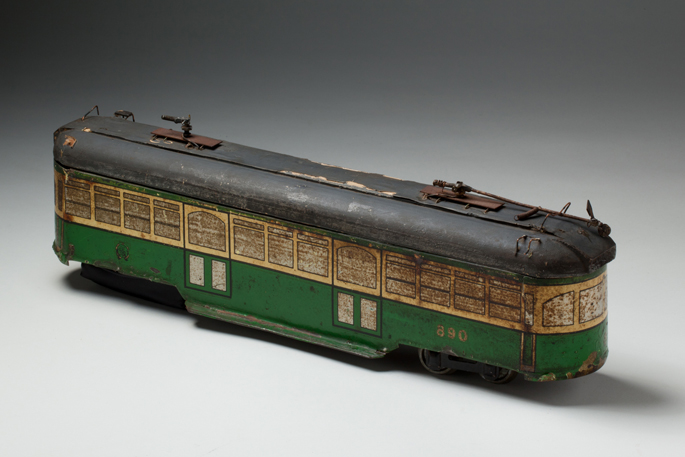 Working at a premises in West Maitland with two staff, Coleman's products included bridges, level crossings, footbridges, water tanks, signal boxes, goods sheds and cranes, and a number of rolling stock items such as sheep vans, cattle wagons, flat wagons and refrigerator vans. One area in particular really needed some additional work around a small culvert and creek area. Seems like we have been so busy this past few months so not much has been done on the SFRSD.
The weather has been very hot here over 40 degrees C for quite a few days so I have done some work inside weathering more of my rolling stock. I have been using my air brush to fade the cars, oil paint washes and Pan Pastels a lot more and really enjoying the way these work out.
The gauge of a train model is measured between the inside edges of the load-bearing rails, with O gauge generally measuring 32 millimetres, at a scale of 1:43. The company produced a range of products for basic tinplate enthusiasts and serious modellers.
During the 1970s, Macdonald returned to his interest in O gauge toys and models and spent decades collecting examples of the main Australian and New Zealand manufacturers. McCredie's range of locomotives and rolling stock were generally based on New South Wales Railways prototypes, but they lacked real accuracy. Other hobbyists joined Meadmore to expand the layout which later became part of Melbourne's Luna Park. A friend had just used Magic Water that came out loking very good so I thought I would give it a try also.
During the 1950s, Slovnic began to produce detailed rolling stock kits with increasing diversity, until age and hearing problems forced him to give up his shop in 1965. About 155 pieces of rolling stock and scenery from the Macdonald collection are on show at the National Museum.
McCredie operated from his home in Katoomba, and formed associations with other modellers, including Eric Hallmen and Leonard Pluck.
Over 170 delegates from all over Australia and 6 from the USA including Jim Younkins and his wife, John Benny and his wife and young Craig Martyn from BLMA. Craig was our guest speaker at our Saturday night dinner and seemed to enjoy the convention.