10.08.2015
The two photos of this class 153314 on this page in platform 5, show it when it was used to advertise the Norfolk Festival at Norwich. After 1st April 2004 Anglia Railways franchise was transferred to London Eastern Railway Ltd, which is a subsidiary of the National Express Group.
Platform 5 at Peterborough is used by Birmingham Norwich and Cambridge and Stansted Airport and Liverpool trains in both up and down directions. These sevices that use the March line will in 2014 be moved to the new platforms 6 and 7, that has been built next to platform 5 on the site of the goods loops.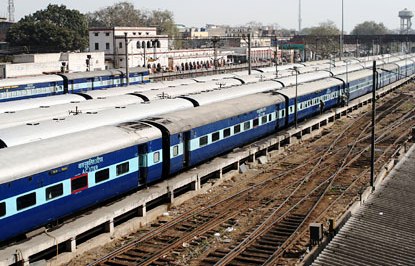 This franchise may well not be renewed on the 31st March 2011, when the franchise runs out, because of National Express East Coast walk away ( or return of ) of its other franchise on the ECML. I take photos of all things railways, steam diesel and electric trains, signal boxes, wagons any thing that is on the National Rail network, which was BR when I started taken photos.
As well as the Mainline London Liverpool Street to Norwich trains it ran local trains in East Anglia. This island platform with platform 5 and 4 on, was built when the fast though lines were put in at Peterborough.
I also take photos of preserved railways with steam diesel and electric trains.There is lots more to add and I keep taking More!