07.12.2014
You may have suspected it all along, but the data backs it up: Manhattan is, once again, the most expensive place to live in the United States. The council has published the quarterly data for 45 years (previously, it was released by the government) and bases its information on the prices of 60 consumer goods and services in six categories: grocery items, housing, utilities, transportation, health care and miscellaneous items. Not surprisingly, housing carries the largest weight, said Frutiger, noting that about 29 percent of our income is spent on housing. So without further ado, here's a list of the seven cities with the highest cost of living out of 300 regions analyzed by C2ER. According to Frutiger, C2ER usually looks at brand new homes with four or more bedrooms at about 2,400 square feet.
But it's hard to know for sure, since C2ER has only been collecting data on Brooklyn for four years. While housing is a bit more affordable in San Francisco than in Manhattan, Brooklyn or Honolulu, transportation costs and health care were slightly more expensive than Brooklyn's, according to the data submitted to C2ER.
It's not surprising that its cost of living is 46.7 percent higher than the national average. The loss of life along Queens Boulevard, which functions like a highway running through Queens, is horrific.
In a unanimous vote last week, Queens Community Board 6 passed a resolution [PDF] asking DOT for a complete redesign of Queens Boulevard to improve street safety. Advocates for a safer Queens Boulevard, led by volunteers with Transportation Alternatives, first spoke with CB 6 about a resolution last month, and were given a chance to present to the full board on May 14. Another boost came from Council Member Karen Koslowitz, whose district covers Rego Park and Forest Hills. CB 6 manager Gulluscio emphasized the breadth of community interest in making Queens Boulevard safer. If drivers were properly trained, and actually feared getting a ticket for any aggressive behavior, little of this would be necessary. Both of these things should happen, but the design of Queens Boulevard is in fact to blame for plenty of these crashes.
At the very minimum it should be converted into a real boulevard where the sides are only for local access, like Ocean and Eastern Parkways. Good points and I would love to see the street redesigned, but it would be humongously expensive, as well as disruptive. And I already know this post will be meet with criticism from a lot of liveable streets advocates, but the fact is given the present lack of alternatives to Queens Boulevard, coupled with the lack of political will to drastically reduce traffic levels, plus the huge costs of any major reconfiguration, our options are really very limited.
2) I could be wrong but a huge portion of these crashes are from drivers turning onto Queens Boulevard, not cars going straight on Queens Boulevard.
The thing is a redesign of Queens Boulevard aimed at making it safer would also have to include narrowing it, and that would reduce capacity. Your solution to aggressive motorists is to build them an expensive highway through residential and commercial areas so they can comfortably live far away with their big house and yard? Sure, the absolute best way to fix this problem is to reduce motor traffic, no arguments there.
If anyone is putting together a list of council members to run pro safe streets members against, add Koslowitz to it.
Woodside is a neighborhood out of central casting: very Queens, very old New York and new New York, very diverse, and very unexpected. Walk down Roosevelt Avenue and feel the rumble of the overhead subway and train (the Long Island Railroad stops in Woodside), hear five or six languages spoken, and hunt in vain for a parking spot.
It's been said that more servicemen from the Woodside zip code died in the Vietnam War than from any other zip code in the United States. Residential Woodside is a mix of single-family homes, multifamily homes, and small to large apartment buildings. Harlingen, Texas, is the least expensive city, with a cost of living 18.4 percent below the national average. While they're not hard to find in the outlying suburbs, they are harder to locate in major cities like Manhattan. One reason: "Honolulu food prices have gone up at a faster rate than the rest of the cities," said Frutiger. But though there's more ample real estate here, utilities costs are actually higher in Stamford than in Manhattan or Brooklyn. Mayor Bill de Blasio launched Vision Zero at PS 152 in Woodside, just steps from where an 8-year-old was killed crossing Northern Boulevard, and DOT recently proposed new pedestrian islands on Northern in Jackson Heights [PDF]. So far, advocates have collected more than 3,500 petition signatures and they hope to secure support from CB 2 next. He has been covering the movement for safer streets, effective transit, and livable cities since 2012. Those leave something to be desired for cycling though and are really old and shitty designs really. I'm often in favor of traffic calming projects but here if we did that there are few places for the displaced traffic to go.
Queens Boulevard never should have been built as it is in the first place but the fact is it was. The turning situation is fucked and thats certainly the cars I felt in danger from when crossing QB, not the ones going straight (who were stopped as I crossed).
You really can't make the pedestrian phase longer without creating backups given present traffic levels. Enforcement could mitigate that but I should point out that often so many vehicles are turning it would create massive backups if they yielded.
Right now a lot of lights with turns have the left turn off QB phase after the straight down QB phase (maybe all of them).
There would be absolutely no conflicts with traffic turning left off QB and right on to QB at the same time. At the few blocks where 61st Street, Roosevelt Avenue, and Woodside Avenue meet, there are at least half a dozen pubs where the Guinness is fine, the accents authentic, and the football soccer.
It's also the second largest, which means that housing might be slightly more affordable than in Manhattan.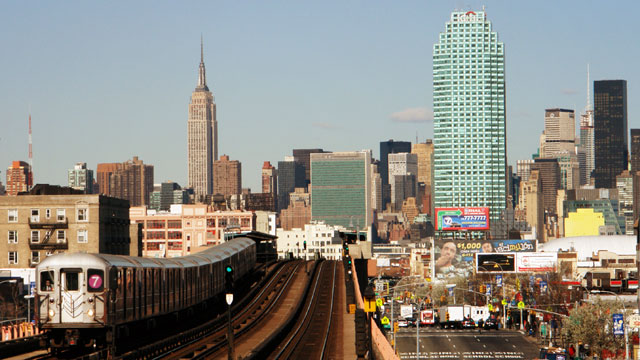 This is one case where I might say just let the cars have Queens Boulevard, and lets figure out alternatives to a redesign to let people safely cross.
The extreme width of Queens Boulevard means crossing pedestrians often get stuck at medians. Swap that, and add a right turn phase onto QB at the cross streets at the same time, plus daylighting intersections to make it easier for peds to cross. No reason to keep encouraging development in the far off neighborhoods whose residents speed down QB and through other neighborhoods to get where they're going. This is an excellent example of the kind of out of the box thinking we need to make our streets better. In fact, if someone in power actually proposed this solution right now it might actually help us both get our wish of less traffic. Those could include using the many subway mezzanines as defacto underpasses, and if need be making them handicapped accessible with at least ramps, better yet elevators. Only thing I ever got from them was reelection email blasts – the only reason they had my email address was because I was complaining about these two intersections.
Yes, this is somewhat costly, but much less so than a complete redesign of Queens Boulevard. Things could be made marginally better, but Queens Boulevard as it stands now will always be a dicey street to cross.
The people who live in places this expressway would pass through would rightfully fight it tooth and nail.
Cars running the red at park lane, usually going north, at abingdon doesn't help either. In fact, the only viable redesign I could think of here unless we radically reduce motor traffic would be to just make the center roadway a elevated limited access expressway. That might get someone in a high place to finally say what until now has been taboo-namely that we can't accommodate large numbers of cars AND still have safe streets without building awful things like elevated expressways. While we're at it, we could hang bikeways under the expressway so bikes can safely traverse the length of Queens Boulevard non-stop (this would be a boon for Queens bike commuters). You said it yourself-the development of less dense areas exacts a heavy cost on the denser ones. If we get enough city residents to see that there are only two real ways to get safe streets (i.e. I think the best short term solution is to use the subway stations for pedestrian crossings where they exist, and install pedestrian bridges at regular intervals in between.
Given that subway stations are the primary places where most people cross Queens Boulevard, you may not even need pedestrian bridges with this plan.